This post may contain affiliate links. Please read my disclosure policy.
This chicken korma recipe represents my love for curry and Indian dishes! I love the depths of flavor and spiciness that's so easy to regulate. Whether you like very spicy or mildly spicy, it's easy to achieve with a good curry!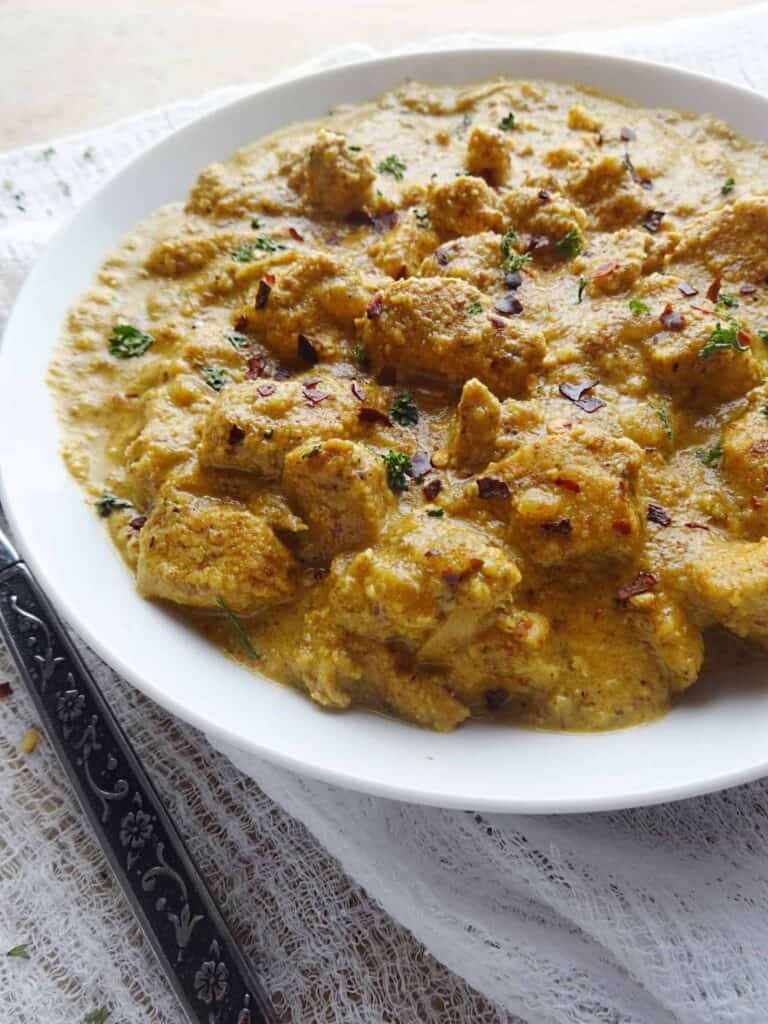 Don't let the extensive ingredient list scare you ... this recipe is easy and worth gathering all the ingredients for! If you like creamy, spicy, tender, and savory, then this dish will be just right for you! And it's a great way to initiate yourself into Indian cuisine, as it's not overly spicy like some curries can be.
And don't leave out the marinating time. This step will ensure that your chicken is much more tender, making the dish even more delicious!
"How does it taste?" you may ask.
It's creamy and savory with tender chicken and a light texture similar to coconut (except smaller) due to the almond flour and little crispy bits randomly throughout due to the fresh ginger.
I'm a big texture person and quite particular about the texture of things. I usually like smooth. And while this is not completely smooth, the light texture of the sauce throughout does not distract from the taste and the whole eating experience. (Hope that helps anyone who has texture issues like me 😉 )
For example, I have had coconut curry before with coconut bits throughout and didn't appreciate that texture. While I love coconut, it was distracting for me in the sauce and took away from the overall satisfaction I had with the dish.
This chicken korma curry is not like that, in my opinion. I don't have any "texture issues" with it and found it to be perfect. (Try it, and let me know what you think below in the comments!)
What to Serve With Chicken Korma
This chicken korma recipe is great served over rice, noodles, or all by itself. As you can see, the sauce is quite thick and doesn't need anything to soak it up. But pairing with rice, noodles, or bread is a great choice.
Good choices for vegetables you can serve with the chicken korma recipe include green beans, corn, salad, potatoes (as long as you're not also having rice or noodles), carrots - just about any vegetables will go well with the korma.
You may love to serve with my Cream Style Corn recipe or my Green Beans Almondine.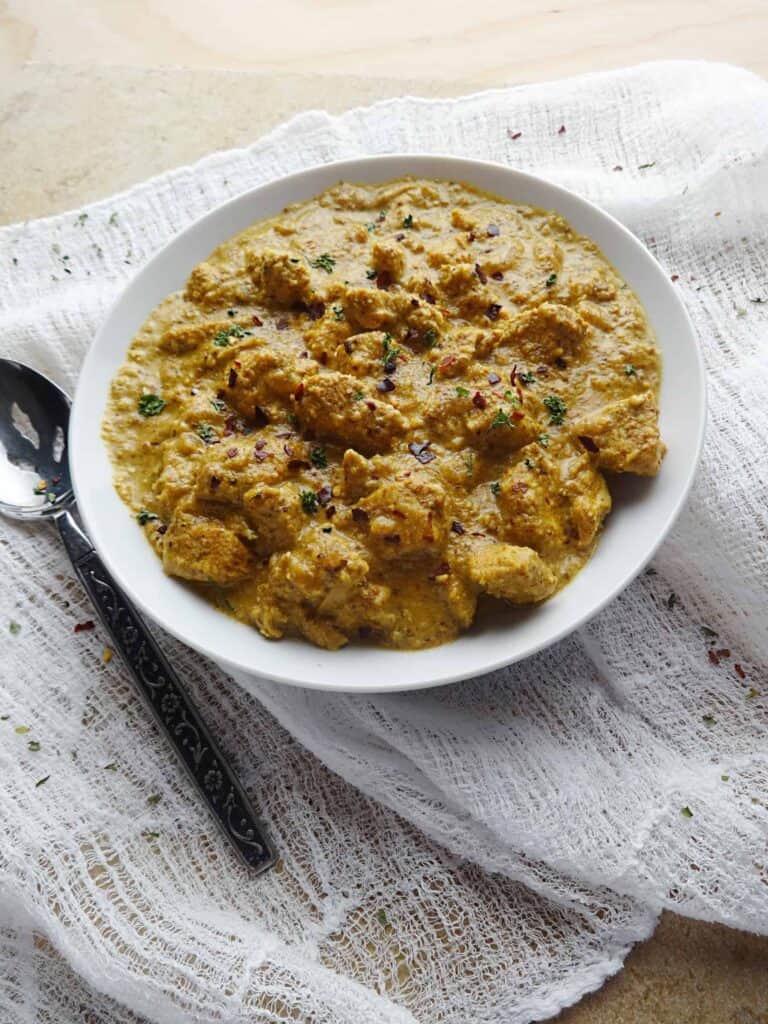 How to Make Chicken Korma
First, you will want to marinate your chicken in the yogurt and spices for one hour in the fridge. Don't skip this step, as it will greatly help to tenderize the chicken breast.
After the marinating period, you will preheat a large skillet or Dutch oven to medium temperature (I use cast iron and LOVE my cast iron skillet and cast iron Dutch oven!) Let it heat up for about 5 minutes before adding anything to the pan.
Next, you will add the oil and butter to the hot pan along with the onion, garlic, and fresh ginger. You will cook this mixture until the onions began to turn translucent (clearish).
The chicken mixture comes next with the pan still on medium heat. Add the chicken and all the marinating "sauce" with it. You want the chicken to seer a bit, which will increase its tenderness. Don't worry about the yogurt curdling a bit, as this is normal and will work itself out as the chicken korma cooks further.
Cook chicken mixture uncovered for about 10 minutes, stirring occasionally.
When chicken is done, add almond flour and broth and combine. Cover and cook for 8-10 minutes.
You will then uncover and cook for about 10 minutes more until thickened a bit, stirring occasionally. Before adding the cream, you will turn the heat down to low, as you don't want the cream to boil. After adding cream, mix it into the rest of the chicken korma recipe until incorporated.
You will heat the final chicken korma dish for another 5 minutes on low and let it sit for 5-10 minutes before serving. All this is to ensure that the dish thickens to a nice saucy consistency.
As above, serve over rice, noodles, or all by itself.
I hope you and your family love this chicken korma recipe and that you stop back by to leave a comment and share with your friends! And don't forget to Pin to Pinterest and share on Facebook too!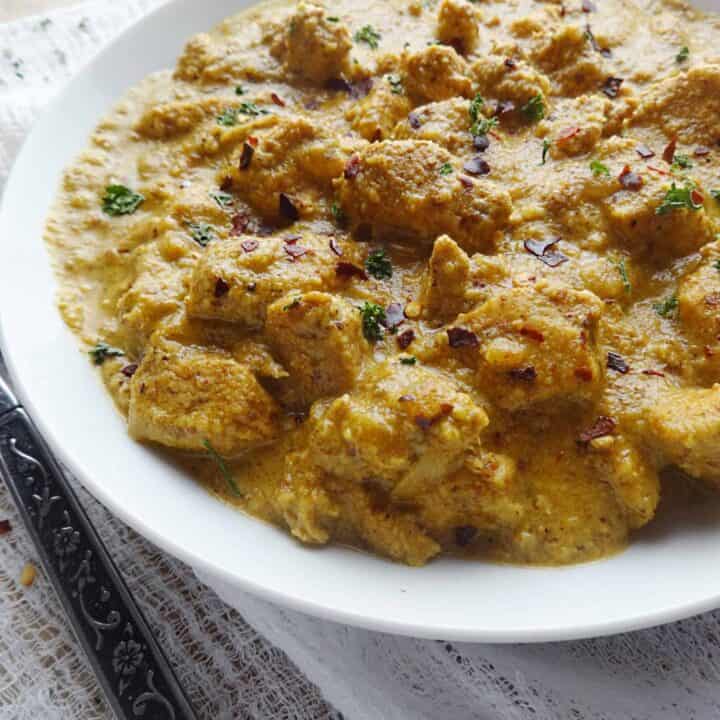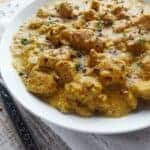 Print Recipe
Chicken Korma Recipe
This chicken korma recipe represents my love for curry and Indian dishes! I love the depths of flavor and spiciness that's so easy to regulate. Whether you like very spicy or mildly spicy, it's easy to achieve with a good curry!
Ingredients
1

pound

boneless/skinless chicken breast, cut into 1-inch cubes

1

cup

plain unsweetened yogurt

1

tsp

ground coriander

1

tsp

paprika

1

tsp

turmeric or curry powder

½

tsp

ground cardamom

¼

tsp

ground black pepper

¼

tsp

ground cinnamon

½

tsp

ground cumin

¼

tsp

salt

1

Tbsp

oil

2

Tbsp

butter

1

Tbsp

fresh ginger (1-inch knob, peeled and minced) or 1 tsp dry ground ginger

1

medium

onion, finely chopped (about 1 cup)

1

Tbsp

garlic, minced

½

cup

almond flour

1

cup

chicken stock or broth

¾

cup

heavy cream

½

tsp

red pepper flakes, optional
Instructions
In a large refrigerator container with lid, add chicken chunks along with the yogurt, spices, and salt and mix together (all ingredients through salt). Cover and refrigerate one hour.

Preheat heavy skillet or Dutch oven (I use cast iron) to medium temperature (5-6) for about 5 minutes.

Add oil, garlic, onion, and ginger and cook 5 minutes or until onions begin to turn translucent and brown a bit.

Add butter and let melt. Then add chicken chunks to pan along with all the marinating sauce. Cook uncovered on medium heat for 10 minutes, stirring occasionally.

Add almond flour and broth. Mix to incorporate. Turn heat to low-medium (about 3), cover, and cook 5 minutes.

Uncover and cook 8-10 minutes on medium heat (5), stirring occasionally. Mixture should be thickened quite a bit.

Turn heat to low, add cream and combine. Cook 5 more minutes uncovered.

Let sit in pan uncovered 5-10 minutes before serving (will thicken a bit more).

Serve topped with red pepper flakes if desired. Serve over rice or noodles or all by itself. Leftovers can be refrigerated for up to 3 days.
Other main dishes you may love include my:
Don't Forget To Pin For Later!