This post may contain affiliate links. Please read my disclosure policy.
This is a roundup collection of crockpot potato recipes from my fellow food bloggers. A collection of tasty, easy potatoes cooked in your slow cooker for times when you want to free up your stove or oven. Like Thanksgiving, Christmas, or any other busy time when you have company.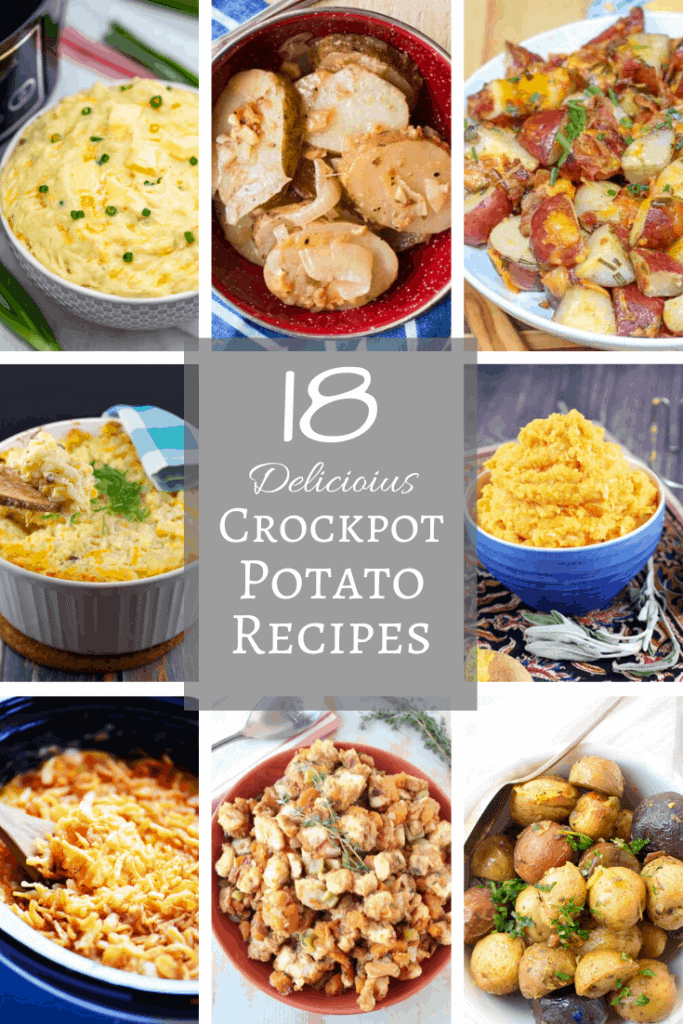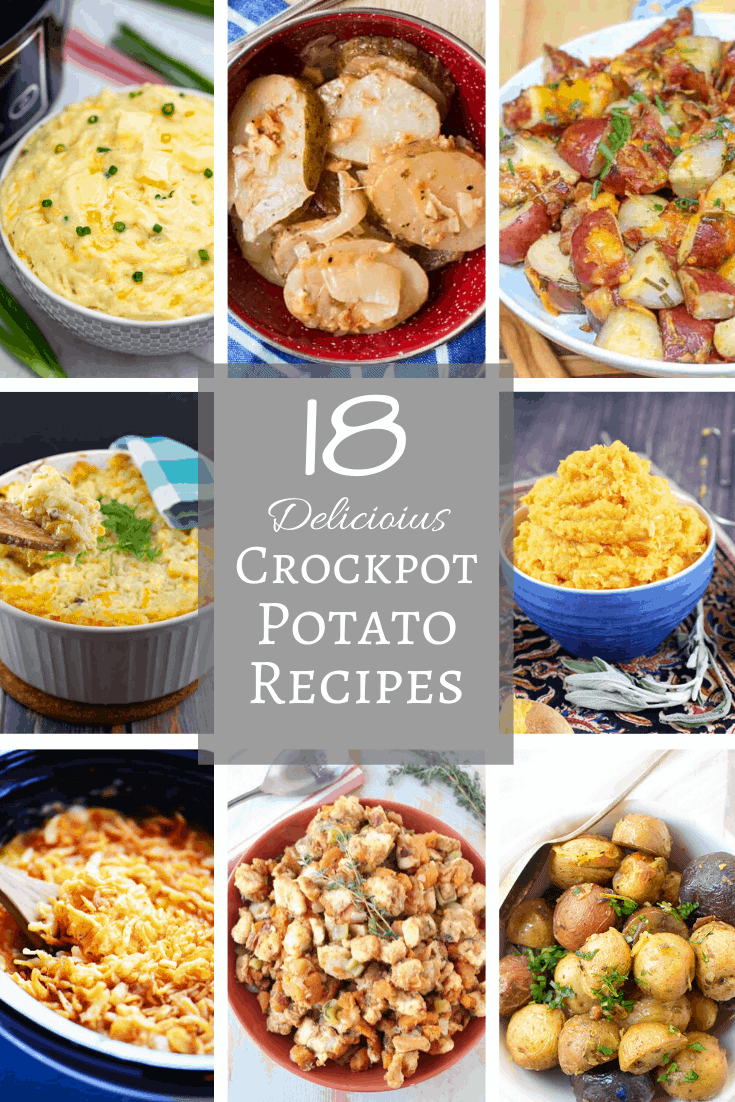 Be sure to visit the links to the recipes you're interested in and leave a comment while you're there. And sharing the recipes freely (as long as you're giving a link back to the original source) are welcome! (Comments & shares here are most welcome too!)
Let's get cooking!
Slow Cooker Potato Soups
Potato soup is always a welcome addition at the dinner table, and these are two crockpot potato soup options I think you'll love!
This Crock Pot Potato Soup is easy, hearty, and full of creamy, cheesy, bacony goodness! Need I say more?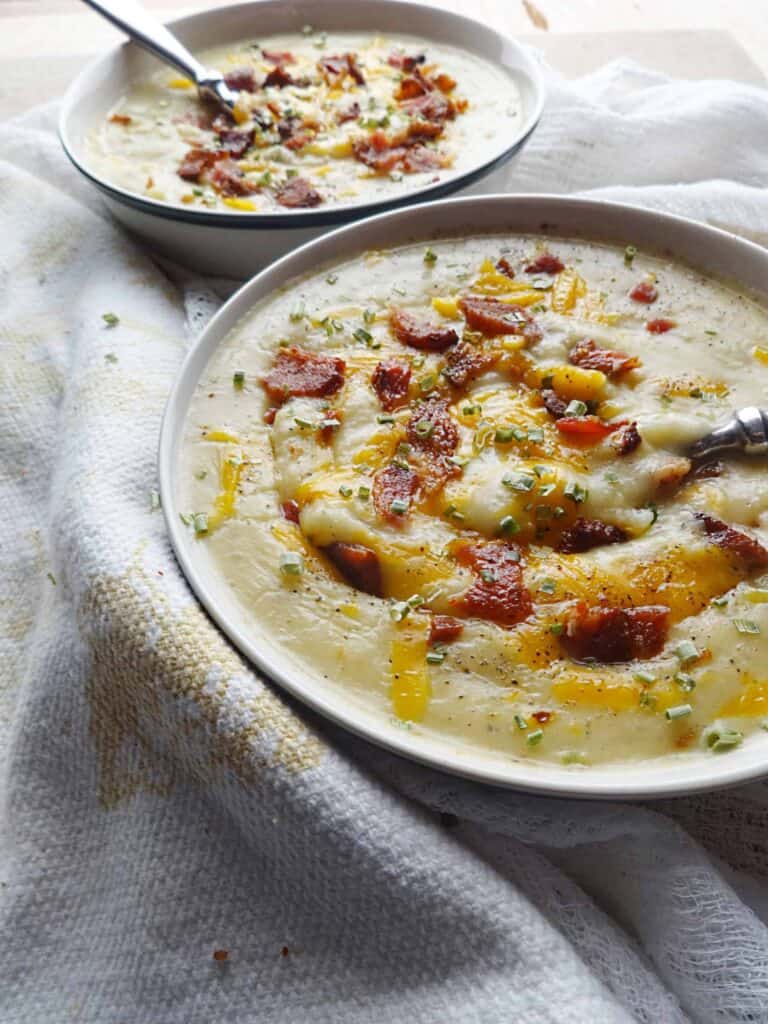 Deanna at Honey and Lime shared this bacon and corn chowder crock pot recipe that is full of flavor and sure to warm your soul.
Mashed Potatoes in the Crock Pot
One of the best crockpot potato recipes is simple mashed potatoes. Creamy, savory, and delicious - a classic favorite that everyone loves! Utilizing your slow cooker to cook up this dish frees up your stove top. It's so easy to dump all the ingredients and forget until time to mash and add the final touches.
Catalina from Sweet & Savory Meals shares these Slow Cooker Mashed Potatoes - so rich, creamy, and super tasty. A no-fuss side dish and the perfect comfort food to prepare for special occasions.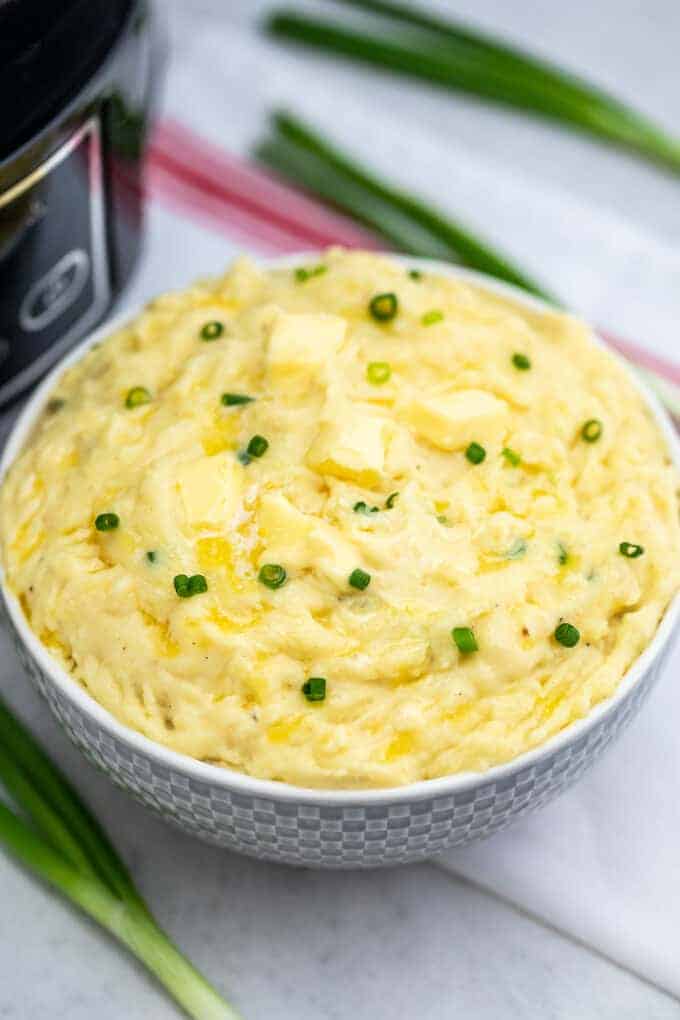 Nellie from the Brooklyn Active Mama shared with me this recipe for Crockpot Mashed Potatoes with Cheddar. Requires no boiling on the stove top and is perfectly delicious for Thanksgiving or your next dinner party!
Thanks to Robin from Mom Foodie for these delicious-looking crock pot mashed potatoes that are super easy to make and keep your oven and stove top open for large family meals. If you have never tried making your mashed potatoes in the slow cooker, what are you waiting for?
Crock Pot Sweet Potato Recipes
Let this delicious sweet potato stuffing recipe slow cook while preparing your meal, leaving extra space in the oven & saving you time! Sweet potatoes, stuffing, and savory herbs come together in this vegetarian and dairy free recipe for the perfect side dish - for Thanksgiving or any special occasion! (Thanks to Whitney for sharing this delicious recipe!)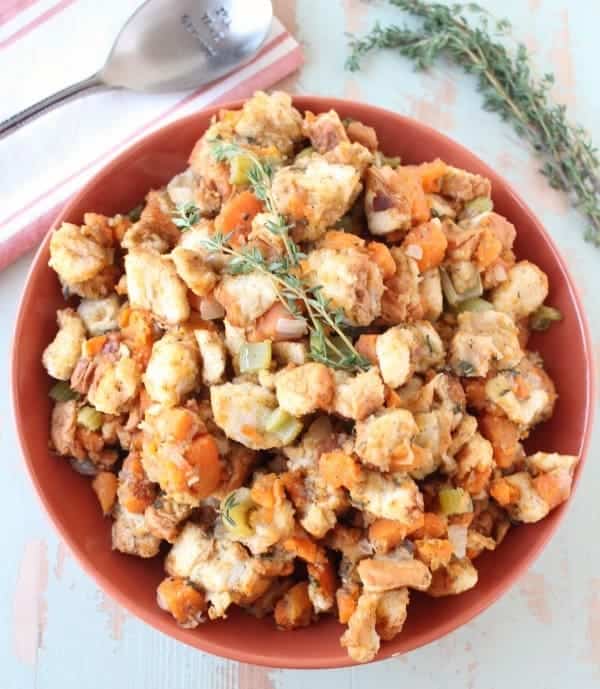 Make Crock-Pot Vegan Mashed Sweet Potatoes with Parsnips for Thanksgiving or dinner. These slow cooker sweet potatoes are paleo, gluten free and dairy free. (Thanks to Anne-Marie at This Mama Cooks!)
No need to use precious oven space with this Slow Cooker Sweet Potato Casserole. Just grab your Crock-Pot and get this Thanksgiving side dish cooking. This holiday side dish cooks perfectly and is loaded with lots of butter, brown sugar, marshmallows, and pecans. (Thanks to Jen from Cincy Shopper for this recipe!)
Slow Cooker Creamy Sweet Potatoes are a delicious Holiday side dish. Use canned yams or sweet potatoes and this yummy Thanksgiving side dish will come together quickly. A favorite recipe with a buttery brown sugar-pecan topping. (From Sandy at Simply Happy Foodie)
Other Crock Pot Potatoes
Bacon. Cheese. Potatoes. Need I say more? This Easy Crock Pot Cheesy Bacon Ranch Potatoes recipe only requires a few ingredients and makes a delicious side dish that your entire family will love. (Thanks to Katie from A Fork's Tale for sharing this recipe!)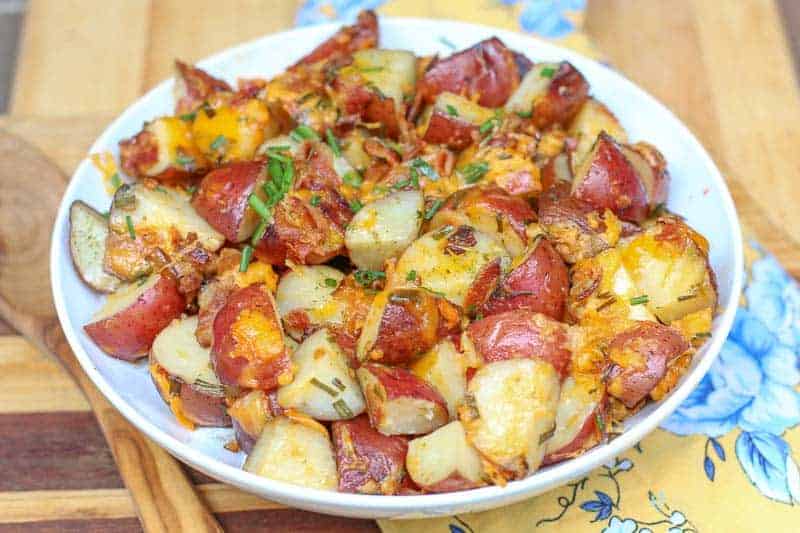 Melanie from Melanie Cooks shares these amazingly easy, fluffy crockpot baked potatoes! Open your slow cooker and take out tender, delicious baked potatoes wrapped in foil!
This Easy Potatoes Romanoff is a delicious recipe that Terri from Food Meanderings tried at a potluck 20+ years ago. She acquired the recipe and has made it countless times since. It really is the ultimate potluck dish! (Instructions for oven and slow cooker included - Thanks Terri!)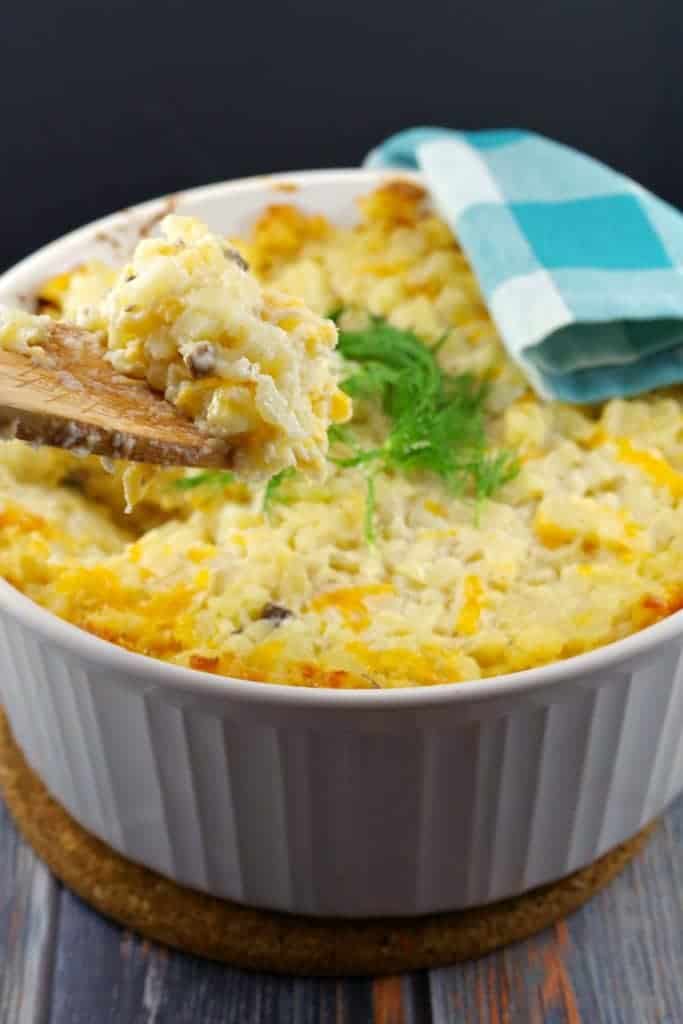 Save yourself the hassle of cooking all day when you make these easy Slow Cooker Potatoes in your crock pot. They taste amazing, and you only need 5 ingredients. (Maya from Wicket Spatula)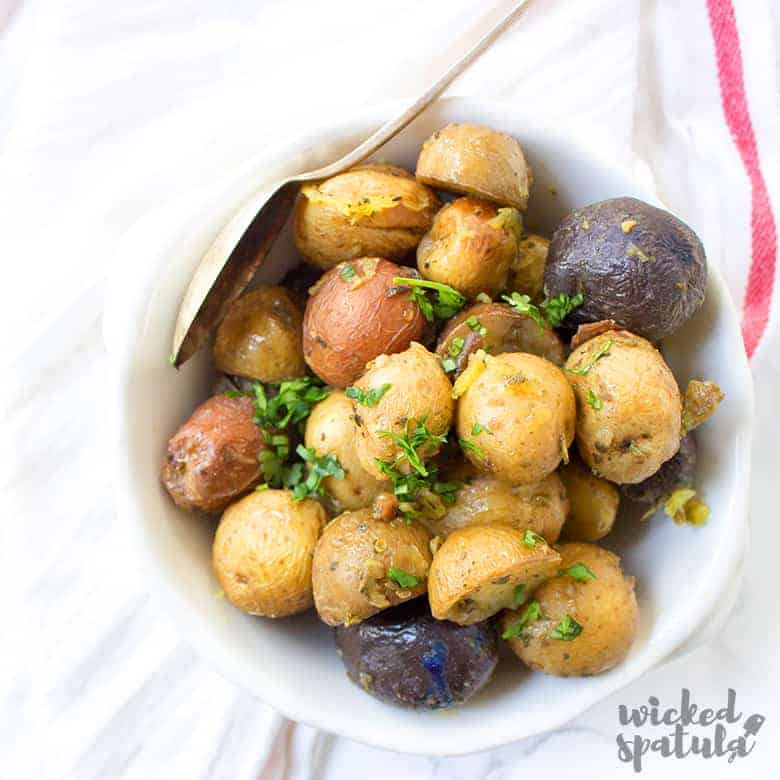 Slow Cooker Cheesy Potato Casserole is the ultimate comfort food and the best side dish for holiday parties and potlucks. Topped with French fried onions for more flavor! (Tonia from The Gunny Sack)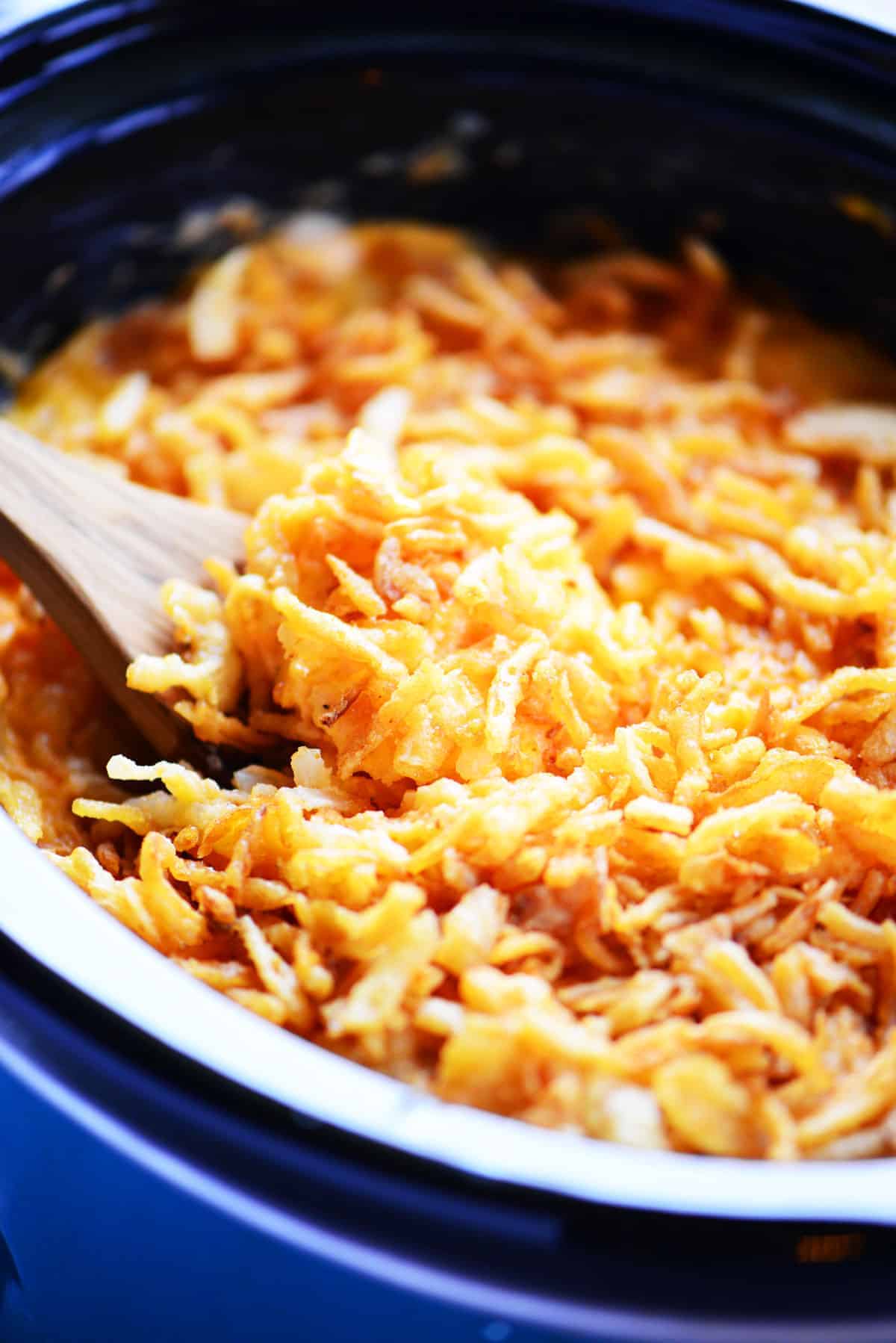 These delicious creamy, cheesy crock pot scalloped potatoes are an amazing side dish recipe! Perfect for a potluck or a Holiday meal. (Sandy from Simply Happy Foodie)
These Slow Cooker Cajun Parmesan Potatoes are tender and have great spice! (Sarah from The Magical Slow Cooker)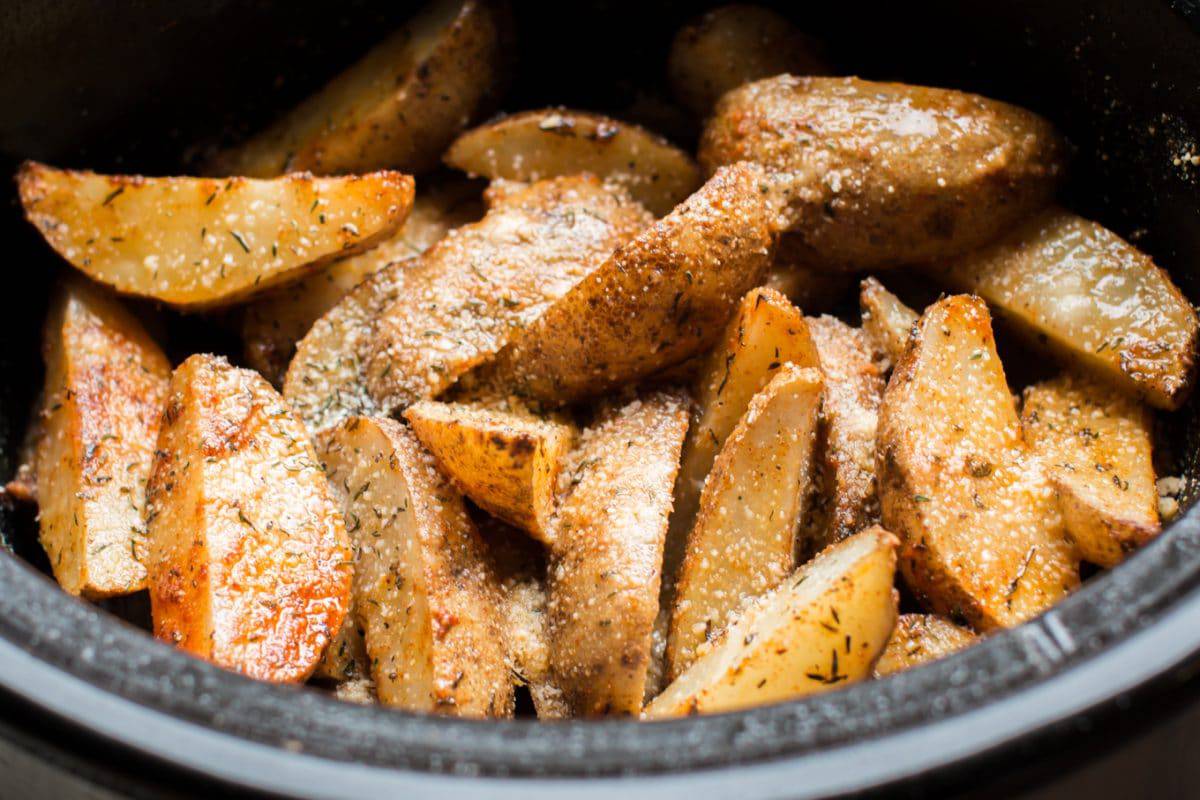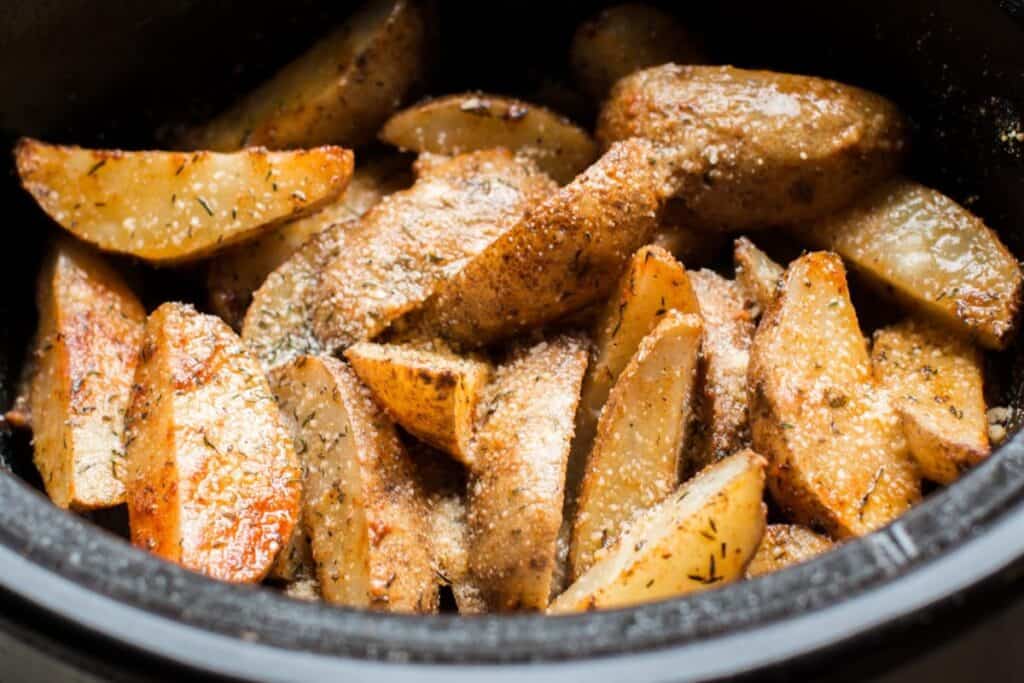 Make these Slow Cooker "Campfire" Potatoes for your next cookout or while camping if you have hook-ups. (also from Sarah)
Savoury Slow Cooker Potatoes - Tender mini potatoes bursting with savoury flavour with every bite! This side dish is easy to make and well loved by all. (From Stacie at Simply Stacie)
Tips for the Best Crockpot Potato Recipes
The best crockpot potatoes come from fresh potatoes, but sometimes you want (or need) to save time. Using frozen hash browns or chopped potatoes can be a real time saver on busy days.
Another tip for the best crock pot potatoes is to use salt sparingly when an estimate is given (like "salt to taste"), especially if you're using other ingredients that are naturally salty - like soy sauce, Worcestershire sauce, cheeses, and broths.
If you use unsalted broths, you will need more salt, but tasting before adding more is a wise choice. You don't want to end up with an inedible dish due to over salting.
Follow each of these crockpot potato recipes step by step, and if you need to change a step, you can ask the author of the recipe for advice. But if regular broth or stock is called for (for example), and you use low-salt broth, don't expect the recipe to turn out the same. You will likely need to add more salt at the end.
I hope that you enjoy these great crockpot potato choices and that you visit each link and comment and share freely (giving proper credit to the recipe creator).
Let me know in the comments below what you think and which of these crockpot potato recipes you plan to try first!