This post may contain affiliate links. Please read my disclosure policy.
This lemon pepper chicken recipe is so easy and flavorful and quick to cook once the chicken is marinated.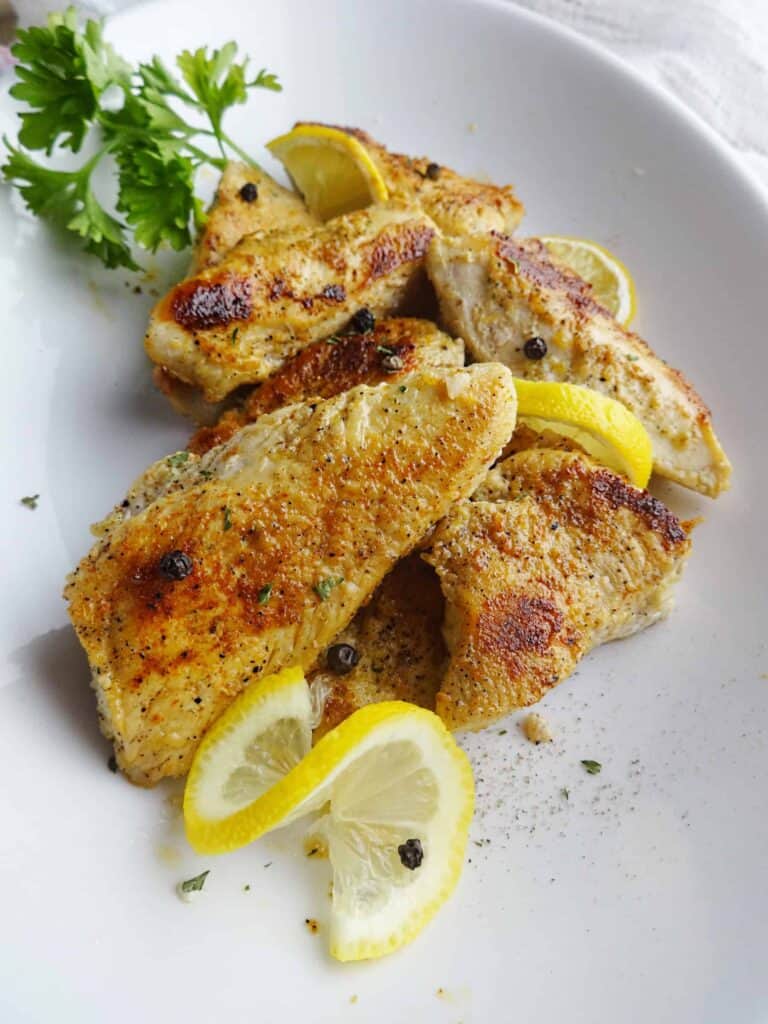 If you like the flavor of lemons with the pungency of black pepper, you will love this recipe! Marinated overnight, you will have tender, flavorful chicken to cook up quickly the next day.
There are 5 important keys to making this lemon pepper chicken melt-in-your-mouth tender and flavorful. Don't miss these!
Marinating overnight or at least 6 hours.
Cut the chicken strips as evenly as possible - this will help prevent overcooking or undercooking.
Don't leave out any of the ingredients, especially the lemon juice and zest. The lemon juice tenderizes, and the zest adds lots of flavor.
Preheat a smoking-hot pan (see below for details).
Don't turn until done on the first side (about 5 minutes). Chicken needs to sear in the juices for optimal tenderness (like a steak).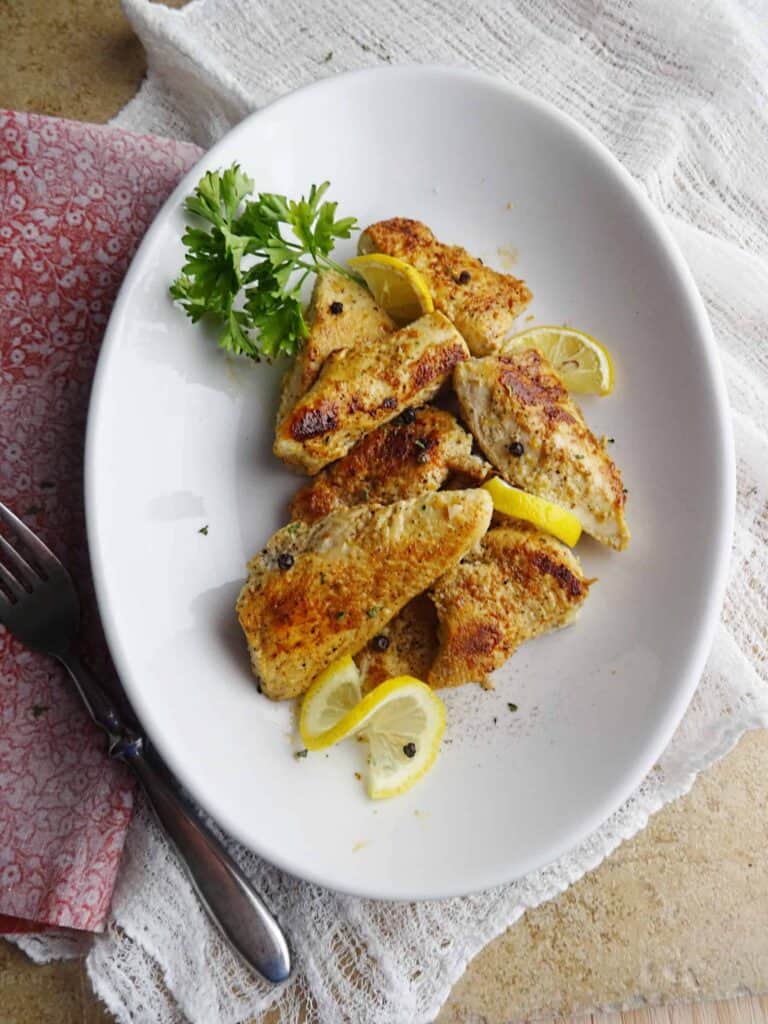 How to Make Lemon Pepper Chicken Tenders
Definitely take the time to marinate the chicken either overnight or while you're at work - at least 6 hours, but no longer than 12-15 hours.
The flavors really meld together with the marinating time. You will really taste the lemony flavor - not especially tart, but definitely lemony.
And don't leave out the lemon zest, as it really contributes a huge amount of lemony flavor - more than the juice!
The juice mostly marinates the chicken, while the test adds lots of lemon flavor. Don't skip either one!
The citric acid in the lemon also helps to break down any tough fibers in the chicken, making it super tender.
That along with the smoking-hot pan and quick cook time make for a steak-like chicken that really earns the name chicken "tenders."
After marinating, the next more important step to making the most tender flavorful lemon pepper chicken is to start with a "smokin' hot" pan - just like you would if you were cooking a steak.
Note that the above tip is actually the most important part of getting tender chicken breasts in the skillet.
Also, you won't want to cover the pan, as you don't want the chicken to steam. You want it to sear, which seals in the juices - the secret to tender chicken breasts.
You will preheat your heavy skillet (I prefer my cast iron pan and LOVE my Lodge cast iron skillet) on medium heat (5-6).
Don't add any extra oil to the pan, as the oil is in the marinade. Don't worry - it shouldn't stick or not enough to be a problem.
Get the pan good and hot. It should pop and sizzle and act angry once you put the chicken in the pan - otherwise, you didn't get it hot enough.
Once in the pan, don't touch it until at least 5 minutes. Then you can peak and see if it's brown enough on the bottom (it should be). If so, turn it and cook for the same amount of time on the bottom.
You may also love these chicken recipes:
Recipe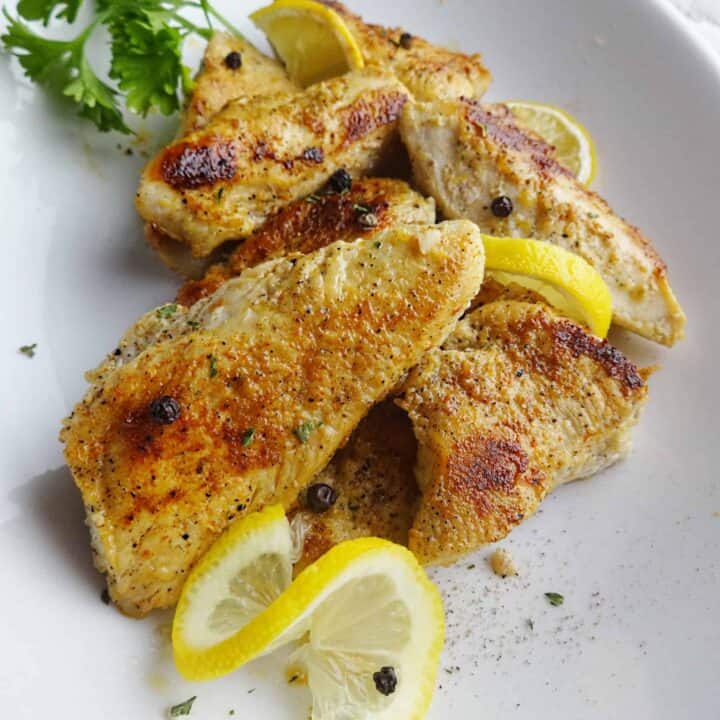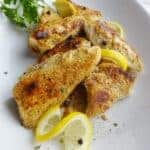 Print Recipe
Lemon Pepper Chicken Recipe
This lemon pepper chicken recipe is so easy and flavorful and quick to cook once the chicken is marinated.
Ingredients
2

pounds

skinless, boneless chicken breasts, but into 1-inch strips

2

tablespoon

oil

2

medium

lemons, zest and juice (about 2 tablespoon & ½ cup respectively)

¼

teaspoon

salt

1

teaspoon

ground black pepper (mine was 50 turns of my pepper mill)

1

teaspoon

soy sauce or liquid aminos

¼

teaspoon

paprika
Instructions
In a medium container that has a lid, add chicken and all other ingredients except for paprika. Mix together and cover. Refrigerate for 8 hours or overnight.

Preheat large heavy skillet to medium (5-6). Add chicken with all of the marinate to the pan piece by piece, placing so as to not overlap pieces.

Sprinkle with paprika and more black pepper if desired.

Cooked uncovered 5-7 minutes. Turn and cook 5-7 minutes on the other side until browned and no longer pink inside. Don't overcook, but make sure insides are not pink.
Nutrition
Calories:
339
kcal
|
Carbohydrates:
6
g
|
Protein:
49
g
|
Fat:
13
g
|
Saturated Fat:
2
g
|
Polyunsaturated Fat:
3
g
|
Monounsaturated Fat:
6
g
|
Trans Fat:
0.1
g
|
Cholesterol:
145
mg
|
Sodium:
493
mg
|
Potassium:
926
mg
|
Fiber:
2
g
|
Sugar:
1
g
|
Vitamin A:
144
IU
|
Vitamin C:
31
mg
|
Calcium:
28
mg
|
Iron:
1
mg
Don't Forget to Pin For Later!