This post may contain affiliate links. Please read my disclosure policy.
This prawn risotto recipe (also known as shrimp risotto) is so easy to cook up and is so flavorful and creamy.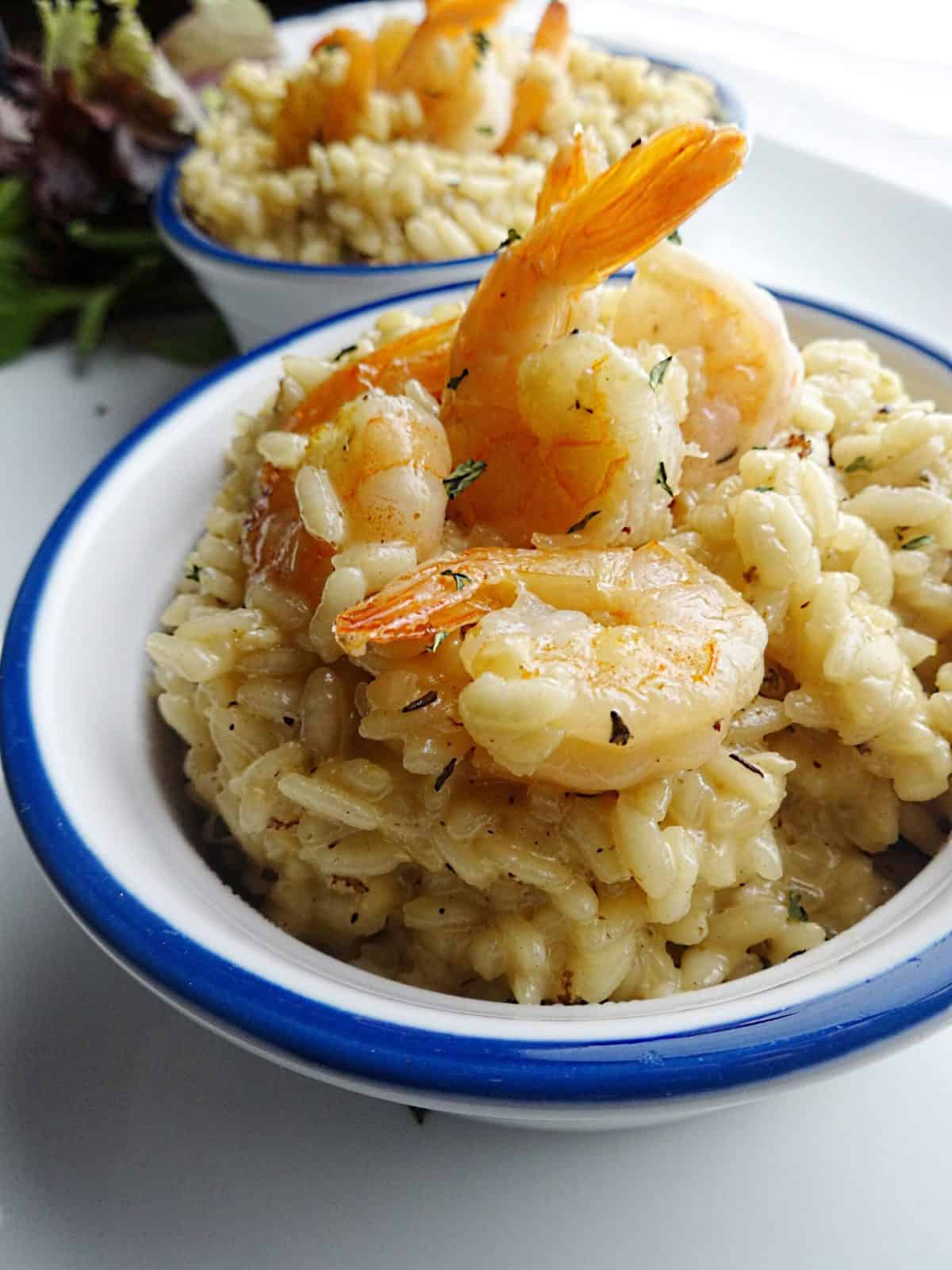 If you have held back making risotto because it seems to hard – this risotto recipe is for you! Creamy and lemony with a lightly firm texture like rice (but better!)
Prawns vs Shrimp
What's the difference?
Prawns and shrimp are actually different creatures, but for the sake of recipes they are one in the same and can be freely used interchangeably.
So … don't worry, Prawn Risotto and Shrimp Risotto are one in the same.
I actually used shrimp in this recipe, but depending on where you live you may have easier access to prawns.
So, why is the name of the recipe Prawn Risotto instead of Shrimp Risotto?
Good question! It's simply because prawn recipes are more widely searched than shrimp recipes. And I wanted more people to be able to access this delicious, easy risotto recipe.
Plus, I wanted you (and everyone else) to realize that they too can create this fancy-shmancy, tasty creamy risotto recipe for themselves at home.
It really is easy and quick, but you do need to stay in the kitchen for 20-30 minutes and watch the pot so the risotto doesn't scorch.
You are basically cooking rice, but it's cooking uncovered and tended. Normal rice is cooked covered and unattended.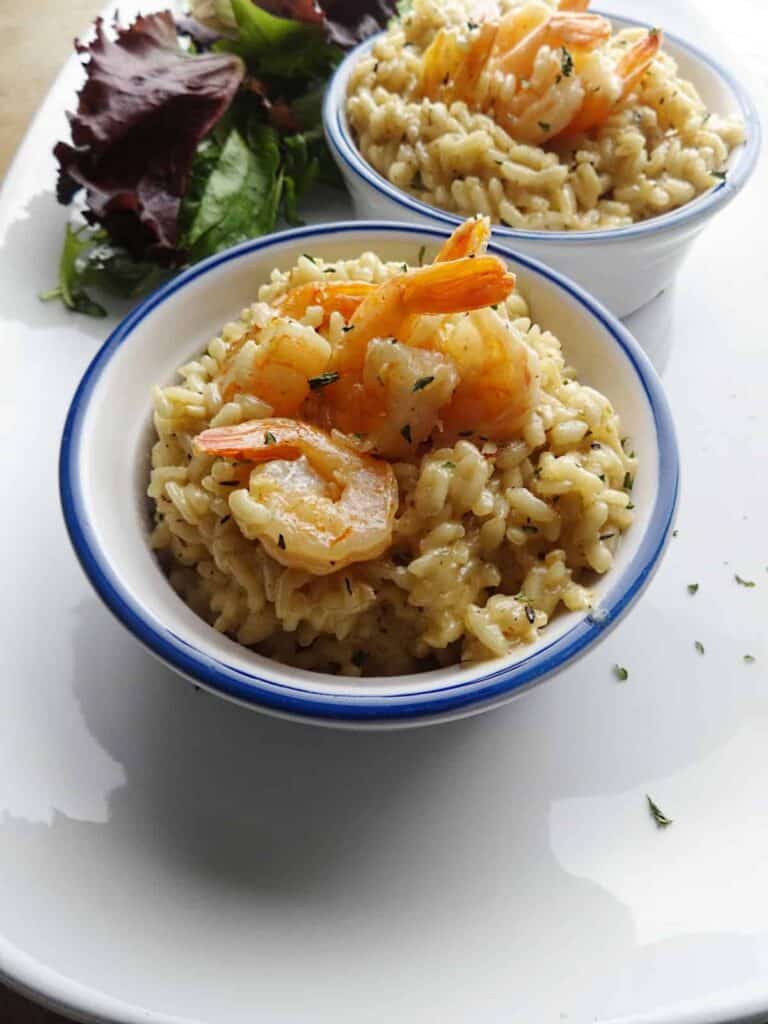 How to Make Prawn Risotto
Having all your ingredients handy for this recipe before starting is a great idea, as it moves fairly quickly.
Plus, you will want to keep your eye on the pot the whole time so the risotto doesn't get too hot and scorch on the bottom.
If using frozen prawns / shrimp, you could gather all your ingredients together while they are thawing to save time.
If using frozen, which I did, you will want to thaw the prawns (shrimp) in some cold water for about 10-15 minutes before cooking.
I also blot them a bit with napkins or paper towels to remove more of the excess water after draining before adding them to the hot pan.
The first cooking step is to quickly brown the prawns (even if they are already cooked).
Make sure your pan is nice and hot before adding the oil and prawns. They will brown quickly, and you don't want them to overcook (they'll get rubbery).
Just a nice brown, which will add some lovely, tasty brown bits to the pan (which will in turn add lots of yummy flavor to your risotto).
After the shrimp is done, you will remove them from the pan (again, you don't want to overcook them). They will be added back at the end.
The lemon juice is added to the pan after removing the prawns. Still with the pan on medium heat, the lemon juice will de-glaze the pan.
This process "sweeps" up the brown bits and adds lovely flavor. It's a quick process (one minute or less) – you don't want all the lemon juice to evaporate.
The rest of the process is fairly simple. Just follow the directions and watch your pot, stirring frequently.
A good portion of the liquid will evaporate off while cooking, which is what you want. This leaves you with condensed, rich flavors and creamy texture.
Other Recipes to Love: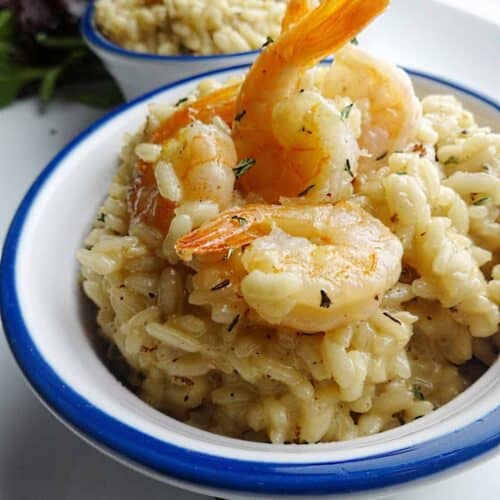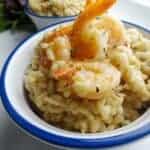 Print Recipe
Prawn Risotto Recipe (AKA Shrimp Risotto)
This prawn risotto recipe (also known as shrimp risotto) is so easy to cook up and is so flavorful and creamy.
Ingredients
2

Tbsp

olive oil

(or oil of choice), divided

2

Tbsp

butter

, divided

1

pound

prawns

or shrimp (de-veined & peeled with tail still on), thawed

¼

cup

lemon juice

(or juice of one large lemon)

1

Tbsp

garlic

, minced (2-3 large cloves)

1

tsp

dry thyme

¼

tsp

paprika

1-½

tsp

lemon zest

(or amount from one large lemon)

1-½

cups

Arborio rice

, uncooked

3

cups

chicken stock

, or broth

¼

tsp

salt

, more to taste

¼

tsp

black pepper

, more to taste

½

cup

heavy cream

¼

cup

parmesan cheese

, grated
Instructions
Heat Dutch oven to medium on stove top for 2-3 minutes. Add 1 Tbs each of butter and oil. Cook shrimp 2-4 minutes, stirring halfway through to brown on both sides. Remove shrimp from the pan.

De-glaze pan with lemon juice by adding it to the pan and stirring to combine the brown bits, still on medium heat (1 minute max).

Quickly add 1 Tbs oil garlic, thyme, paprika, lemon zest, and rice. Stir and cook on medium for 2 minutes uncovered.

Add all the broth, salt, and black pepper, and other 1 Tbs of butter and stir. Still on medium heat, cook uncovered for about 20 minutes, stirring frequently.

Turn heat off. Add cream and parmesan and stir. Let sit 5 minutes. Taste and add more salt and black pepper as desired. Stir and serve right away.

Add shrimp to the risotto and mix in, or add to the top of each serving.

Rice should still be a bit under cooked (slightly chewy), and mixture should be thick and creamy. If thicker than you want, you can add more broth or cream.
Nutrition
Calories:
694
kcal
|
Carbohydrates:
69
g
|
Protein:
36
g
|
Fat:
30
g
|
Saturated Fat:
13
g
|
Cholesterol:
351
mg
|
Sodium:
1448
mg
|
Potassium:
375
mg
|
Fiber:
2
g
|
Sugar:
3
g
|
Vitamin A:
734
IU
|
Vitamin C:
13
mg
|
Calcium:
267
mg
|
Iron:
6
mg
Don't Forget to Pin For Later!