This post may contain affiliate links. Please read my disclosure policy.
Who doesn't love to be able to whip up a simple potato salad for the many potlucks, barbeques, and picnic gatherings throughout the year?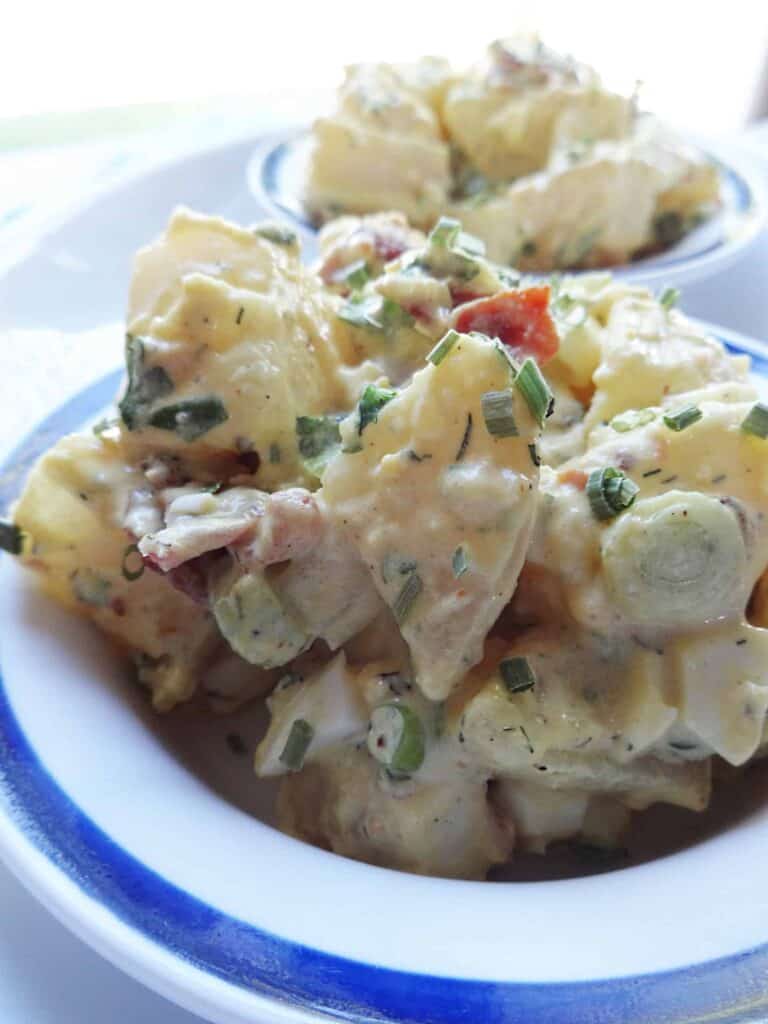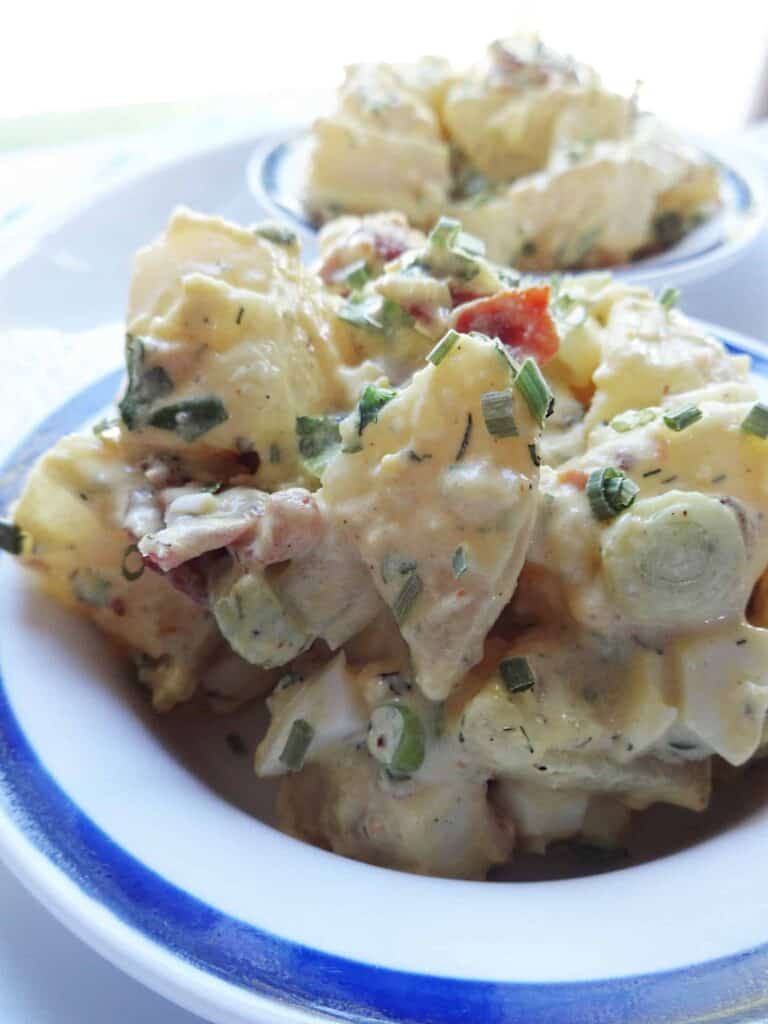 One that is quick to put together, yet flavorful and satisfying.
I recently took this creamy potato salad to an end-of-school-year picnic. You know that people really like it when they ask randomly, "Who made the ________?"
Well, four or five moms said within my earshot, "This potato salad is amazing." Or, "Who made the potato salad?"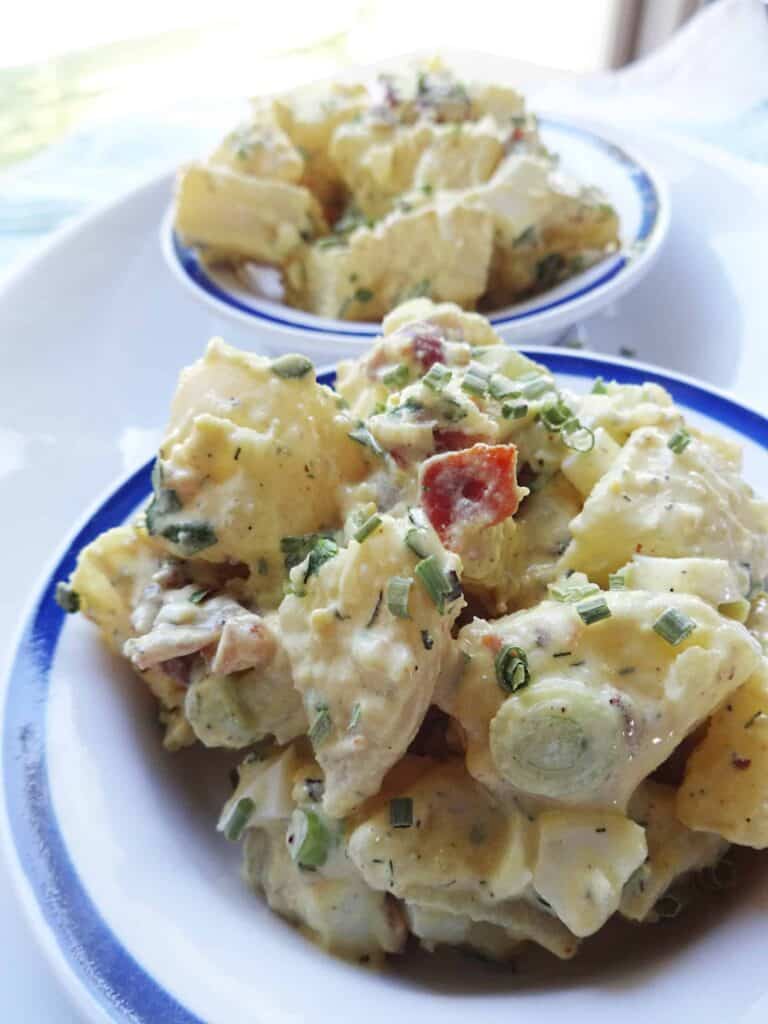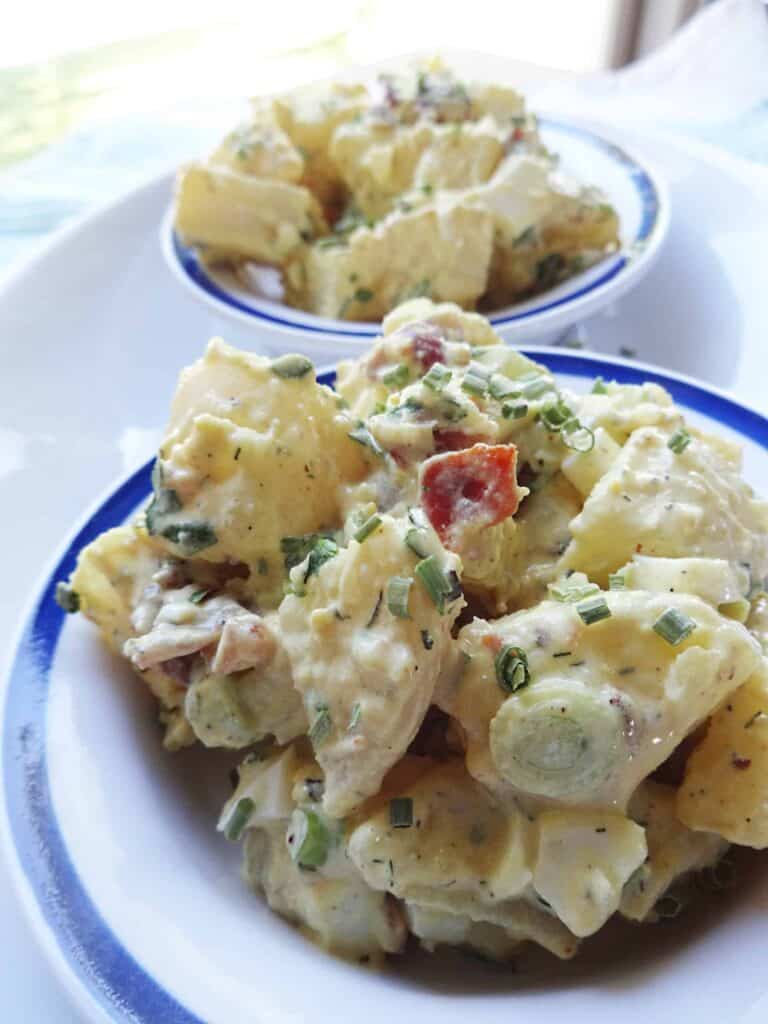 Needless to say, this was why I knew that this recipe was a definite keeper. My family loves it, but the fact that multiple other families also loved it (including kids who were gobbling it up) was the best way for me to know that the recipe is a success beyond my own family.
I hope that you get the same comments when you make it. And you can absolutely take all the credit for the praise! So, take it to your next picnic, cookout, or potluck and listen for random comments before they know who made it.
Why is this potato salad so special?
Did you notice that this is yet another of my recipes with my beloved BACON? Ah yes, I can't seem to stop using it in my recipes. It just makes sense too often … 😉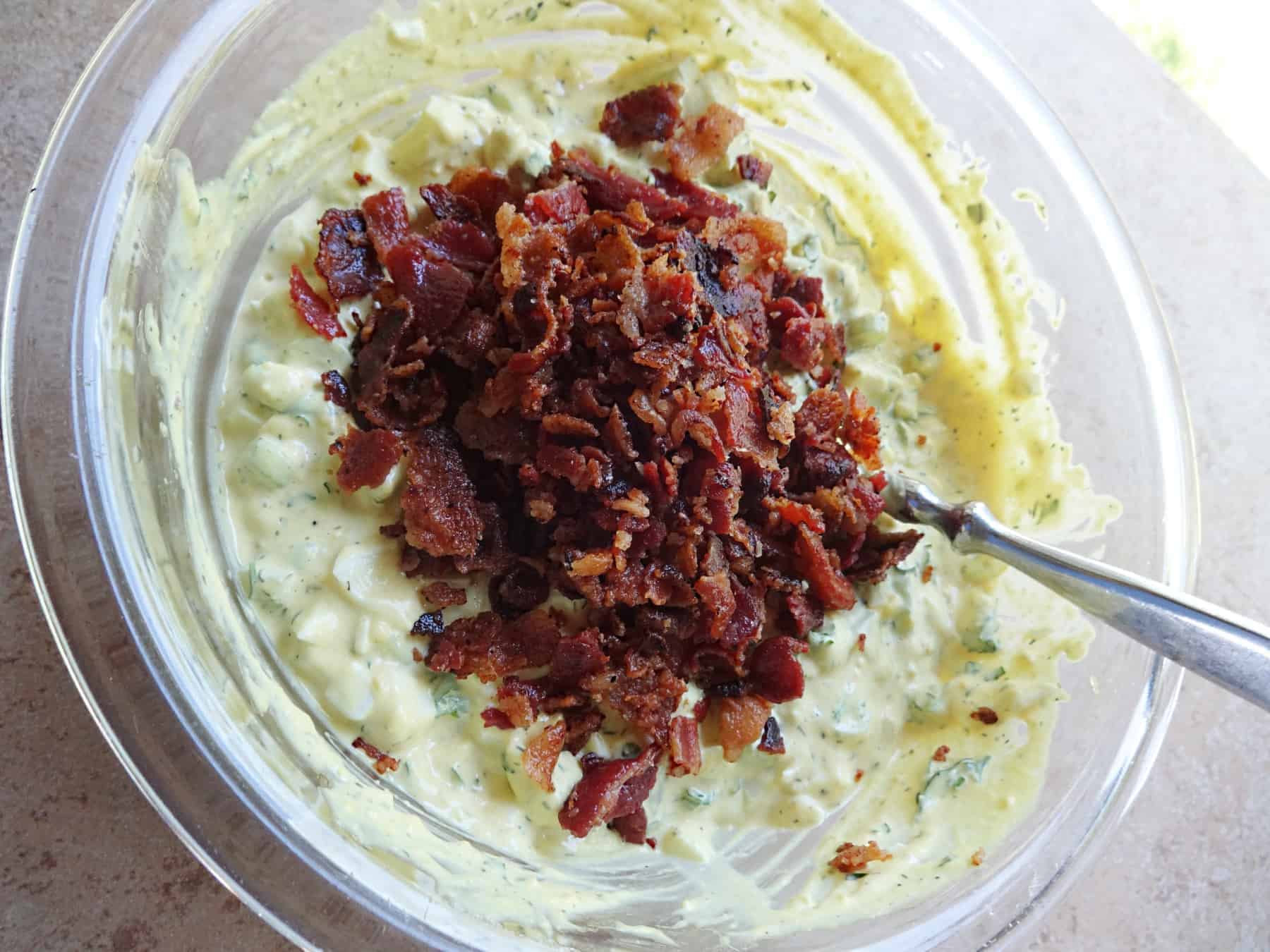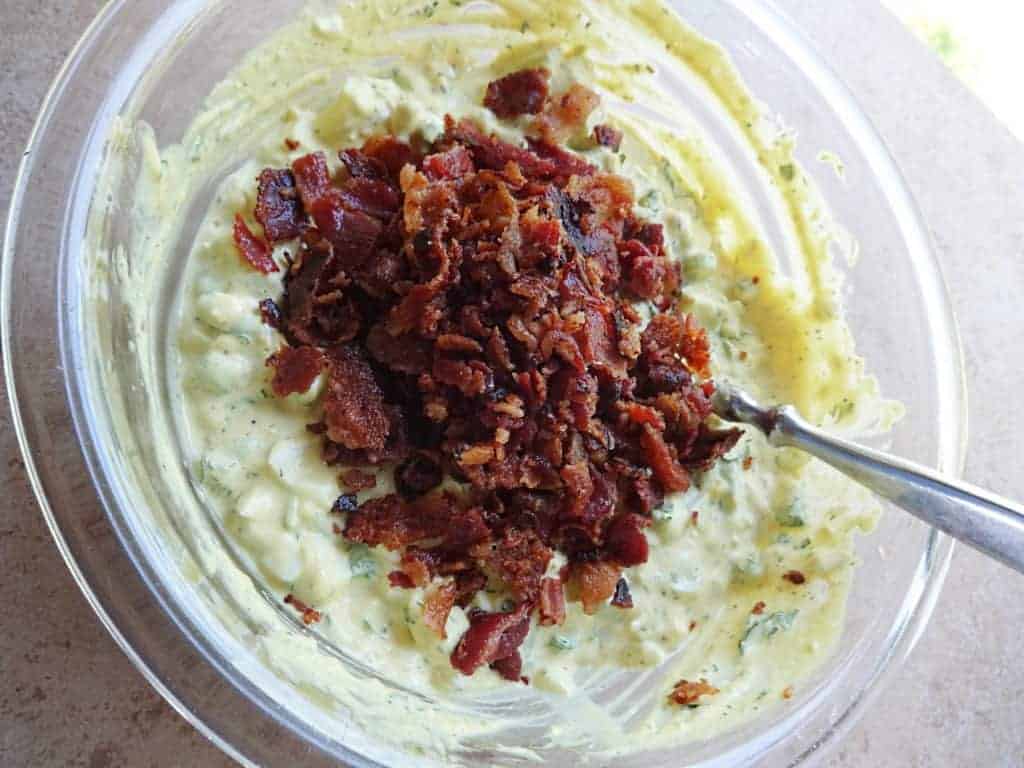 This is no ordinary salad, as the ingredient list is extensive. And with bacon, green onions, celery, yellow mustard, paprika, dill – all ingredients I couldn't bear to leave out. Not ordinary, but it is simple to make. Best made ahead and refrigerated for at least a few hours, preferably overnight.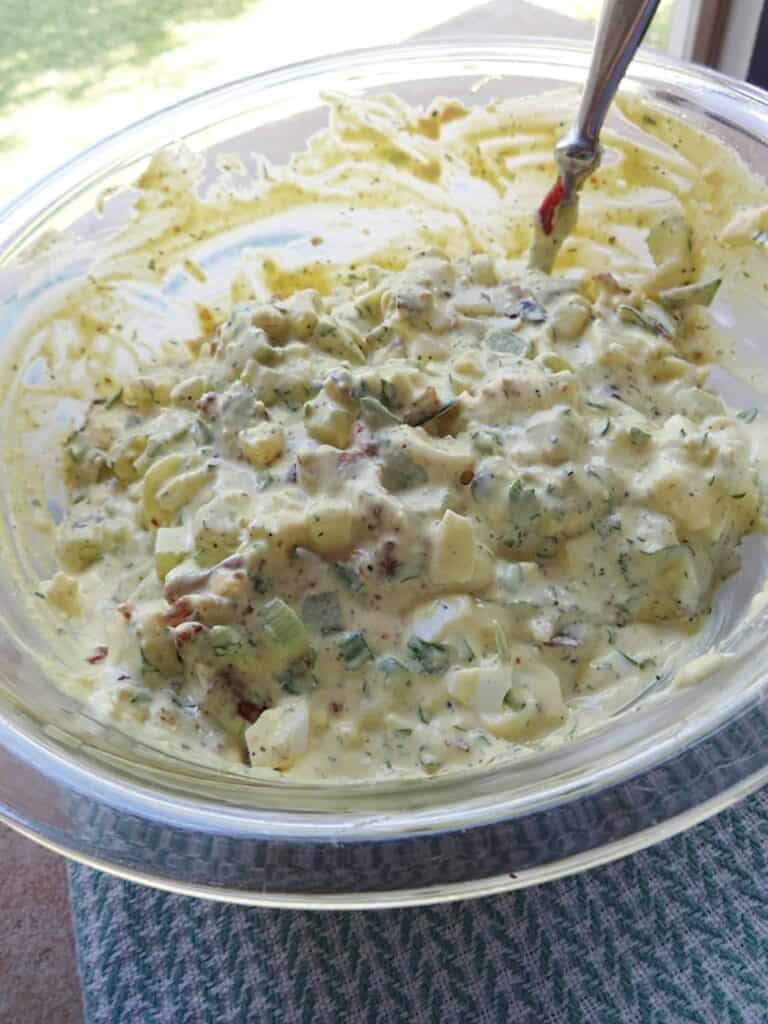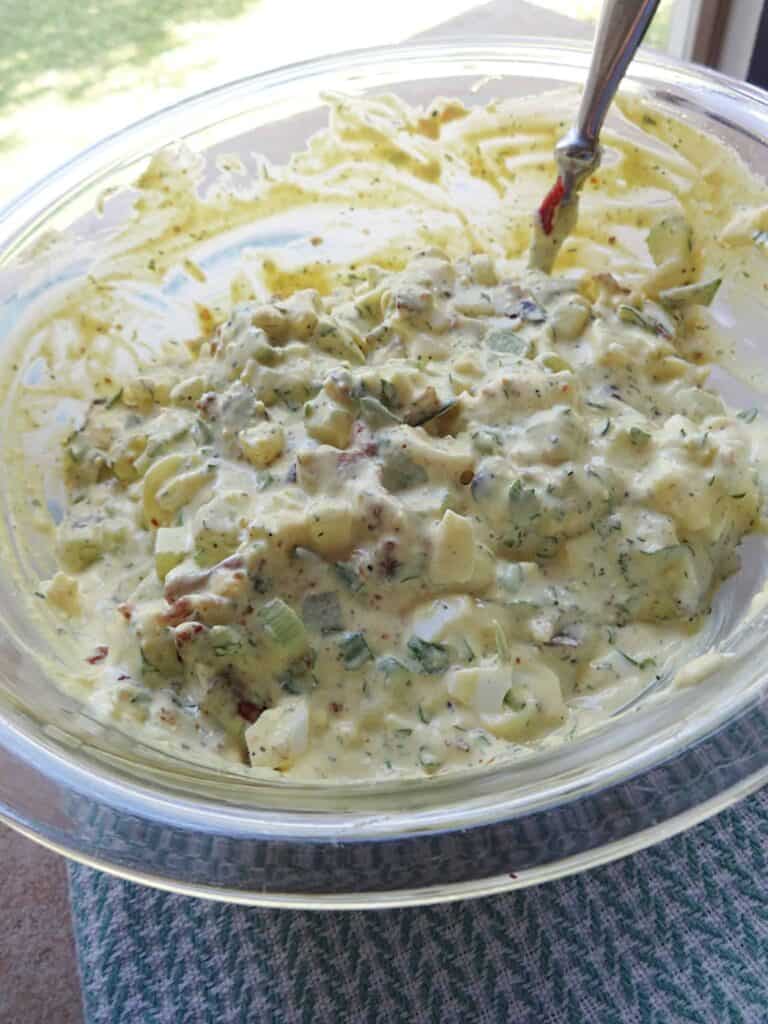 The color, the creaminess, the light crunch of the celery, the smoky bacon flavor, and the tender potatoes – all make this potato salad an absolute winner. I hope that you, your family, and all you serve it for are as delighted with it as my family and friends. Enjoy!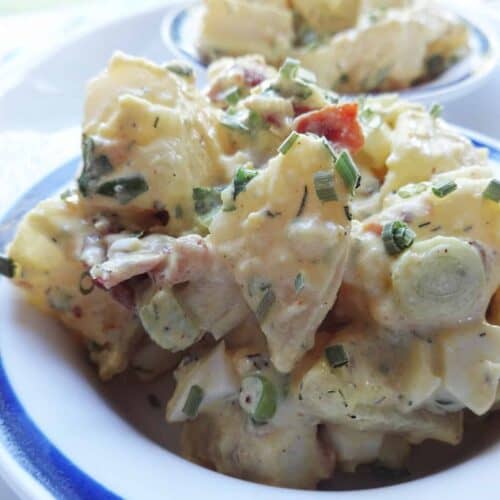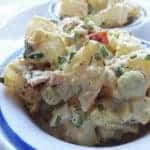 Print Recipe
Simple Potato Salad With Bacon
Who doesn't love to be able to whip up a simple potato salad for the many potlucks, barbeques, and picnic gatherings throughout the year?
Ingredients
3

pounds

red or white potatoes, cut in half

7

slices

bacon

4

boiled eggs, peeled

1

large stalk

celery, finely chopped

1

bunch

green onions or scallions, chopped (about 1/2 cup)

1/4

cup

fresh parsley, finely chopped

1

tsp

salt, more to taste

1/2

tsp

ground black pepper, more to taste

1

tsp

dry dill weed

1

tsp

paprika

1

cup

mayonnaise

1/4

cup

yellow mustard
Instructions
Wash and cut potatoes in half. Don't peel yet (easier to do after cooking). Add to large pot and cover with water. Bring to a boil and cook on medium for 10-15 minutes or until just tender (fork enters easily). Don't overcook or let get mushy.

Meanwhile, cook bacon until browned and crispy. Remove from heat and set aside.

Cut boiled eggs in half and separate yolks from whites. Chop whites in small pieces. Add yolks to small bowl and mash.

In medium-sized bowl, add egg whites, celery, onion, parsley, dill, paprika, salt, and pepper.

To mashed yolks in small bowl, add mayonnaise and mustard and blend until almost smooth.

Add yolk mixture to large bowl with egg whites and other ingredients and incorporate thoroughly.

When potatoes are done, drain water. Peel each potato and gently chop into 1/2-inch pieces. Crumble cooled bacon. Add potatoes to egg mixture along with crumbled bacon. Blend thoroughly and refrigerate for at least 2 hours before serving (best refrigerated overnight).