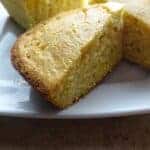 Print Recipe
Easy Southern Cornbread
Southern cornbread is one of the best comfort foods there is. Done right, it's moist inside with a nice outer crust and lightly crumbly texture. Goes great with pinto beans, soup, or alongside just about anything you're fixin' for dinner.
2

large

eggs

1-½

cup

buttermilk or regular milk

¼

cup

bacon fat and/or butter

1

Tbsp

baking powder

¾

tsp

salt

1-¾

cup

corn meal (NOT self rising)

1

cup

flour, all purpose (NOT self rising)
Note: If you want to turn regular milk into buttermilk, simply add the milk to a bowl and add about 1 tsp apple cider vinegar. Let it sit until you get the rest of the ingredients combined (about 10 minutes).


Preheat oven to 400 F.


Mix all dry ingredients in a medium-sized bowl until incorporated.


In a large bowl, beat the eggs.


Add the dry ingredients to the eggs and mix. Add the milk and hot fat from the pan and mix gently until incorporated.


Add batter to the hot skillet and cook for 25-30 minutes or until golden brown. Serve right away with butter. Leftovers can be stored in the refrigerator for a few days.