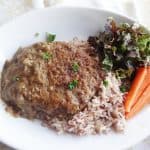 Print Recipe
Quick Prep Melt-in-Your-Mouth Salisbury Steak Recipe
Salisbury steak, also called Country Style steak, is one of the best comfort foods around. When cooked right, it's very tender and flavorful and goes great with mashed potatoes or rice for all that saucy gravy from the pan.
Preheat oven to 350 F.


Heat heavy-bottom pan to medium heat (I use my cast iron Dutch oven).


Mix flour and all dry ingredients in medium bowl or large plate. Coat steaks on both sides thoroughly with flour mixture, reserving remaining flour mixture.


Add butter to hot pan. When butter is melted, add steaks to pan and cook on each side until browned (about 5 minutes each side).


Remove steaks from pan. Turn down heat and sprinkle the rest of the flour mixture over pan drippings. Add broth slowly while blending with whisk or fork until smooth.


Return steaks to the pan and nestle into broth. Cover and cook in preheated oven for 2 hours.


Serve with rice or mashed potatoes and vegetable or salad of choice for a hearty, satisfying meal.