This post may contain affiliate links. Please read my disclosure policy.
These cast iron Brussel sprouts are easy, quick, and so delicious due to the bacon and quick cooking method.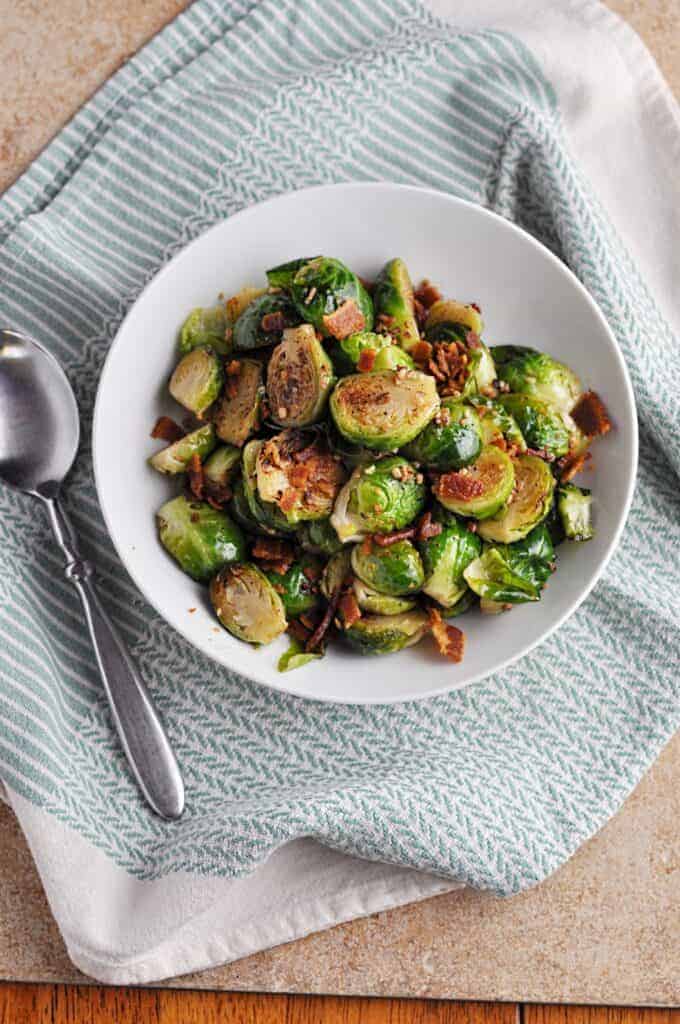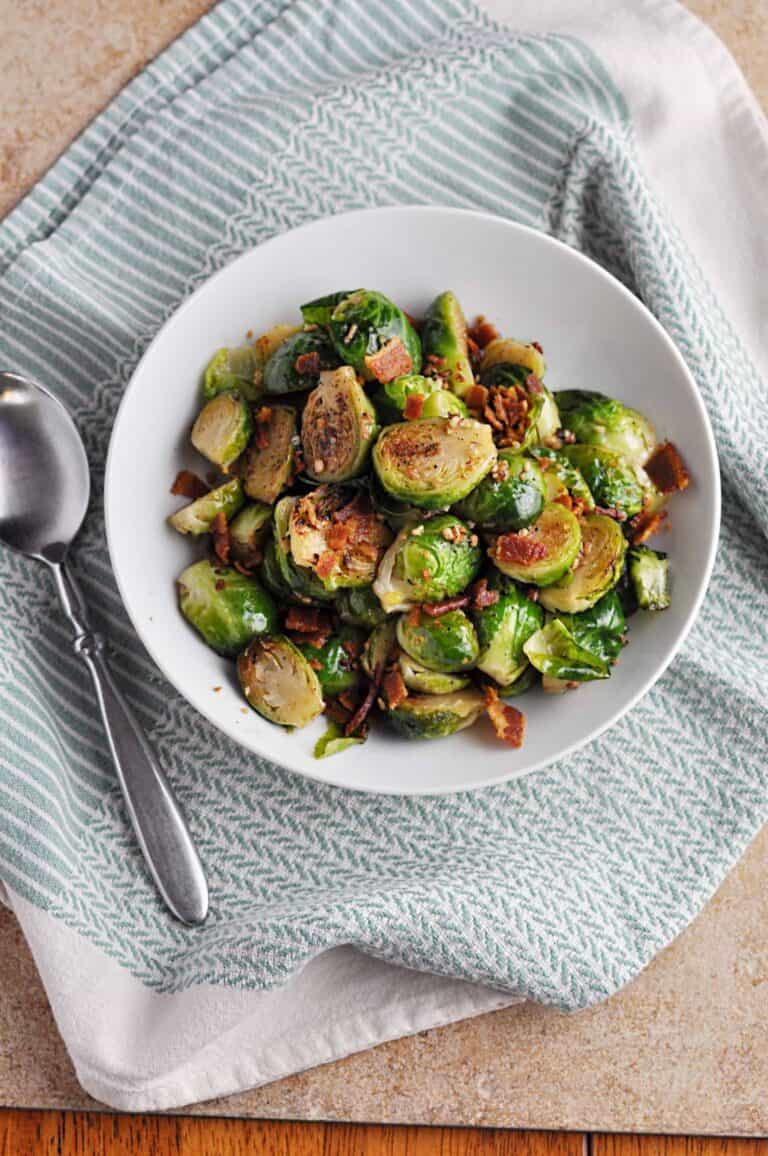 With this recipe, you may find that Brussels sprouts aren't so bad after all, especially since bacon is involved.
Most of the Brussels sprouts you get out at restaurants are bitter, mushy, and very unappetizing ... but it truly is fairly simple to make this healthy vegetable very yummy with the right techniques.
Tips for Making the Best Cast Iron Brussel Sprouts
Start with fresh Brussels sprouts. And get them as small and tender as possible. The older and bigger they are, the more likely they are to be bitter.
Fresh is better than frozen, as frozen Brussels sprouts tend to take on water and not be able to recover when it comes to cooking time. I'm a pretty big advocate for frozen vegetables most of the time ... except when it comes to Brussels sprouts and broccoli. Just go with fresh - trust me 😉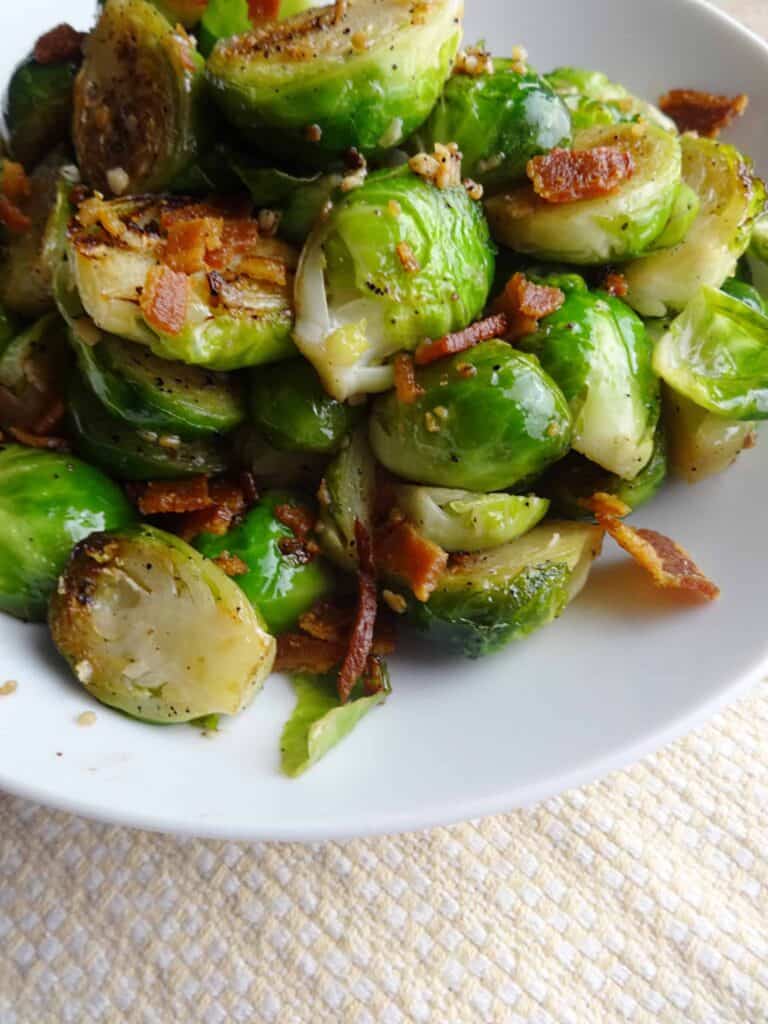 Next, you want to make sure not to over cook the Brussels sprouts. Just like when cooking broccoli, sprouts are better lightly firm instead of getting mushy. They are more flavorful when they're firm, and they're also a better feel in the mouth.
Lastly, plan to serve your Brussels sprouts right away once they're done, as they're not nearly as good once cooled, and you don't want to cook them more by reheating them. So, even if you have to cook them once your main course is ready, it will be worth it to have fresh Brussels sprouts instead of lukewarm ones.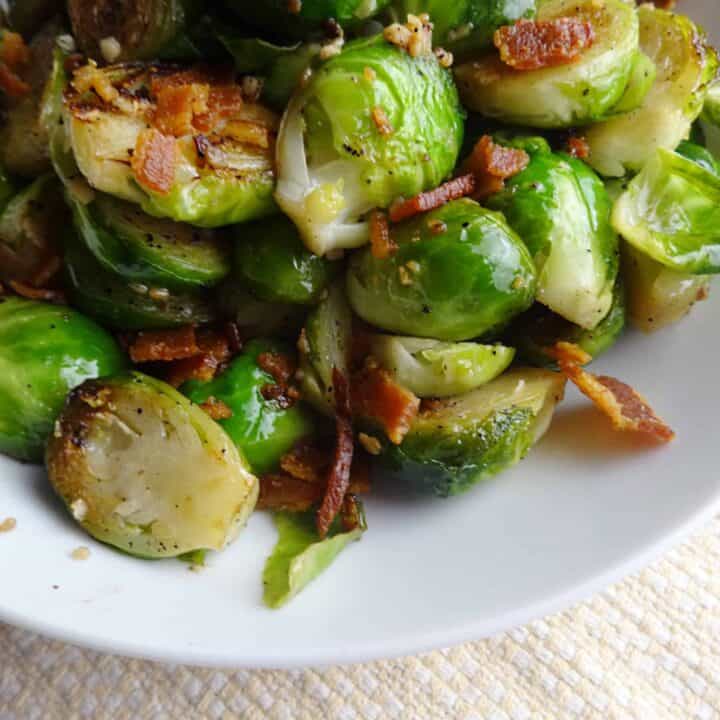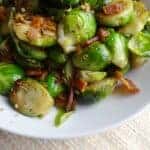 Print Recipe
Cast Iron Brussel Sprouts Recipe (with Bacon)
Ingredients
3

slices

lean bacon

1

pound

fresh Brussels sprouts

1

tablespoon

garlic, minced (about 2-3 large cloves)

½

teaspoon

salt

½

teaspoon

ground black pepper

1

tablespoon

bacon fat

1

tablespoon

butter (plus 1 teaspoon at the end)
Instructions
In a large heavy skillet (I prefer cast iron), cook bacon on low to medium heat, turning midway.

While bacon is cooking, prepare Brussels sprouts by cutting off stem end, washing, and cutting each in half.

Pat Brussels sprouts dry.

Once bacon is done, remove from pan to drain on paper towels.

Remove all but 1 tablespoon of bacon fat. Add butter to pan and melt on medium heat.

Add garlic, salt, pepper, and Brussels sprouts cut side down to oil in pan. Cover and cook 5 minutes.

Uncover, stir, and cook 5 minutes more.

Add crumbled bacon and 1 teaspoon of butter. Serve right away.
Don't Forget to Pin For Later!