This post may contain affiliate links. Please read my disclosure policy.
Cook this BBQ pulled pork in the slow cooker for a zesty, saucy, tender, pull-apart pork that's great on a sandwich or piled high on your plate!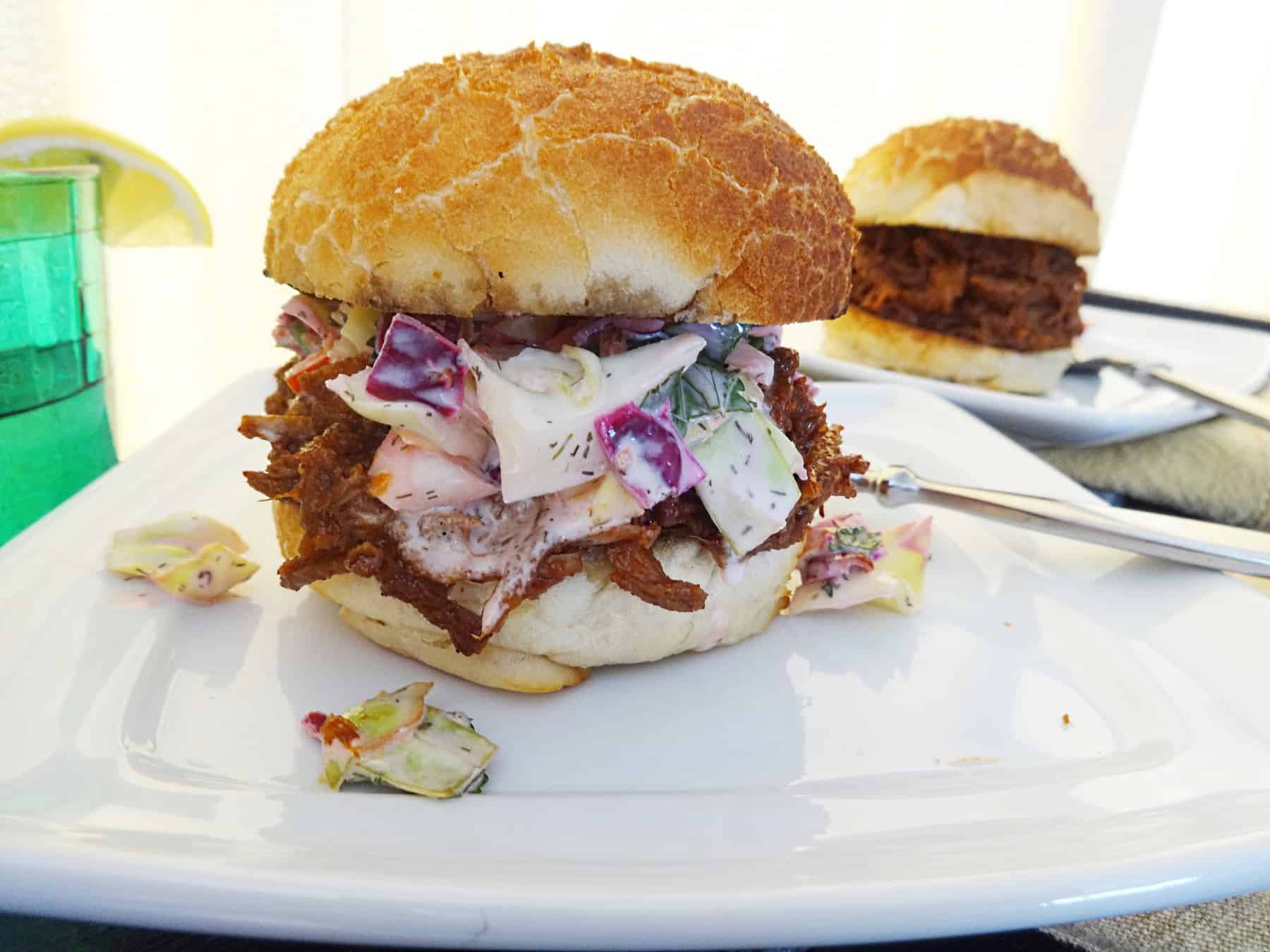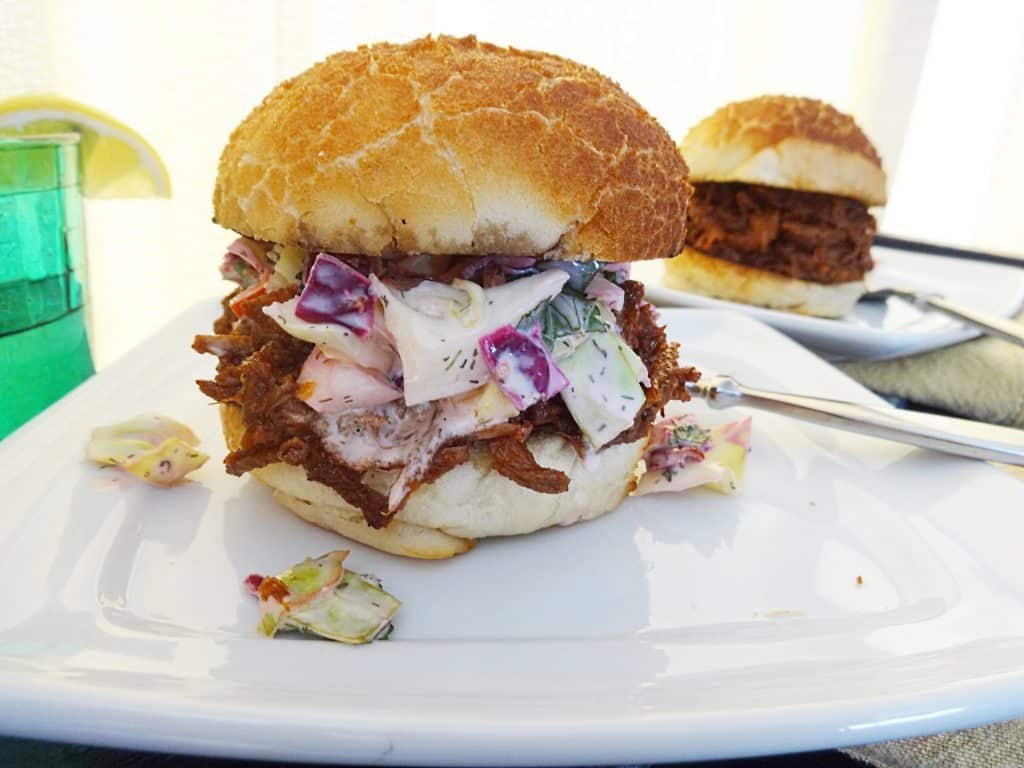 I call these pulled pork "sloppies," as they're a kind of mix between barbeque and sloppy Joes. So, they're a kind of hybrid, if you will ... but delicious, if you want to just dive in and not discuss it 😉
Top your barbeque sandwich with my Tangy Lemon Dill Rainbow Coleslaw or my basic Southern coleslaw recipe.
You may not have believed how fabulous a sloppy Joe or barbecue sandwich can be!
You can also choose to serve coleslaw on the side (my family goes mixed on this one).
Still a great savory / sweet combination that will mess up your mouth and hands as you dive into this un-classic take on a classic.
So, topped or not - bun, or not ... these pulled pork "sloppies" will have all your kin asking for you to make it again and again. Enjoy!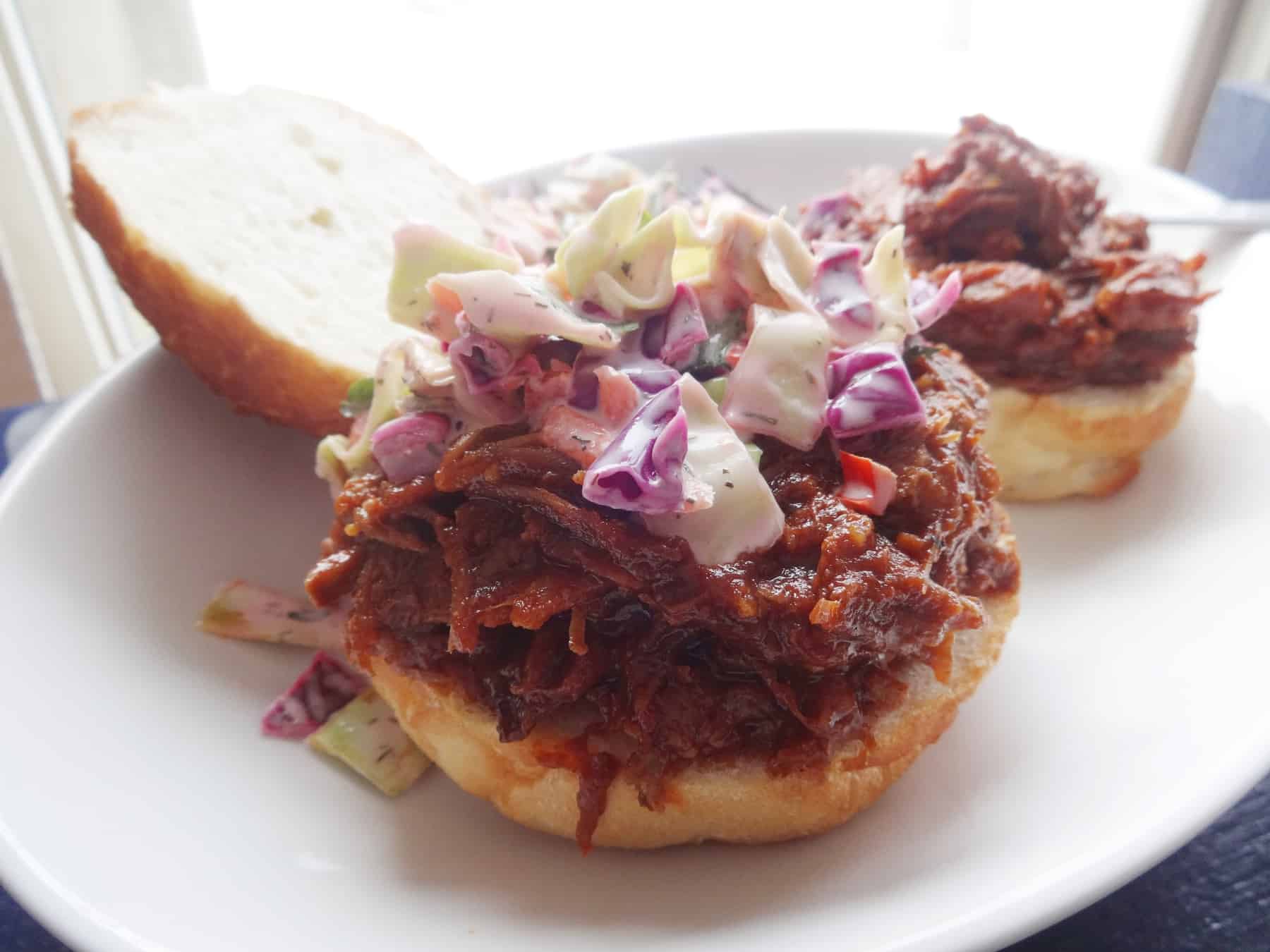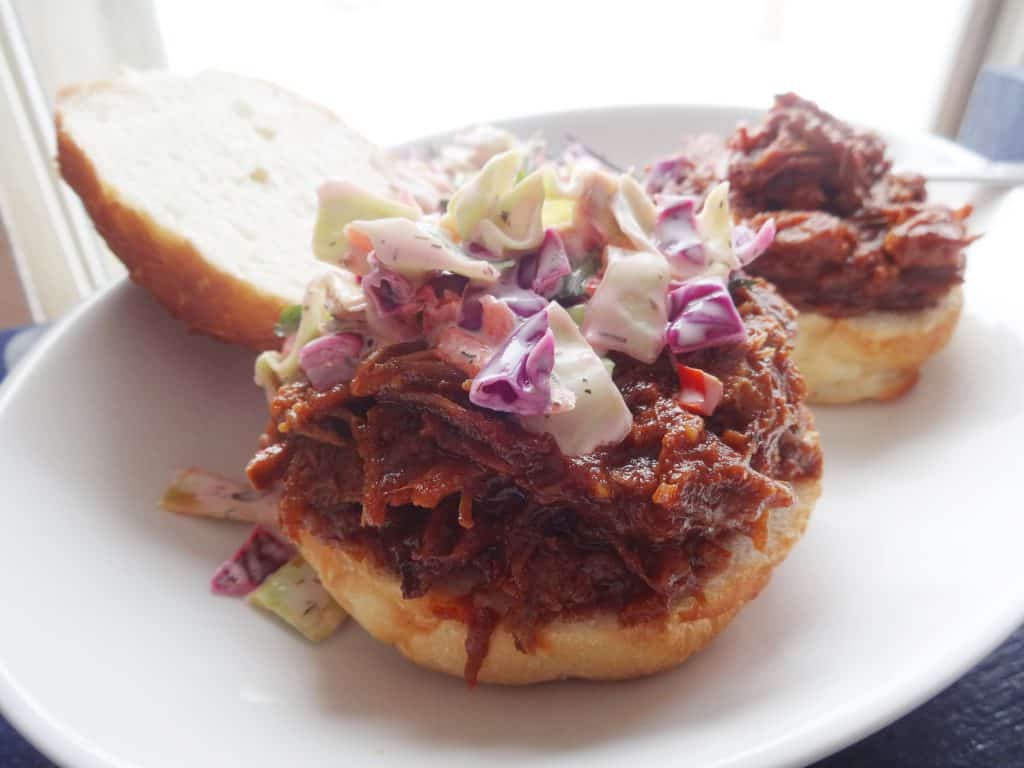 How to Make BBQ Slow Cooker Pulled Pork
First you will cook your pork roast, boneless or bone in. No need to trim any fat before cooking, as the fat will add flavor to the meat during cooking.
Once the pork is fall-apart tender (after 6-8 hours of slow cooking), you will remove the roast from the slow cooker and separate the meat from the bones and fat.
You want small pieces, and it's ideal to "pull" the meat apart with your fingers or with a fork or two. The meat should be very tender, so this process should be simple and not take very long.
Next, you will return the meat to the slow cooker and add all the sauce ingredients. I like to mix it all with a large fork to help incorporate the tomato paste and the other ingredients.
If you prefer, you can mix together all the sauce ingredients in a bowl with a fork or whisk before adding to the pulled pork.
This is probably a better option, but I don't always prep my sauces together before adding in.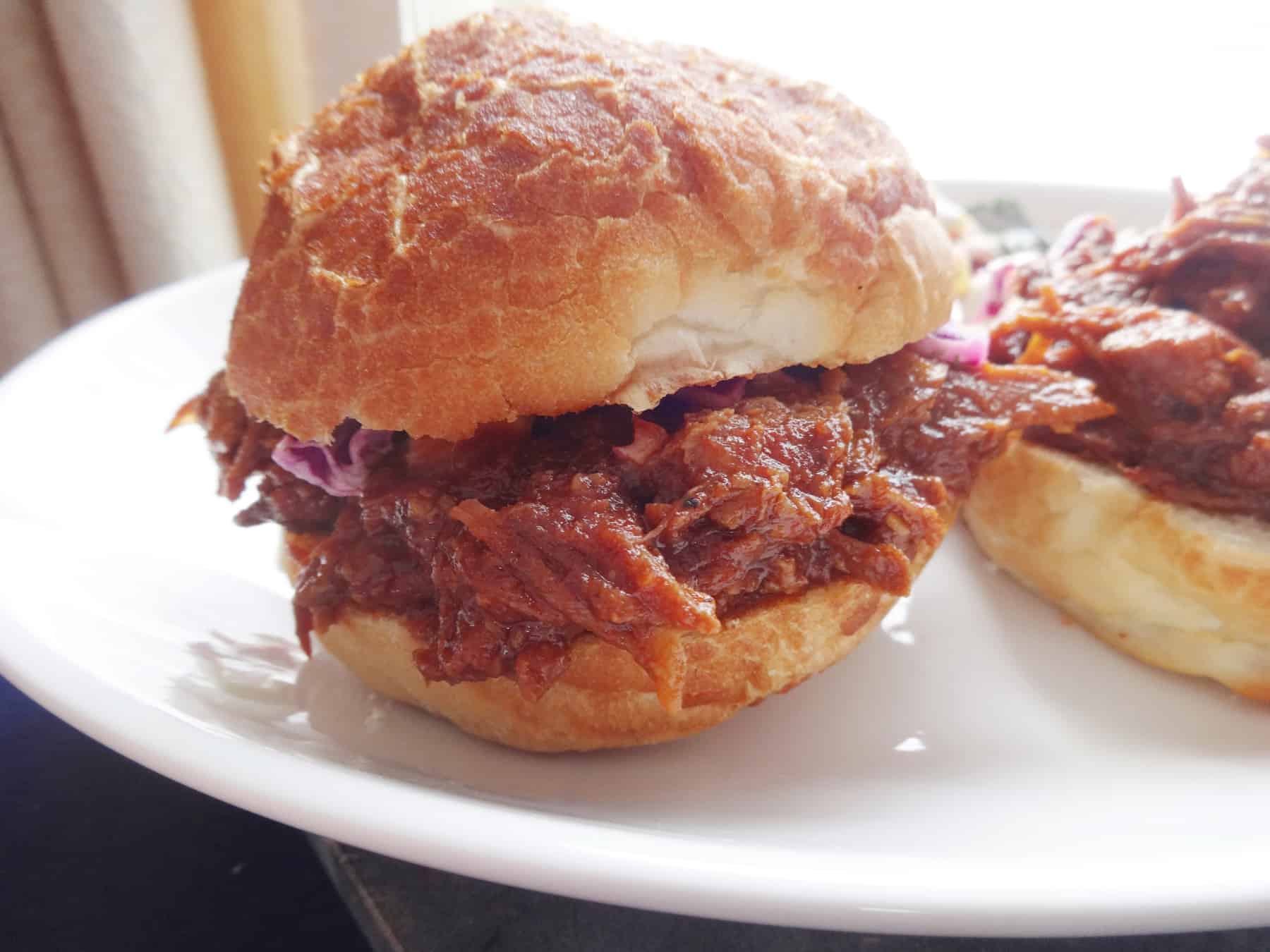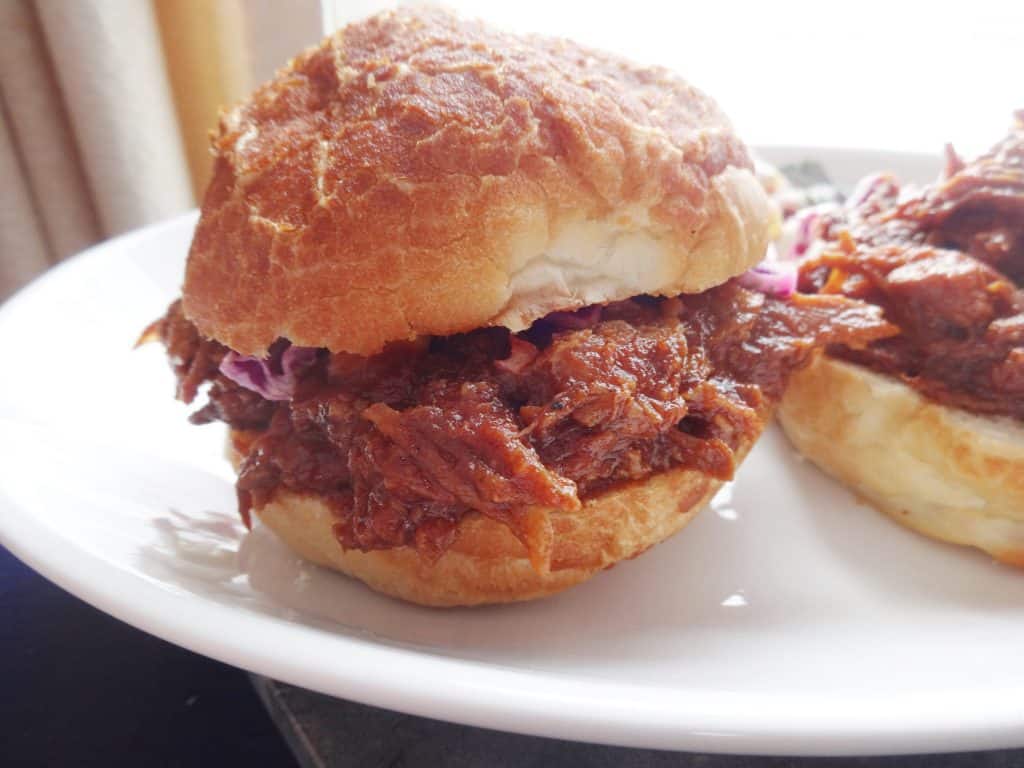 Pulled Pork Sauce
The sauce for this pulled pork is simple to make. It's made up of tomato paste, a bit of water, Worcestershire sauce, molasses, onion powder, thyme, garlic, vinegar, and dry mustard powder.
All these combine to give you a saucy, lightly sweet, savory, flavorful sauce that your slow cooked pulled pork will soak up once done.
No extra sauce will be needed, and no fear that this pulled pork will be dry.
Once the pork is done cooking, the sauce ingredients will readily soak into the pulled pork bits, incorporating all the saucy goodness into the meat.
Thirty minutes more is all you need to serve this delicious pulled pork!
I hope you enjoy this pulled pork BBQ slow cooker recipe as much as my family and I do! Let me know in the comments below!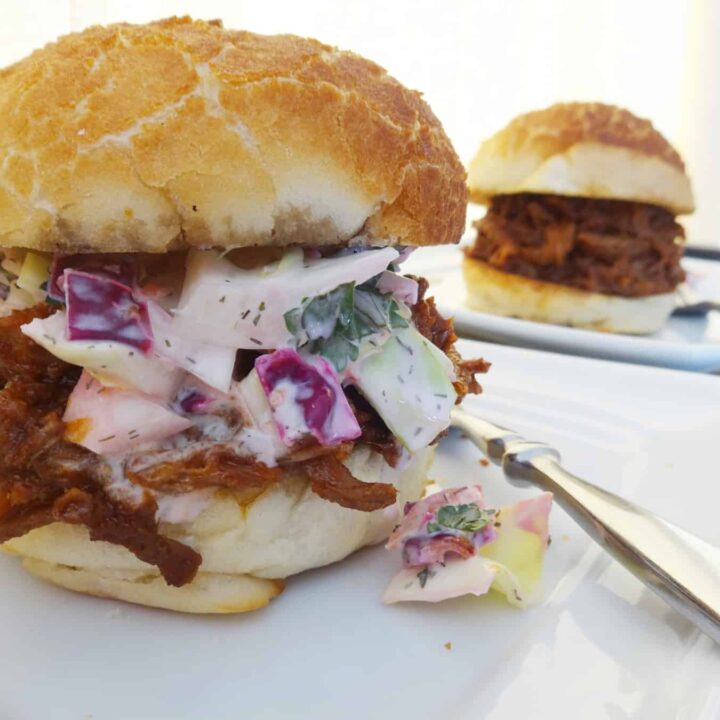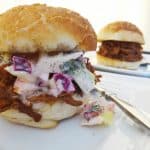 Print Recipe
Pulled Pork Sloppy Joes BBQ
I call these pulled pork "sloppies," as they're not really barbecue and not really sloppy Joes. So, they're a kind of hybrid, if you will ... but delicious, if you want to just dive in and not discuss it 😉
Ingredients
2

pound

boneless pork roast (or 2-½ pound bone in)

1-2

Tbsp

olive oil

6

ounce

can tomato paste

2

Tbsp

Worcestershire sauce

½

cup

molasses

½

tsp

onion powder

½

cup

water

½

tsp

ground dried thyme

2

Tbsp

garlic, chopped

1

Tbsp

apple cider vinegar

2

tsp

dry mustard
Instructions
Add pork to slow cooker and turn heat to high. Drizzle with the olive oil and cook for 6-8 hours or until it's falling off the bone.

Remove meat from slow cooker and separate out any fat or bone, pulling it into bite-sized pieces as you go.


Return meat to slow cooker and add the rest of the ingredients. Mix well. Turn heat to low. Cook for another 30 minutes to 1 hour (the longer the better for improved blending of flavors).


Serve by itself or on buns or rolls.

Enjoy!