Southern black eyed peas with collard greens is a New Year's special meal that I grew up on every year. Tasty by themselves - even better combined into one dish!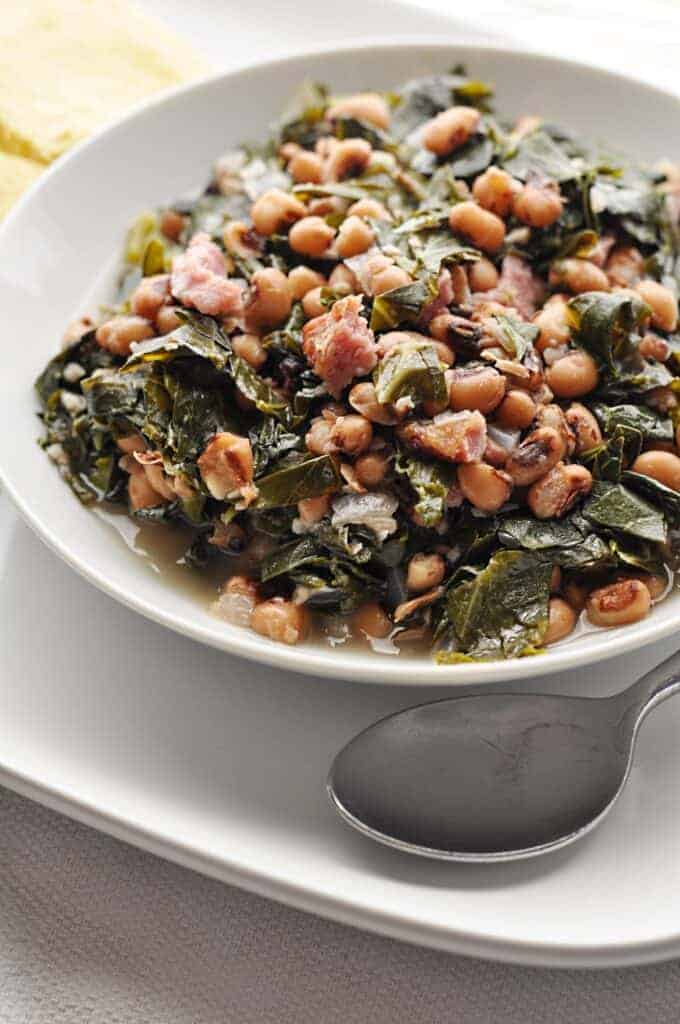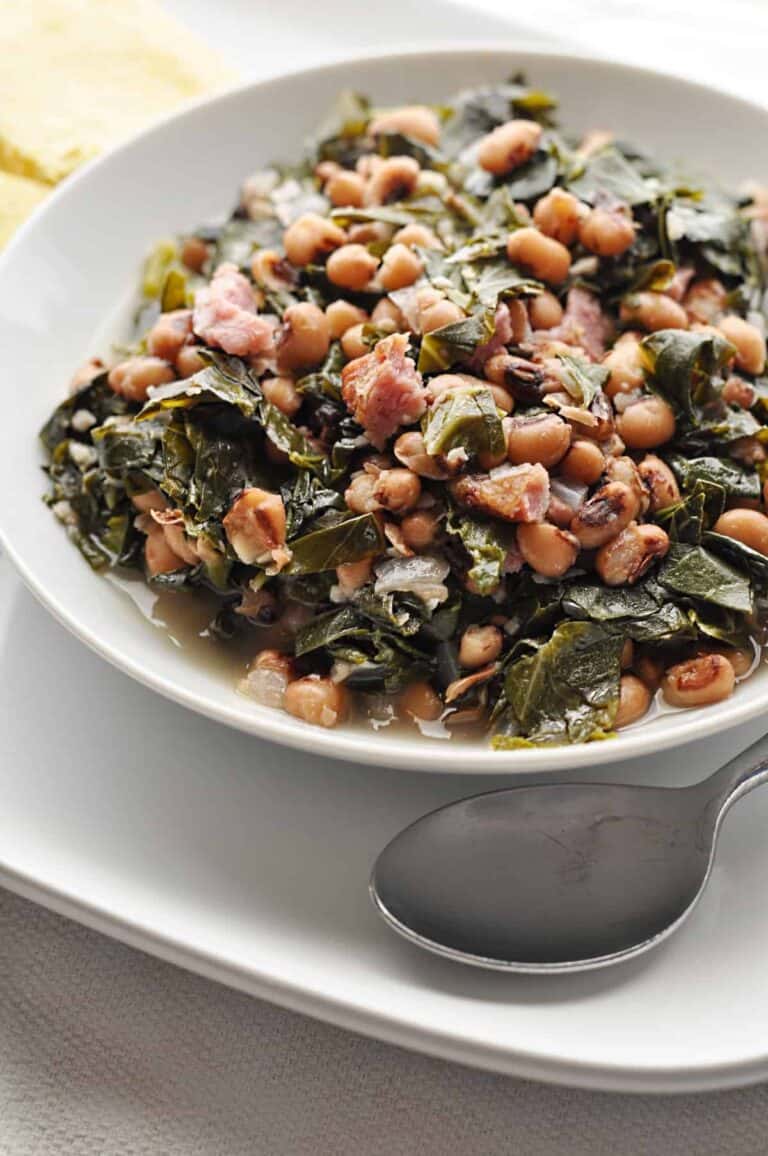 I have loaded the peas and greens with leftover ham chunks in order to heighten the flavor even more.
You could use a ham hock, alternately, or cooked bacon along with bacon fat.
It's pretty important to add some sort of pork in there, though, so give in to the delicious flavors of ham or bacon!
Supposed to bring good luck and prosperity in the new year.
Although I don't believe in "good luck" by eating a particular food (or by any other means, really), it's a great hearty meal and a fun tradition.
Collard greens are mild yet flavorful. They don't have the bitter tendencies of some other greens (I'm thinking about mustard greens and turnip greens).
Southern Black Eyed Peas Tips
I used canned black eyed peas in this recipe, but you can certainly start out with dry peas if you'd like. I was wanting to save some time.
Using dry beans takes more planning, but they are cheaper, and you do have more control over the levels of salt and seasoning with dry beans.
Pork makes the black eyed peas "southern" ... so adding ham hock, ham chunks, and/or bacon and bacon fat is really all you need to give your peas a southern flare.
If you want to slow cook your dry black eyed peas, simply soak for 8-12 hours or overnight in lots of water (make sure the dry beans stay covered during the entire soaking process).
Drain and rinse the beans before adding to your slow cooker and add your liquid. For every pound of dry beans, add 3-4 cups of liquid.
Don't salt the black eyed peas yet - wait until they are almost done. Salting dry beans early on in the cooking process prevents them from softening as quickly.
Cook the beans on high about 6 hours or low for about 8 hours (or until soft). Add salt to taste, then use in your recipe. Two cans of black eyed peas equals about 2 cups worth.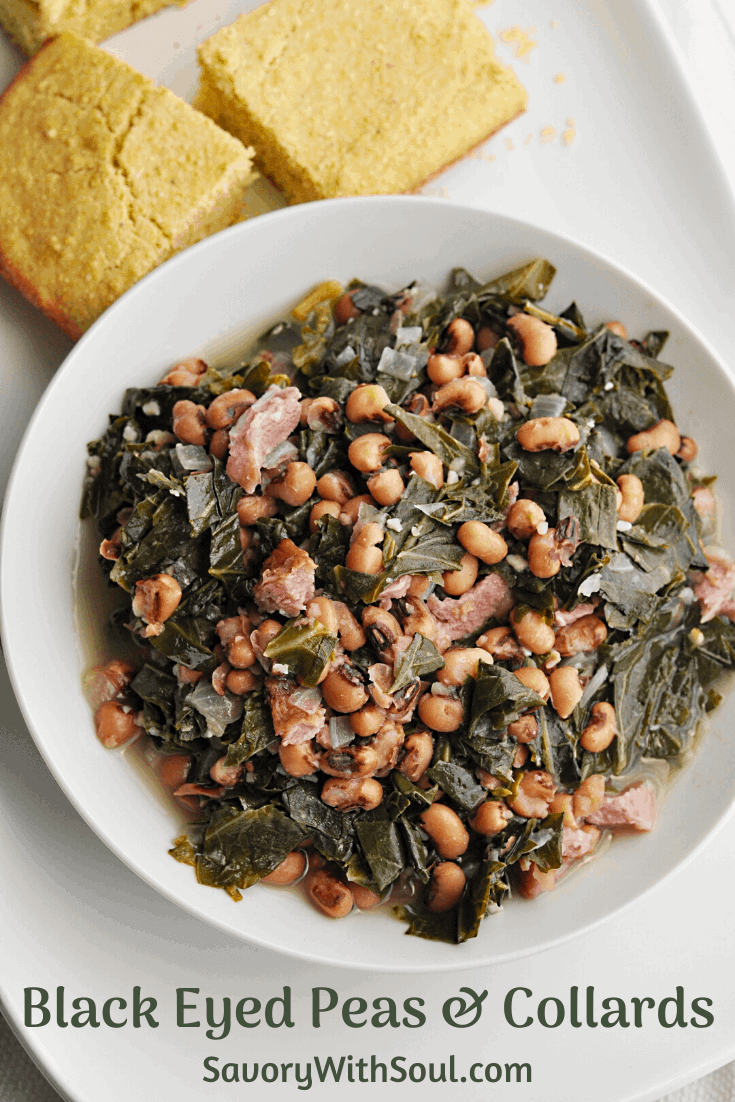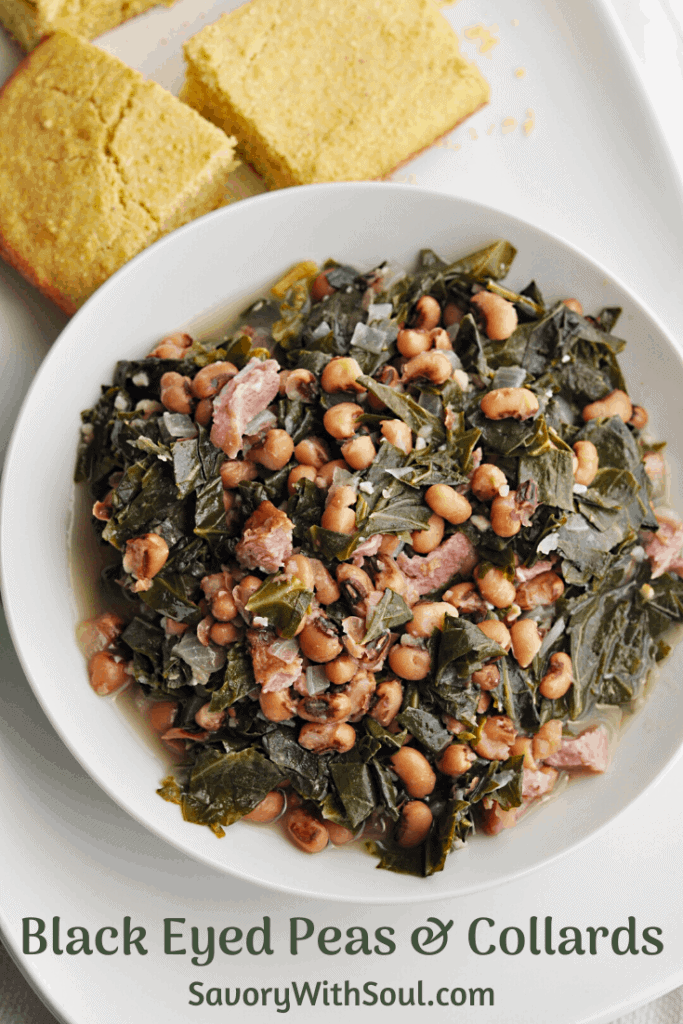 Southern Collard Greens Tips
I like to start with fresh collard greens that are not yet chopped. This way I can control the process of removing the tough stem centers.
Collard greens can be quite sandy, so make sure to wash each leaf individually, rubbing gently with your hands to get off any dirt or sand.
After I cut out the stem, I then stack the half pieces of leaves and chop into about 1-inch pieces.
This recipe uses about 12-16 ounces of greens, or two medium-sized bunches.
It's really not a science, as the amount you use can be doubled or halved anyway, and you can add more flavor as desired with salt and/or more pork.
First, I like to lay the flavor foundation with garlic and onion sauteed in my Dutch oven.
Then, I will saute the greens a bit before adding the ham and liquid for the rest of the covered cook time.
The black eyed peas will be added near the end of the cook time, as they are already cooked.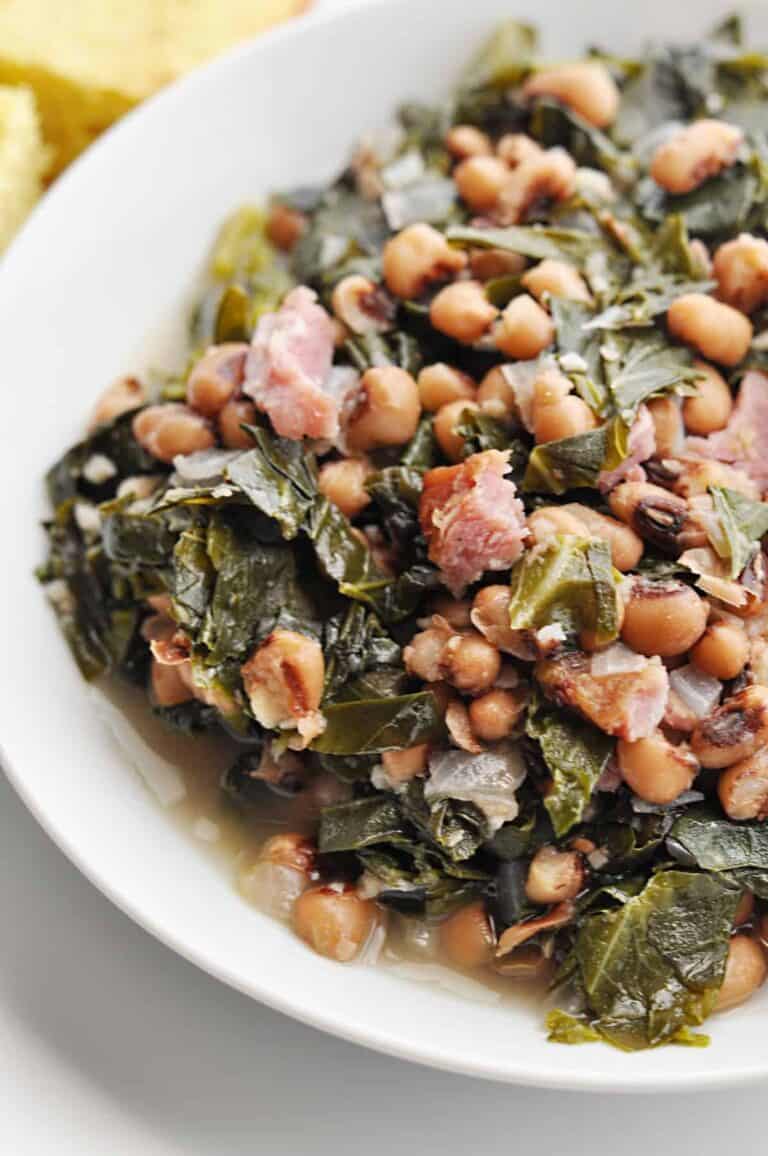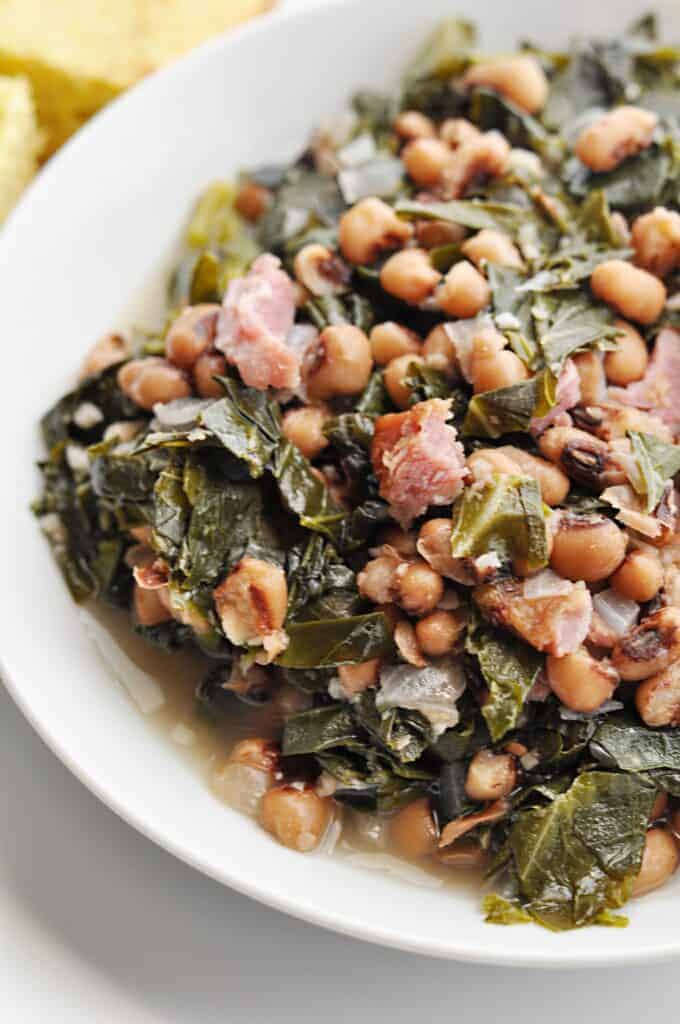 What to Serve with Your Southern Black Eyed Peas and Collard Greens
I like to serve mine with my Easy Southern Cornbread - definitely a fabulous match.
No real need to include anything else but bread, as you're getting your greens, beans, and meat all in one bowl.
My Southern Butter Biscuits are also a great addition to the black eyed peas and collards.
Recipe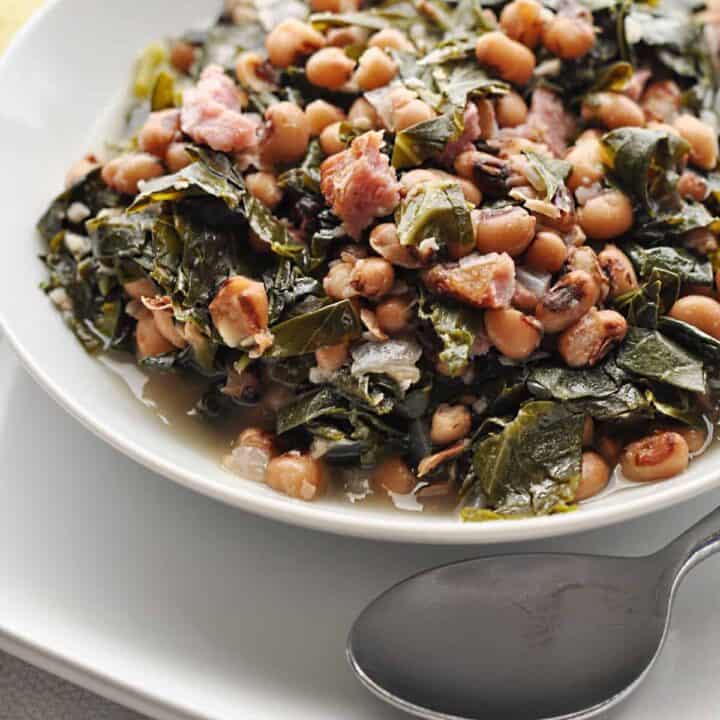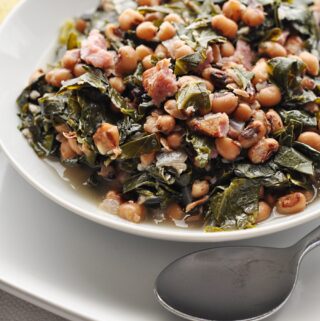 Southern Black Eyed Peas and Collard Greens
Southern black eyed peas with collard greens is a New Year's special meal that I grew up on every year. Tasty by themselves, even better combined into one dish!
Print
Pin
Rate
Ingredients
3

tablespoon

olive oil

1

tablespoon

garlic

, minced (about 2 large cloves)

1

medium

red onion

(or yellow), chopped (about 1 cup)

12-16

ounces

collard greens

, fresh, rinsed, stems removed and chopped into bite-sized pieces

1

cup

ham

, cooked chunks (or cooked bacon)

2

cups

water

(or broth)

½

teaspoon

salt

, more to taste

½

teaspoon

black pepper

, more to taste

31

ounces

black eyed peas

(with only salt added - 2 cans, 15.5 ounces each), drained
Instructions
Preheat cast iron Dutch oven on medium for a couple minutes.

Add oil, garlic, and onion, stir, and cook 5 minutes.

Add collards to pan, stir, and cover 5 minutes.

Add ham, salt, black pepper, and water or broth. Lower heat to 3-4. Cover and cook for 25 minutes.

Add drained beans and stir together. Cover and cook 10 minutes. Serve right away with corn bread or biscuits.
Nutrition
Calories:
475
kcal
|
Carbohydrates:
54
g
|
Protein:
28
g
|
Fat:
18
g
|
Saturated Fat:
4
g
|
Cholesterol:
22
mg
|
Sodium:
737
mg
|
Potassium:
932
mg
|
Fiber:
18
g
|
Sugar:
9
g
|
Vitamin A:
4302
IU
|
Vitamin C:
34
mg
|
Calcium:
264
mg
|
Iron:
6
mg