This chicken cabbage stir fry recipe came about quickly for me ... I was hungry and needed something ASAP. I had the chicken, the purple cabbage and all the other goodness for this recipe ... so this simple beauty was born!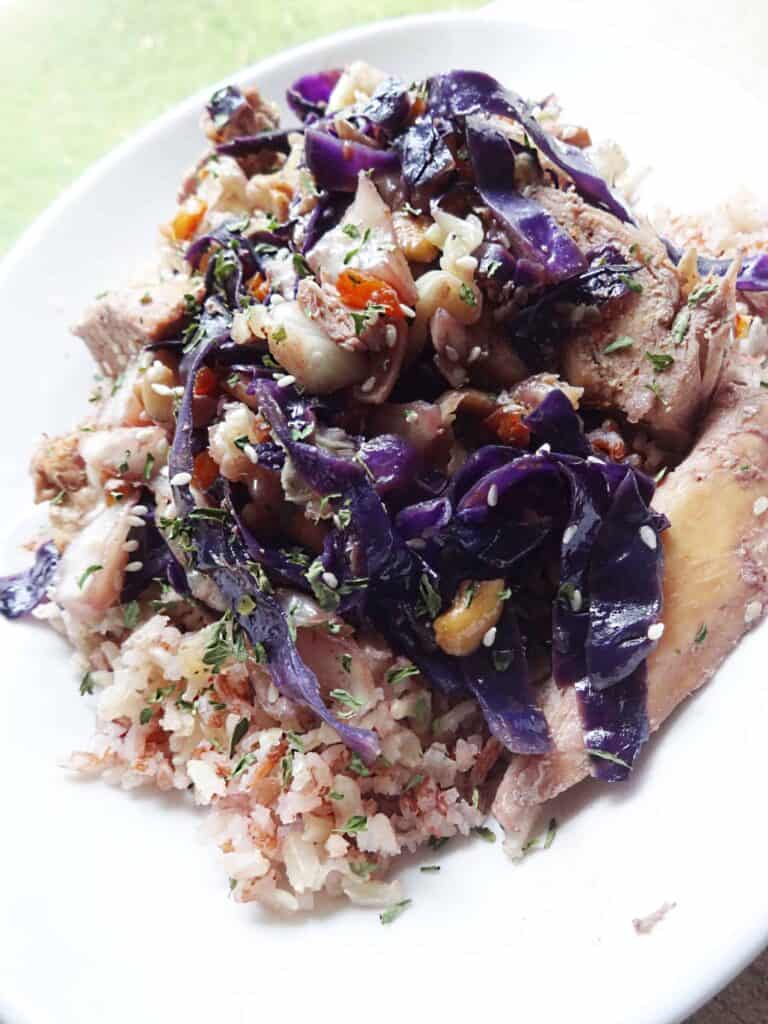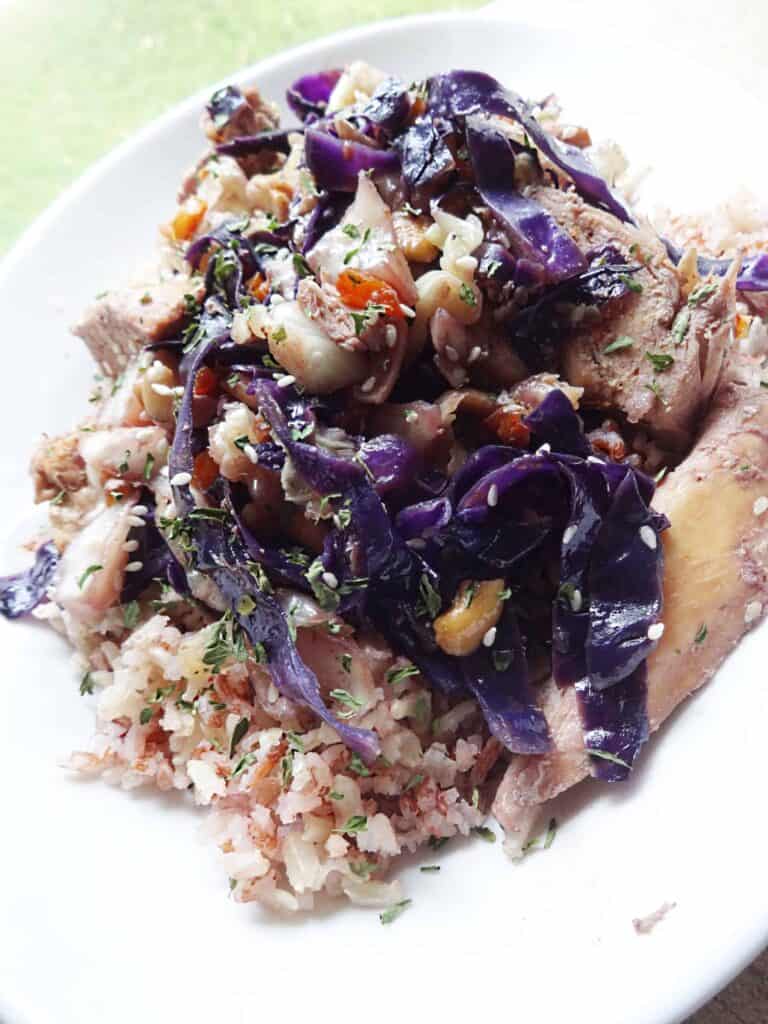 Simple, quick, and tasty. If you have leftover chicken, some jarred minced garlic, cabbage, mushrooms, soy sauce, and sesame oil - you can cook up this dish in a jiffy! If you don't have the sesame oil, this stir fry recipe will still be tasty, but the sesame oil does add a nice flavor.
It's also LOADED with garlic, which I love, but you can cut back a bit if you prefer. This stir fry recipe is very adaptable and forgiving. You can also add more or less soy sauce to your taste.
This recipe is great with either leftover chicken or turkey, which makes it a fantastic quick dinner to use up some of your leftover Thanksgiving turkey.
I'm including the instructions for either uncooked chicken or leftover chicken (or turkey). This chicken cabbage stir fry is so versatile and easy to whip together, but yet so tasty and satisfying. You can also vary the vegetables to suit your family's taste.
I love the green and purple together (my two favorite colors). Make sure not to overcook the cabbage (unless you like it soft). Lightly sauteing it gives a pleasant, satisfying crunch to the final outcome.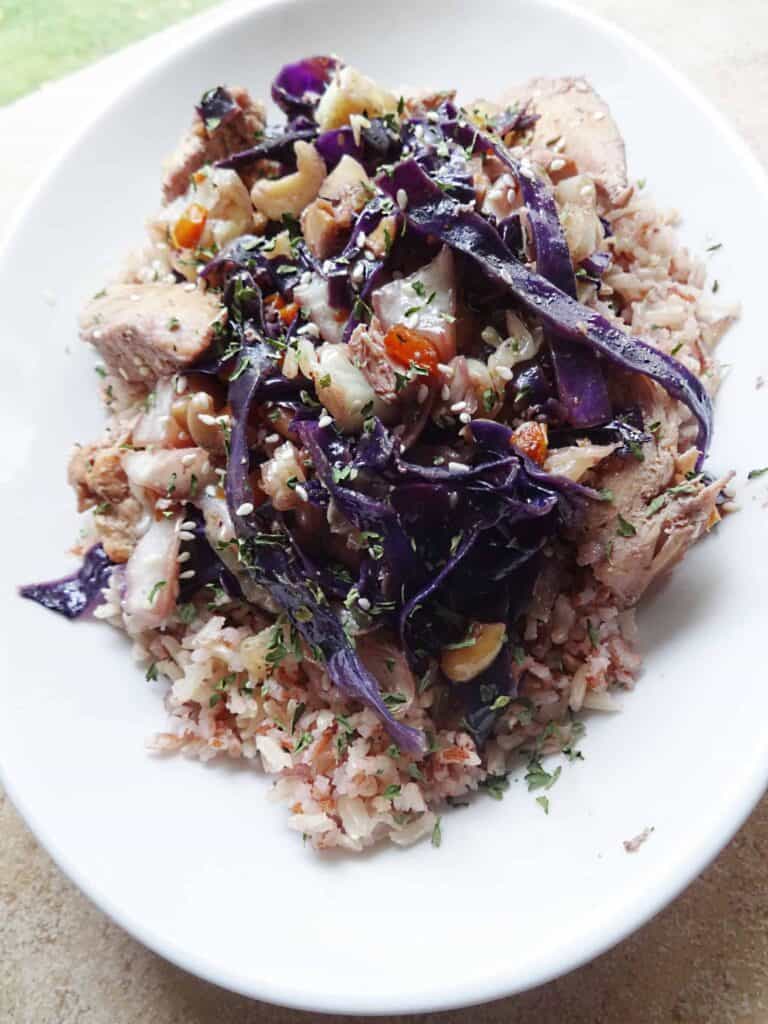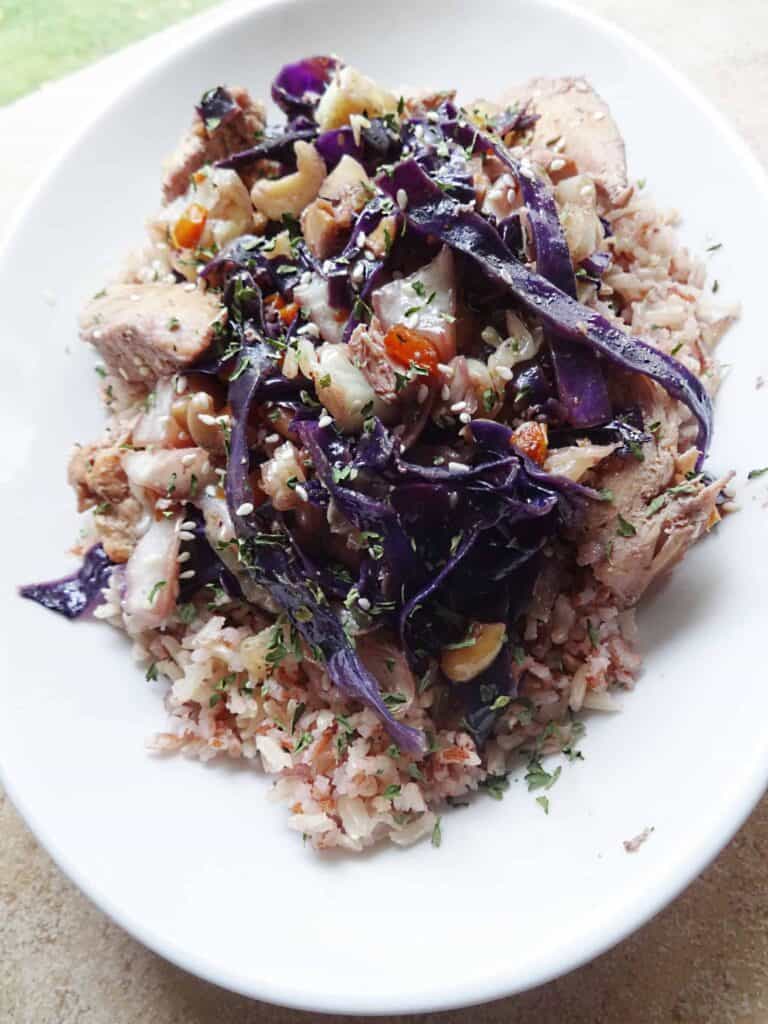 Tips for Delicious Stir Fry Cabbage Chicken
Not only is this chicken cabbage stir fry very tasty, it's also very easy and quick. Using flavorful ingredients is one of the keys to a successful stir fry.
Another important key is to not over cook your veggies. Stir fried vegetables are better when they are crisp tender instead of overly soft.
So really the secret to making a great chicken and cabbage stir fry is simply getting these two steps right.
Follow along, and I'll show you how.
I love to use both purple cabbage and green cabbage, as the colors are really fabulous! To me, part of the success of a recipe is how great it looks. But, of course, the deciding factor is always how it tastes.
To me, the purple cabbage also has a slightly different flavor, but nothing that significant. If you want to use only green cabbage, that's perfectly fine. The recipe will be just as delicious.
Another perk to using purple cabbage is the nice purple hue that the chicken takes on when cooking. I do love purple - my favorite color!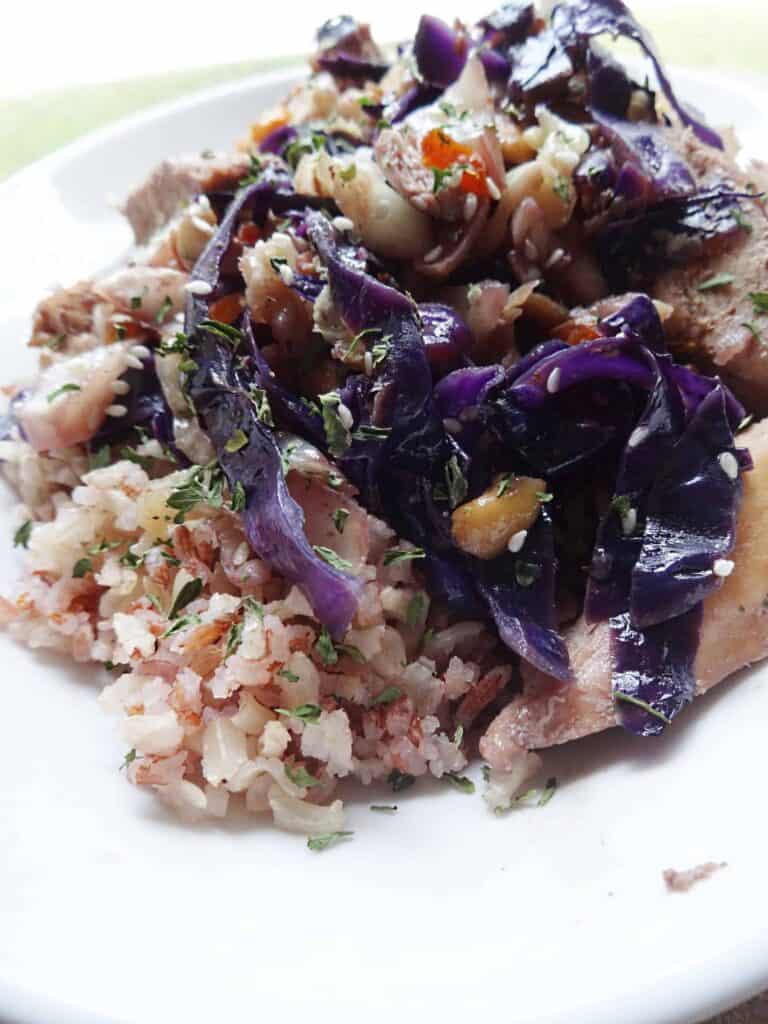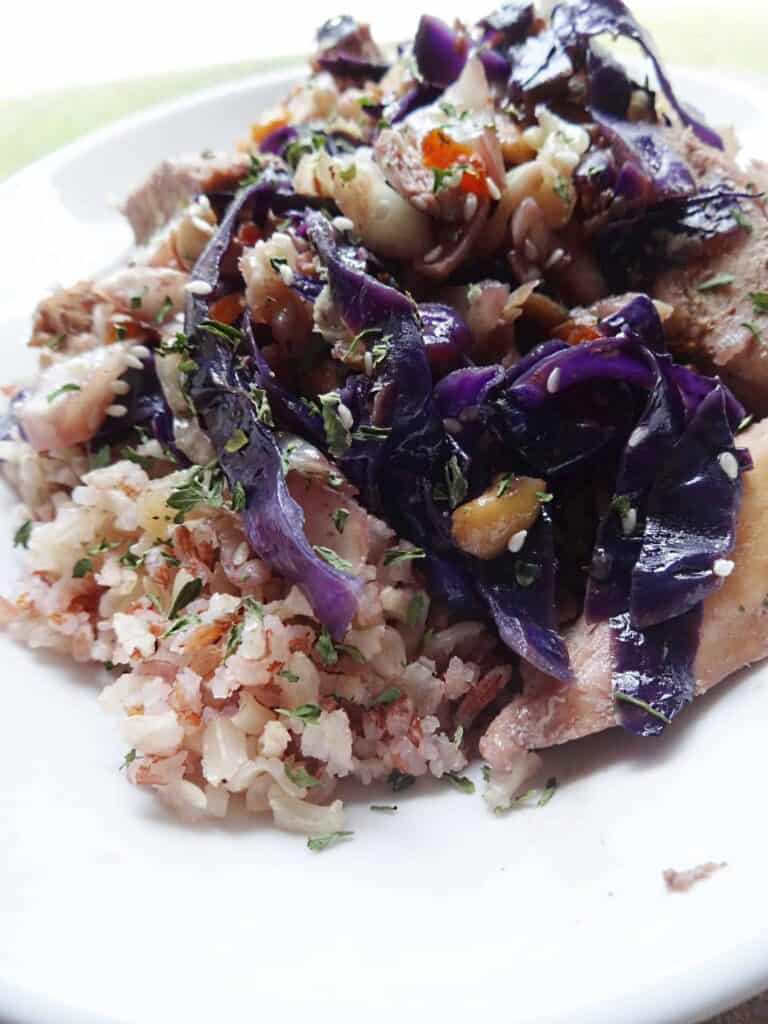 How to Make Chicken Cabbage Stir Fry
Making chicken and cabbage stir fry is very simple, even for the novice cook. If you start with already cooked chicken, the process is even easier. I provide the instructions for using both cooked chicken and raw chicken.
Also note that you can substitute turkey for the chicken in this recipe. A great way to use up leftover turkey after Thanksgiving.
First is to cook your chicken if it's raw. Start with a heavy skillet (I like to use my iron skillet, as it tolerates higher heat better and also cooks more evenly).
Heat your skillet to low-medium, then add your oil. Add the chicken pieces and stir. You will want to keep an eye on the chicken as it cooks so you can turn it to brown on all sides.
When it is cooked through, you will know by the clear juices flowing and no more pink in the chicken.
Before it gets nicely browned but after it's cooked through is the sweet spot of when you will add the rest of the ingredients. You don't want the chicken to overcook, and you don't want the veggies to overcook. You want everything to be perfect, right?
Recipe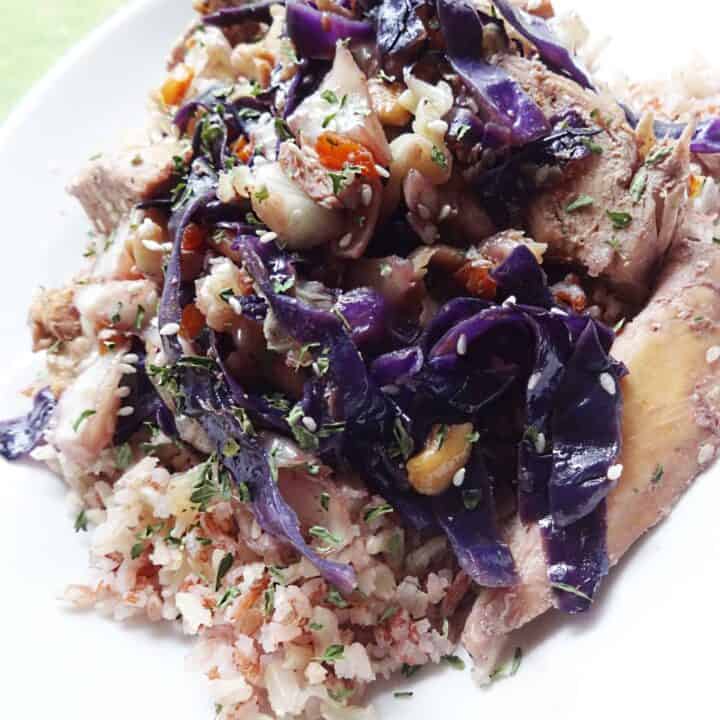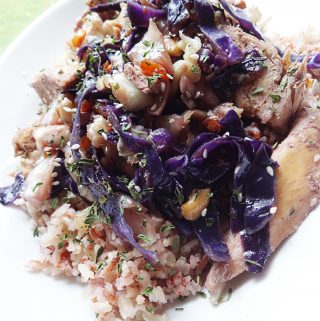 Chicken Cabbage Stir Fry Recipe
This chicken cabbage stir fry recipe came about quickly for me ... I was hungry and needed something ASAP. I had the chicken, the purple cabbage and all the other goodness for this recipe ... so this simple
beauty was born!


Print
Pin
Rate
Ingredients
1

tablespoon

olive oil (or oil of choice)

2

tablespoon

sesame oil

1

pound

chicken breast, cut into strips

4

cups

cabbage, half purple & half green

1

tablespoon

garlic, minced

½

bell pepper, deseeded and chopped (I used an orange pepper)

2-3

tablespoon

soy sauce

½

cup

cashews or peanuts

1

tablespoon

water

salt and ground black pepper to taste
Instructions
In large skillet, heat oils over low to medium temperature.


Add chicken to the pan and cook for 15-20 minutes uncovered, turning when browned on one side.

Toss in pepper and garlic and cook another 5-10 minutes or until pepper softens.

Add cabbage to the pan along with soy sauce and water. Cover and cook for 5 minutes.

Uncover and add nuts and sesame seeds. Cook another 5-10 minutes, stiring often. Don't over cook, as cabbage will turn limp instead of being crunchy tender.

Serve right away over rice.
For Leftover Cooked Chicken or Turkey
If using leftover chicken or turkey, start with the oil in the pan and add the garlic and bell pepper first. Add the cooked chicken or turkey when adding the cabbage. The meat just needs to heat and brown a bit, so it doesn't need to cook as long.
Nutrition
Calories:
341
kcal
|
Carbohydrates:
11
g
|
Protein:
29
g
|
Fat:
21
g
|
Saturated Fat:
3
g
|
Polyunsaturated Fat:
5
g
|
Monounsaturated Fat:
10
g
|
Trans Fat:
0.01
g
|
Cholesterol:
73
mg
|
Sodium:
650
mg
|
Potassium:
704
mg
|
Fiber:
3
g
|
Sugar:
4
g
|
Vitamin A:
569
IU
|
Vitamin C:
47
mg
|
Calcium:
46
mg
|
Iron:
2
mg
Remember to Pin for later!