This Southern chicken and dumplings recipe is so satisfying and delicious - the epitome of comfort food! Rich, savory chicken broth laden with colorful veggies and flavorful chicken. Add to that fluffy dumplings that melt in your mouth - pure deliciousness!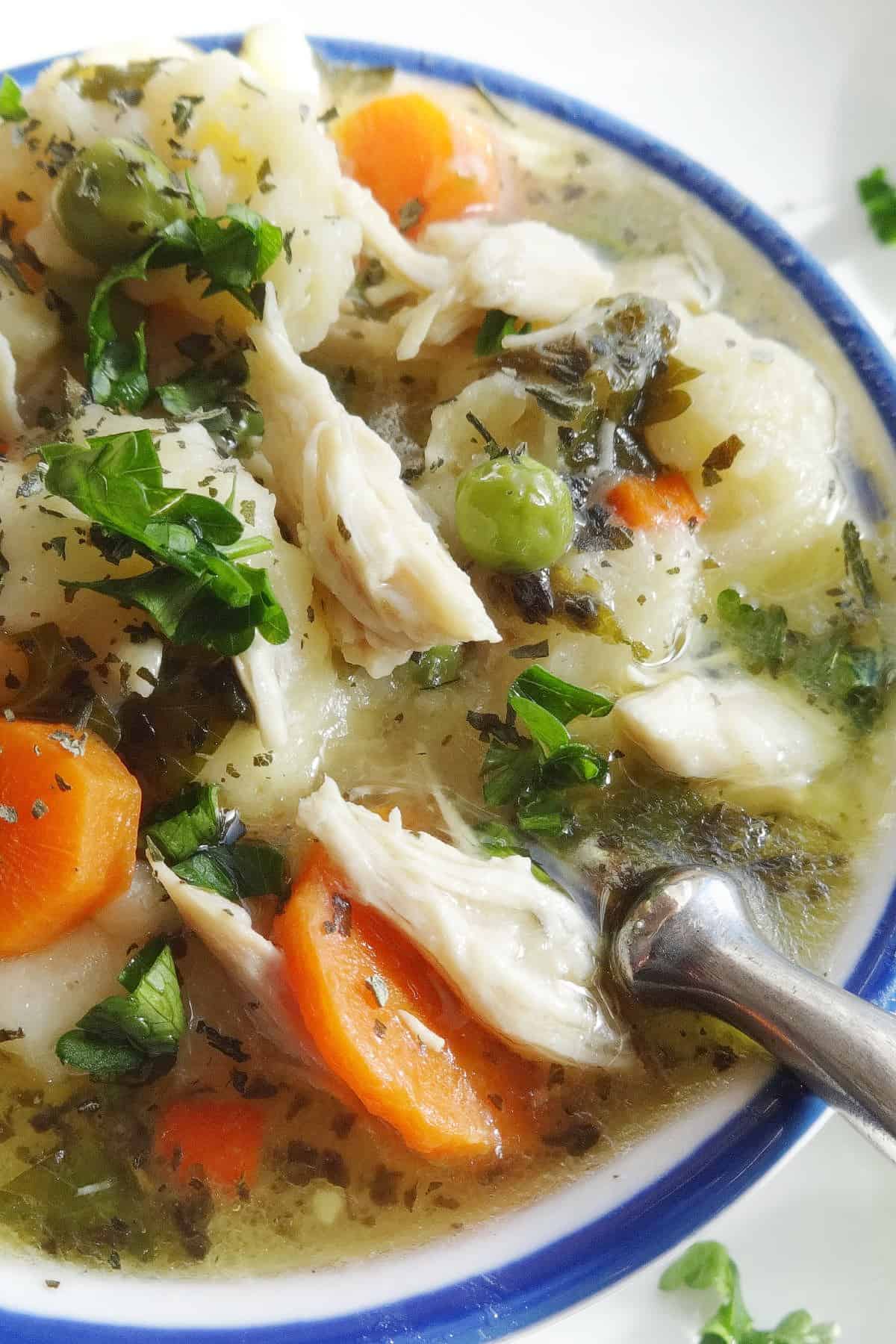 Full of flavor and so hearty! The dumplings are the last step in this recipe and are simply made from biscuit dough dropped by small spoonfuls into the hot soup mixture once everything is done.
The simmering broth cooks the dumplings to where they are moist on the outside and fluffy with a slight doughiness on the inside - the perfect dumpling, in my opinion!
Serve with my Mediterranean Cucumber Salad or side salad of your choice.
More hearty chicken recipes I recommend include my Chicken Spaghetti with Rotel and my Chicken Divan cooked in the Crock Pot.
Jump to:
💖 Why You'll Love These Dumplings
Easy - Looks and sounds complicated, but when you know the steps, chidken and dumplings are so easy to make!
Hearty - So warming and satisfying on a chilly winter day - filling your belly and warming you up all over!
Kid Friendly - No weird ingredients, and kids love the colors and flavors in these dumplings, especially if you let them help make it.
🥘 Ingredients
What You'll Need:
olive oil, butter, or bacon fat
red bell pepper
fresh parsley
fresh garlic
dry basil
2 quarts chicken broth or stock
1 large carrot
fresh or frozen peas
cooked chicken or turkey
salt and black pepper
🔪 Instructions
How to Make Southern Chicken and Dumplings:
This recipe is great for making after you have had a dinner of roasted chicken or turkey, using up the leftovers.
It's also great using a rotisserie chicken that's already cooked.
You can make the broth from the chicken or turkey carcass (as above). However, if you're short on time, you can use store-bought chicken stock or broth.
Whether you use homemade broth or store bought, you will end up with a delicious, satisfying pot of chicken and dumplings.
Basically, you will be making a brothy chicken soup that once cooked you will drop the dumplings into.
While the soup cooks and the flavors meld, you will make the dumplings.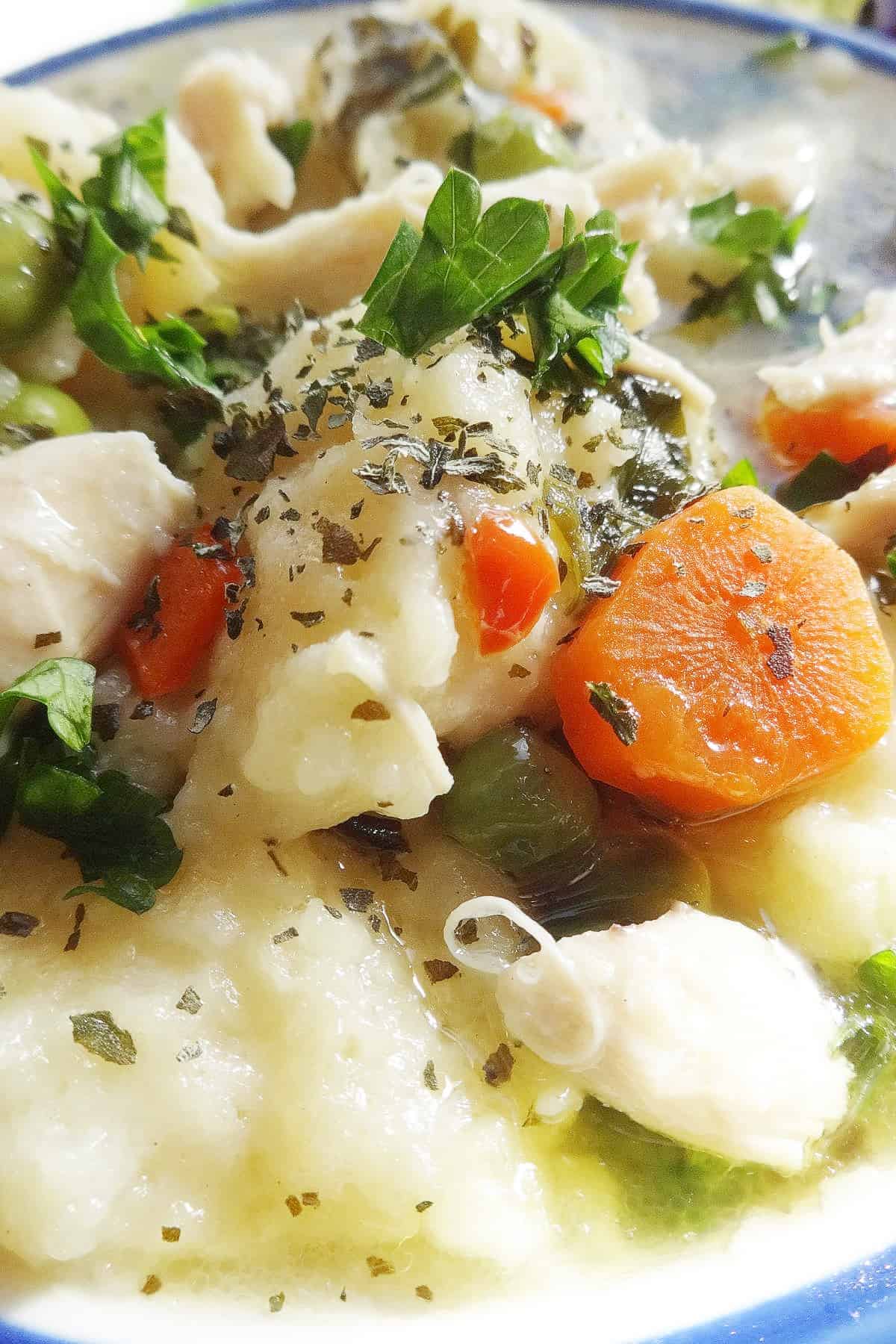 These dumplings utilize biscuit dough. As a result, you will get fluffy biscuit dumplings instead of the noodle type dumpling that is commonly seen.
(I personally prefer fluffy biscuit dumplings over the noodle type.)
Once your soup is cooked and your dough is ready, you will bring the soup to a light boil over medium heat.
Next, you will drop the dough by small spoonfuls into the broth. Do this slowly, and try to space your dumplings apart so you don't end up with large blobs.
You want small biscuit balls that are moist on the outside from the broth, yet fluffy and only very slightly doughy on the inside.
By making them small (about 1 inch across), you will better ensure the dumplings cook through instead of remaining doughy.
How to Make Homemade Broth
Simply remove the leftover chicken from the bones and simmer all the bones, cartilage, and skin along with the wonderful gelatinized broth that sits on the bottom of the roasting pan.
Add all this to a large pot and cover with water. Simmer for at least an hour (the longer the better). This makes THE BEST BROTH in the world - much better than store bought.Homemade will just take the flavor and nutrition up a notch!
🧐 Recipe FAQs
What is the secret to perfect dumplings?
The secret to perfect dumplings it to make sure your broth is good and hot - simmering, in fact - before adding the dough by spoonfuls. Don't add the dumplings too closely together, so they won't combine. Make sure to cook them until they fluff up nicely (5-10 minutes), watching that they don't go too long.
What is a good side dish for chicken and dumplings?
I like to serve my chicken and dumplings with a side salad or sticks of raw veggies like celery or carrots.
What are Southern dumplings made of?
My dumplings are simply made of biscuit dough that's dropped into the hot, simmering broth. This cooks the dumplings into fluffy balls with a light bit of doughiness in the center.
🐓 More Chicken Recipes
If you tried this Southern Chicken and Dumplings recipe or any other recipe on my website, please leave a 🌟 star rating and let me know how it went in the 📝 comments below. Thanks for visiting!
Recipe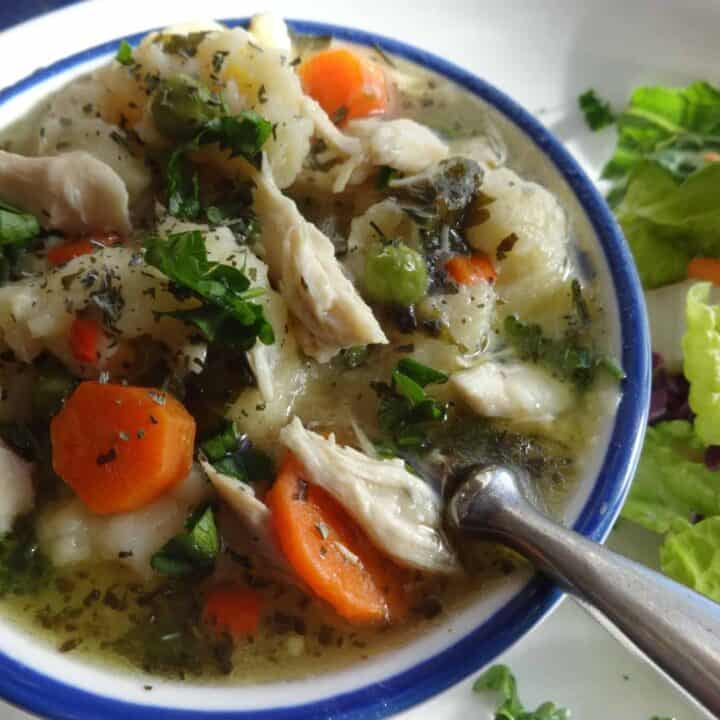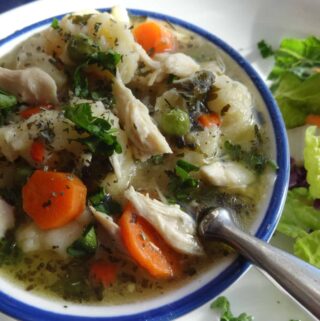 Southern Chicken and Dumplings
The epitome of comfort food, these dumplings are so satisfying and delicious! Rich, savory chicken broth laden with colorful veggies and flavorful chicken. Add to that fluffy dumplings that melt in your mouth - pure deliciousness!

Print
Pin
Rate
Ingredients
Chicken Soup
2

tablespoon

olive oil, butter, or bacon fat

¼

cup

sweet red pepper

½

cup

chopped parsley

1

tablespoon

garlic, finely chopped

2

tablespoon

dry basil, crumbled

8

cups

chicken broth

1

large

carrot, sliced

about ½ cup

½

cup

fresh or frozen peas

2

cups

cooked chicken, in small pieces

½

teaspoon

salt, more to taste

freshly ground black pepper to taste
Instructions
In large skillet, add first 5 ingredients. Heat to medium, stirring frequently until veggies are tender (about 5 minutes).


Add chicken broth, carrots, and peas and bring to a boil.

Turn down heat to medium and add chicken pieces, salt, and pepper.


Cover and cook on medium heat until carrots are tender (15-20 minutes)


While soup is cooking, prepare dumplings.


In a large mixing bowl, combine flour, baking powder, and salt. Add butter in smallish pieces.

With your hands (or a pastry blender), combine flour mixture and butter until butter is pea sized and mixture is crumbly.

Pour in milk and combine with a wooden spoon until well incorporated, taking care not to over mix.

Drop dumplings by small spoonfuls into simmering broth, adding a dumpling to each empty spot. Keep dropping and lightly stirring to move dumplings around as they cook to make room for more.


Once all dough is added, cook approximately 15-20 minutes, gently turning dumplings until they are floating and fluffy on the outside. Note: They will still be a bit doughy inside while done on the outside.
Serve immediately!

Nutrition
Calories:
711
kcal
|
Carbohydrates:
60
g
|
Protein:
31
g
|
Fat:
39
g
|
Saturated Fat:
18
g
|
Polyunsaturated Fat:
3
g
|
Monounsaturated Fat:
13
g
|
Trans Fat:
1
g
|
Cholesterol:
130
mg
|
Sodium:
3213
mg
|
Potassium:
635
mg
|
Fiber:
4
g
|
Sugar:
8
g
|
Vitamin A:
4930
IU
|
Vitamin C:
31
mg
|
Calcium:
365
mg
|
Iron:
7
mg