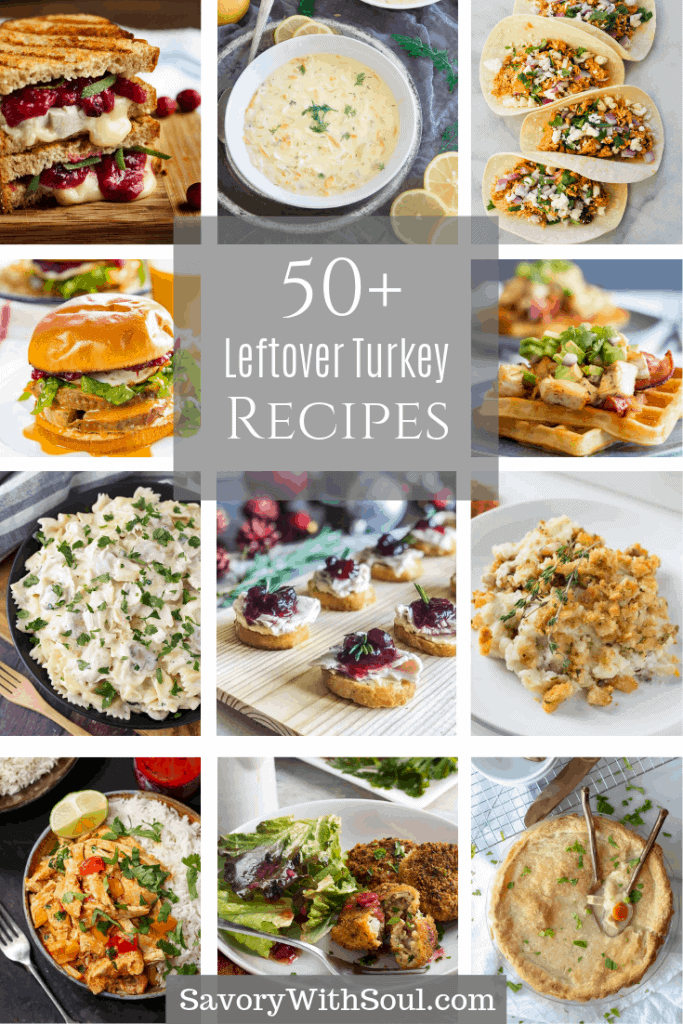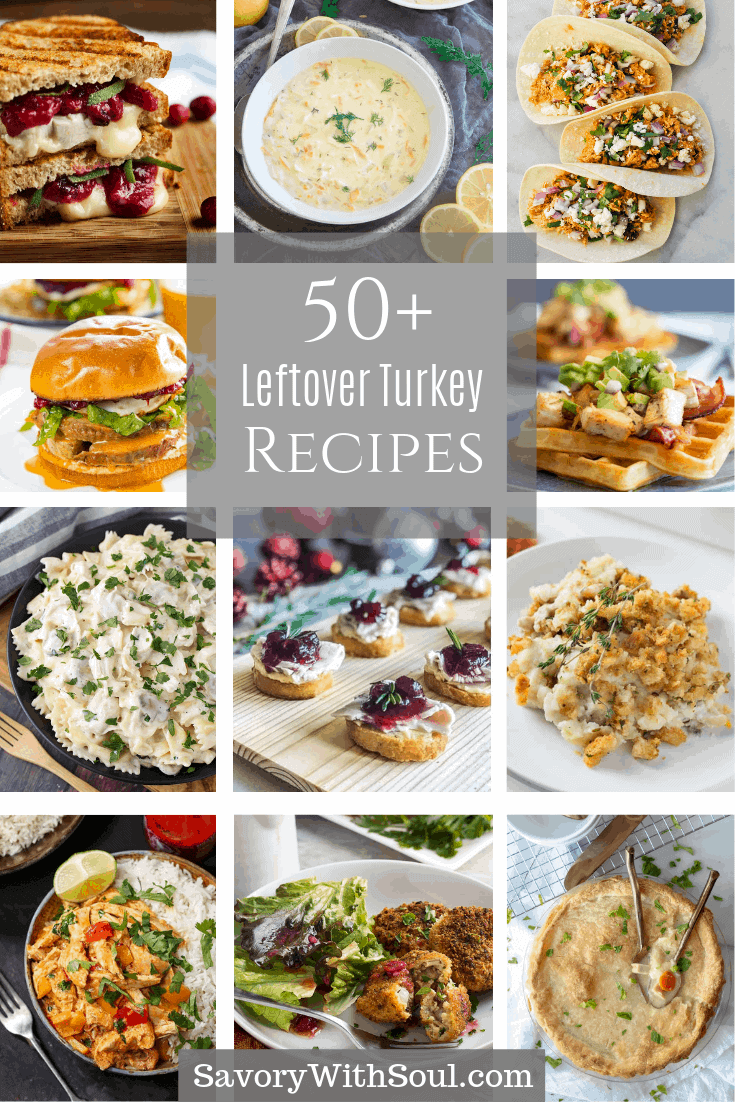 If you're like me, you need a bunch of leftover turkey recipes after Thanksgiving.
Like, what are you supposed to do with all that leftover turkey?
So, I've come up with the most epic post to provide you with the best ever turkey leftover recipes to help you use up all that turkey - over 50 recipes, to be more exact!
From salads to casseroles to soups, this post has you covered so your turkey leftovers don't go to waste.
No need to settle for simple turkey sandwiches (although those are great too, right?). The turkey sandwiches included in this roundup are not your ordinary, plain sandwiches!
What to Do with Leftover Turkey
Most families cook a HUGE turkey for Thanksgiving - typically much bigger than what they will eat on that day.
So turkey leftovers can become quite a blessing, but sometimes it's difficult to come up with yummy after-Thanksgiving meal ideas that aren't too boring and basic or too complicated.
Sandwiches are a good choice with toppings such as cranberries (or cranberry sauce), cheese, nuts, or other delicious toppings (see the Sandwich section below).
Casseroles are another great way to use up leftover turkey. There are a plethora of ingredient combinations to make easy turkey casseroles, including rice, broccoli, Brussels sprouts, cheese, noodles, and more (see the Casserole section below).
Soup is another favorite way to use up turkey leftovers. Add the recipe for homemade broth, and you have a nourishing, family-pleasing meal that is quick to put together and satisfying for the tummies in your household.
Breakfast ideas, salads, appetizers, and more ways to use up your Thanksgiving leftovers to follow!
Over 50 Leftover Turkey Recipes
The following leftover turkey recipes are simple enough for the novice cook, but also very tasty for the more discerning foodie.
Turkey Ala King is a simple, yet delicious, leftover turkey recipe that your whole family will enjoy! An easy, hearty, and quick way to use up your leftover turkey. Great over noodles, biscuits, toast, or all by itself!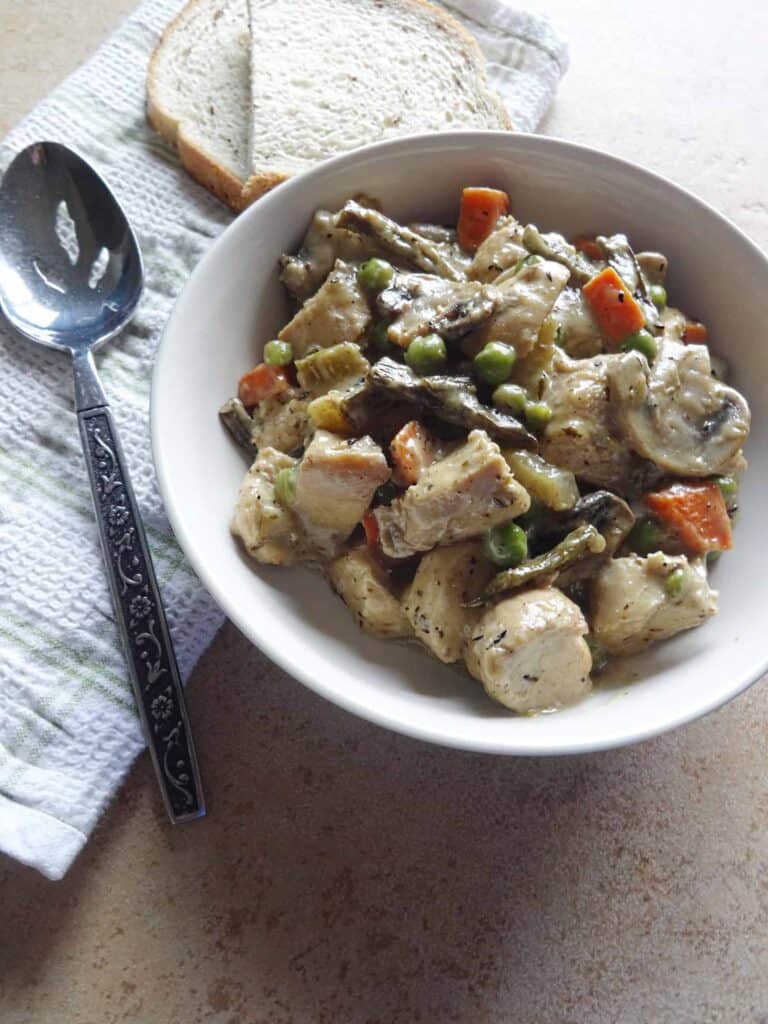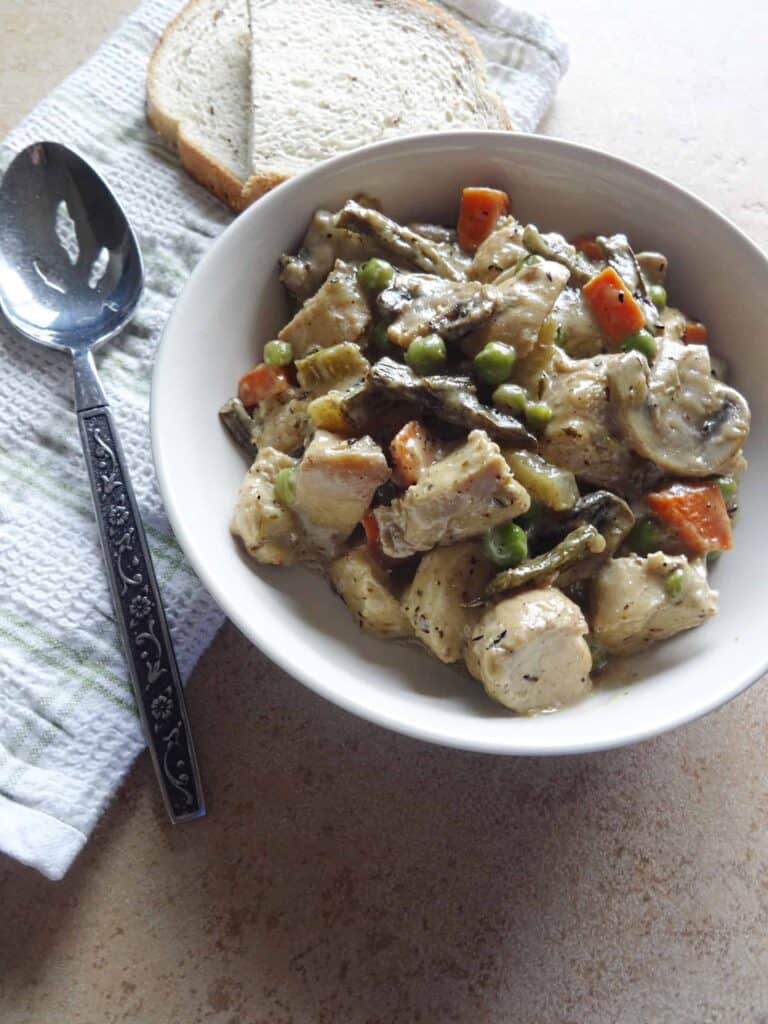 Leftover Turkey Appetizers
Here is your Thanksgiving dinner all in one bite! This Turkey Cranberry Crostini appetizer is an easy yet creative snack or lunch idea that is a great way to re-purpose all those leftovers! (Thanks to Aleka from Bite Sized Kitchen!)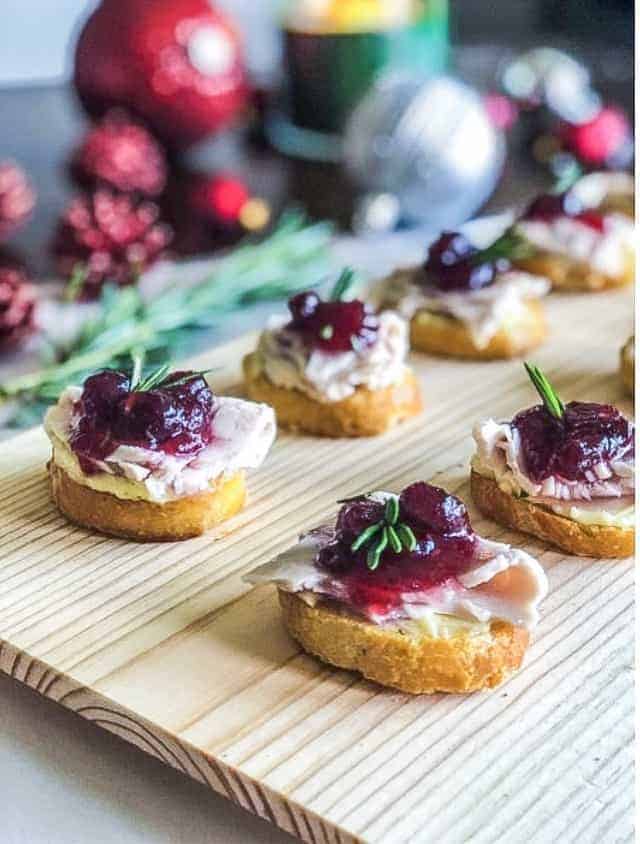 These Leftover Turkey Collard Wraps are a fun way to wrap up leftovers and keep things healthy after a season of overindulging. Great as an appetizer, side dish, or light dinner. (Thanks to Michelle from Sunkissed Kitchen!)
Crissy from Snacking in Sneakers shares this healthy recipe for Leftover Turkey Mushroom Meatballs. Such a delicious, fun, simple recipe for snacking or appetizers. I love the cranberry dipping sauce idea!
Leftover Turkey Casserole Recipes
Use up your Thanksgiving leftovers in this easy, freezable Thanksgiving Casserole! It's all the tastes of Thanksgiving in one dish. Now you can pull out a Thanksgiving dinner from your freezer any time you want! (Thanks to Candi from Make Ahead Meal Mom!)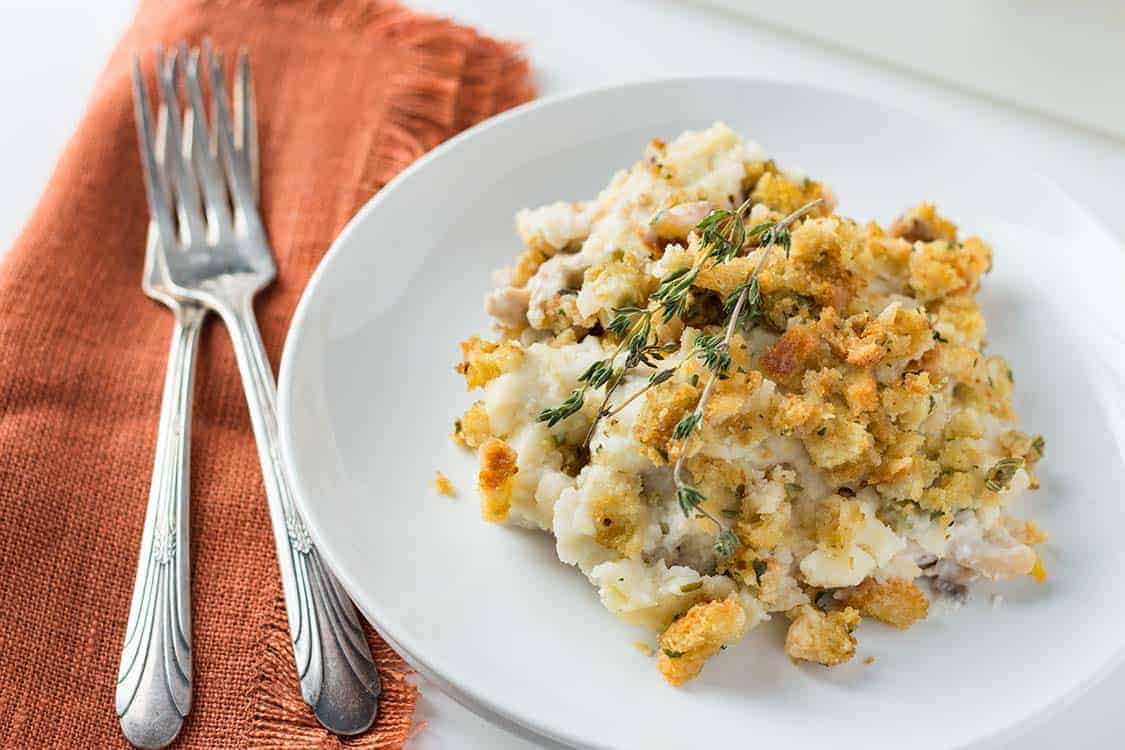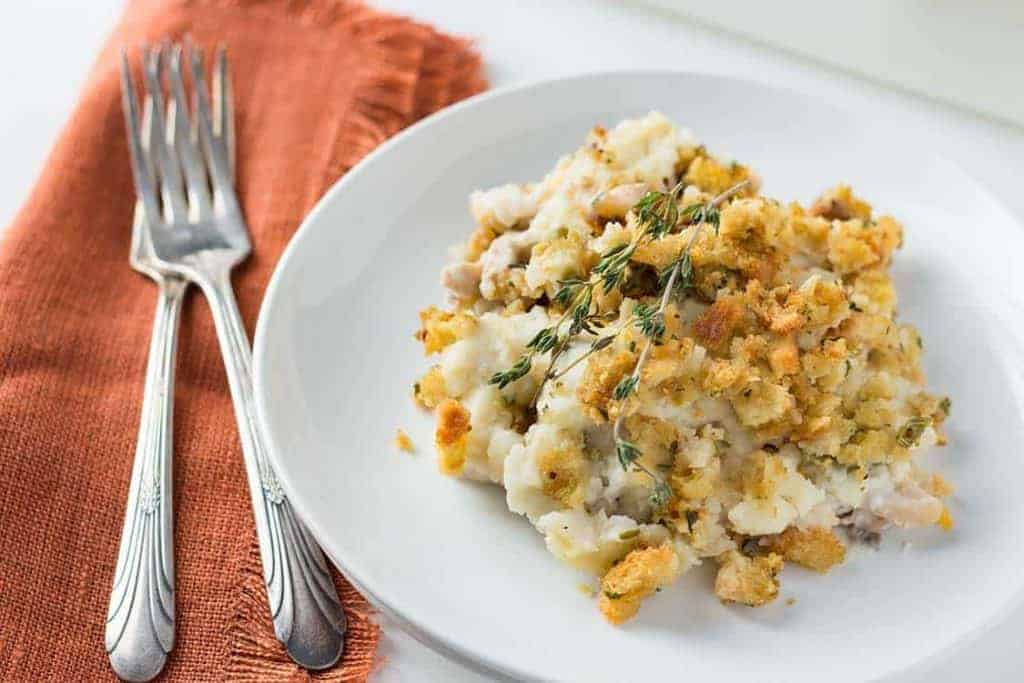 Let this Thanksgiving Leftover Strata Casserole transform all your leftovers into a layered casserole that's chock full of flavor. (From Dini of The Flavor Bender)
Jas from All That's Jas calls this casserole "Kickasserole." Not only is this casserole easy to make, but you can use any kind of leftover meat for an incredibly tasty dish that will have everyone begging for seconds. (Thanks Jas!)
Creamy and comforting Turkey Casserole with Noodles is a great way to use up turkey leftovers, takes only 20 minutes to prep, and tastes absolutely amazing! (Thanks to Kelly from The Anthony Kitchen!)
This Leftover Turkey Casserole recipe from Patti at Hearth and Vine is the perfect way to use up your holiday extras. Combine flavorful porcini mushrooms with English peas and egg noodles to make a hearty meal in no time.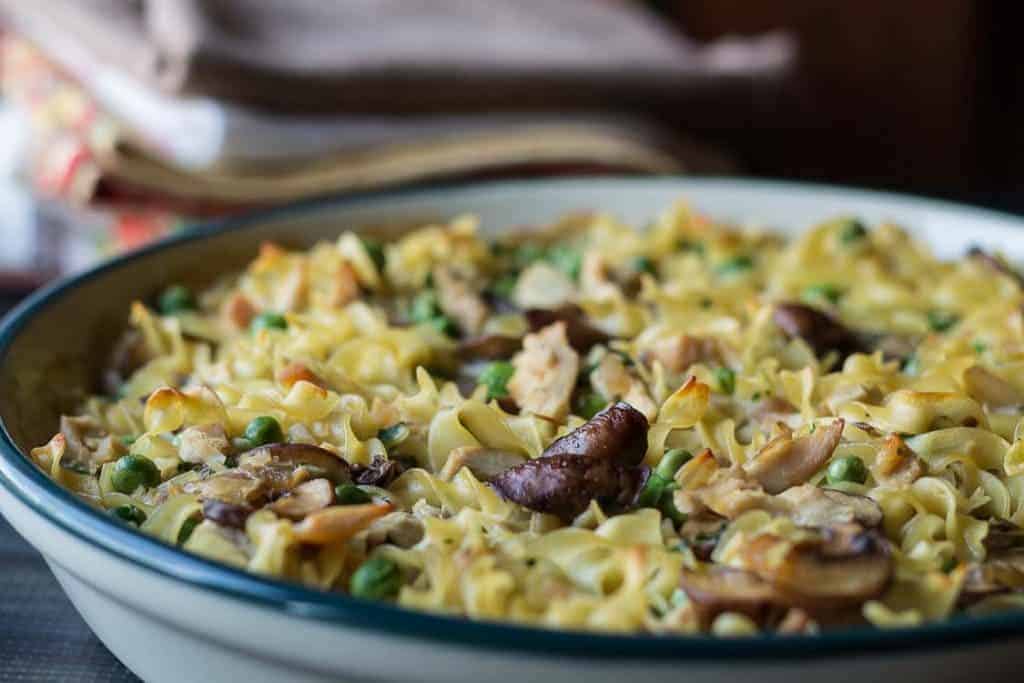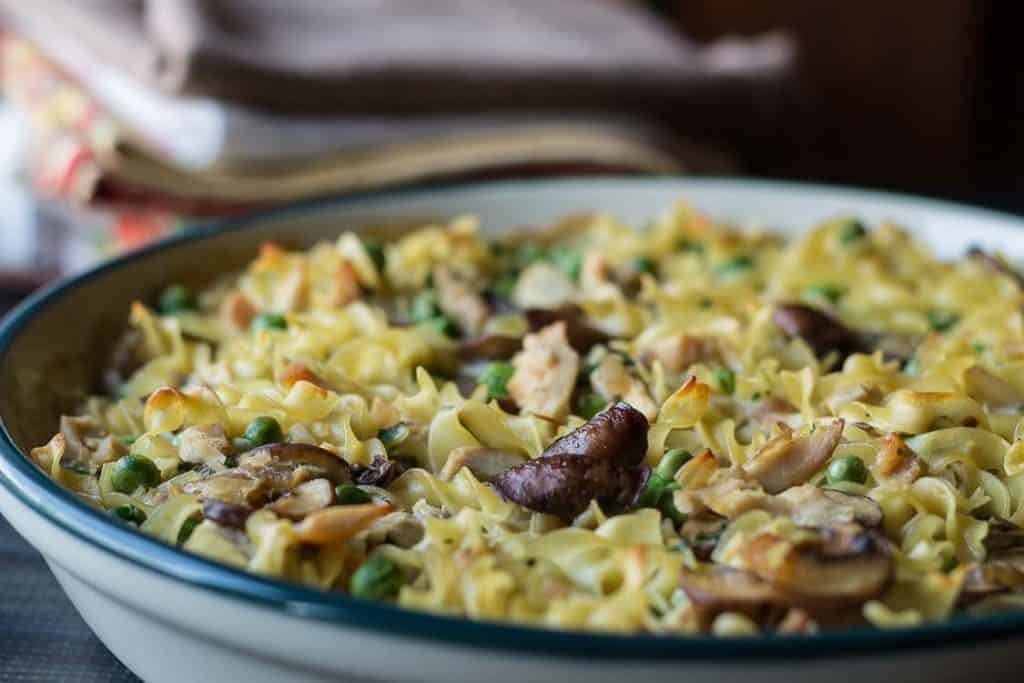 This recipe for Low-Carb Leftover Turkey Casserole is from mother and daughter duo Annissa and Harper at Simply So Healthy and boasts of loads of bacon, broccoli, and blue cheese! It's a delicious way to give leftover turkey a fresh, new face lift.
This Sweet Potato Apple Turkey Bake is the perfect recipe for Thanksgiving leftovers. However, this dish doesn't taste like leftovers because it's just delicious in its own right. In fact, you may want to make it even if you don't have leftovers. (Thanks to Colleen from The Food Blog!)
Leftover Turkey Soup Recipes
Homemade Turkey Broth From Leftover Turkey is the very best broth for all your soups and creamy dishes that call for either turkey or chicken broth. Full of nutrients and flavor and easy to freeze any extras for later. This recipe comes to you from Peter at Peter's Food Adventures.
Amy from House of Nash Eats shared this Creamy Leftover Turkey Wild Rice Soup recipe. This is a hearty, satisfying soup that is full of carrots, mushrooms, celery and onion in a light, creamy broth. It's great for using up leftover turkey from the holidays and an easy, comforting classic that is perfect for chilly days!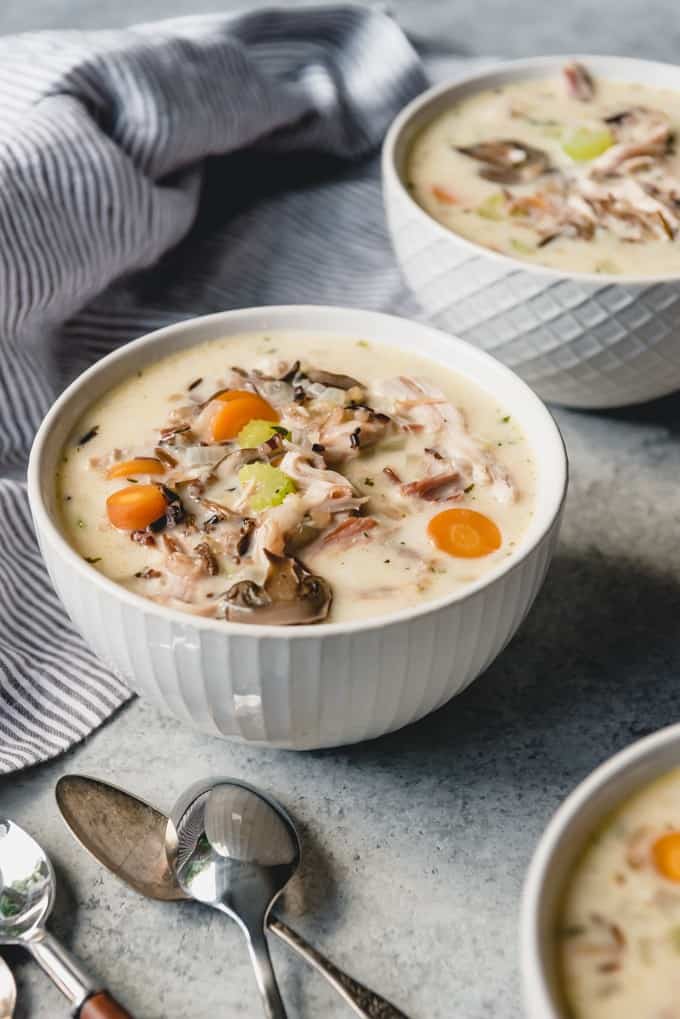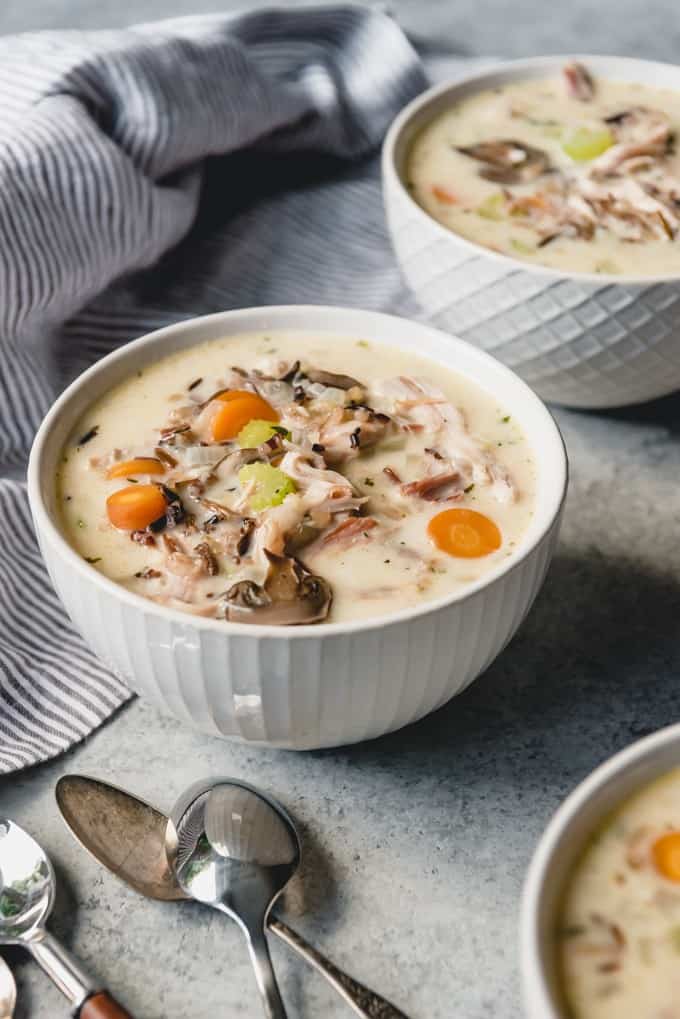 This spiced Fragrant Moroccan Turkey Stew recipe is the perfect 20-minute meal to feed you on cold fall and winter nights. Leftover turkey, apricots, chickpeas, apple juice and spices combine into a fragrant comforting stew that friends and family alike would love. (Thanks to Bintu from Recipes From a Pantry for this recipe!)
Markus from Earth Food and Fire shares this Leftover Turkey & Wild Rice Soup as one of the easiest ways to use up leftover turkey meat. This simple soup is loaded with veggies, wild rice, and (of course) turkey, making it both hearty and healthy.
This classic Lemon Orzo Greek Soup traditionally made with chicken is a great option for leftover Thanksgiving turkey. It's creamy, light and bursting with lemon and dill for freshness. (Thanks to Gina from Running to the Kitchen!)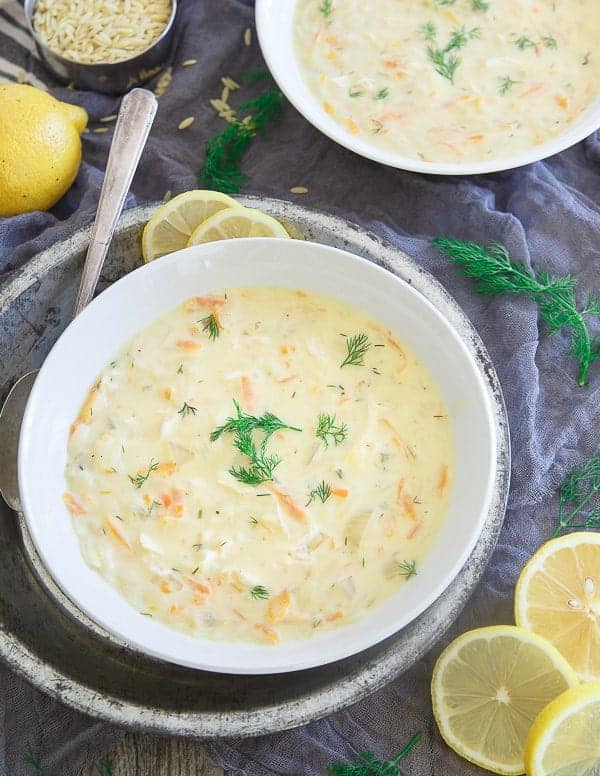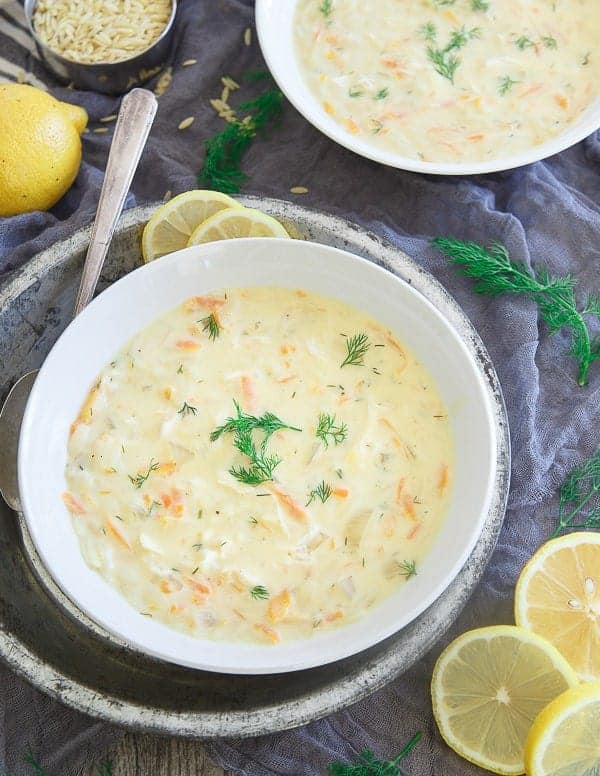 A little sweet with just the right amount of south Louisiana heat, this Creole Turkey Chili from A Sprinkling of Cayenne will transform your next-day leftovers into something brand spanking new. Needing no topping, this sassy chili has all of its flavor bombs hidden within each and every bite! (Thanks Lyn!)
Anne from Upstate Ramblings shares this creamy and veggie-filled Instant Pot Turkey Corn Chowder - a delicious comfort food and a great recipe for using up leftover turkey.
Cozy up with a bowl of this easy and Healthy Chicken or Turkey Pot Pie Soup, made with leftover chicken or turkey for a simple winter meal! (Thanks Kaleigh from Lively Table!)
Turkey and Dumplings
Another type of soup, but I thought the turkey and dumplings recipes deserved a section all to themselves! So hearty and satisfying - nothing beats a bowl of dumplings on a chilly evening!
This classic Turkey and Dumplings recipe highlights one of the favorite foods of the South. So creamy, flavorful, and comforting! (Thanks to Kelly from The Anthony Kitchen!)
Made with leftover stuffing and turkey, this Turkey and Dumplings Soup with Stuffing Dumplings is a unique take on chicken and dumplings. See and taste it for yourself! (Thanks to Danielle from Went Here 8 This!)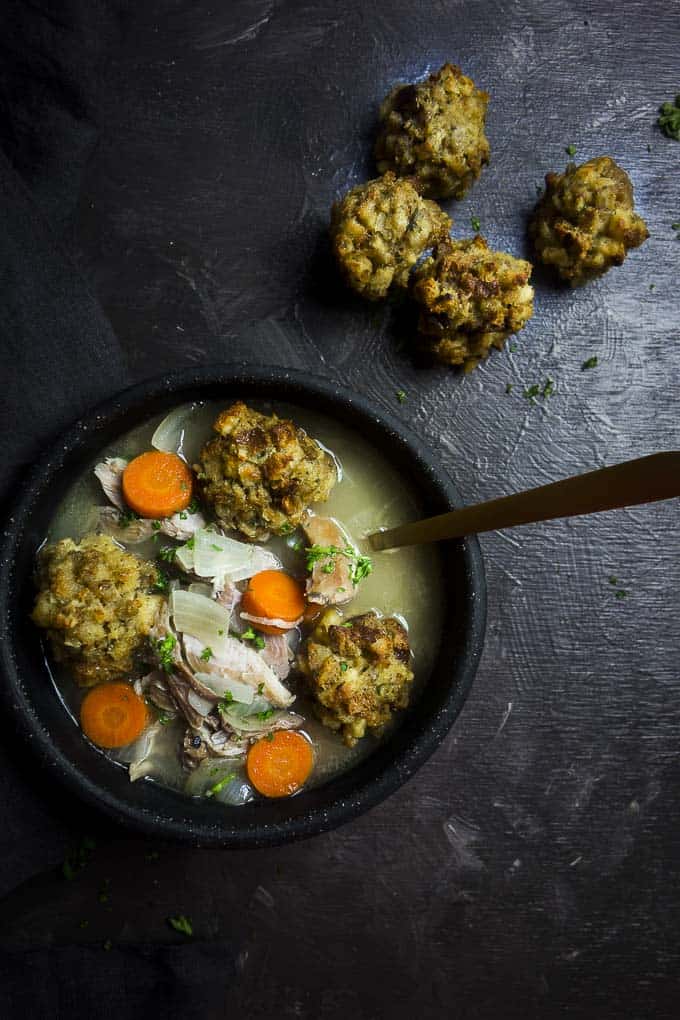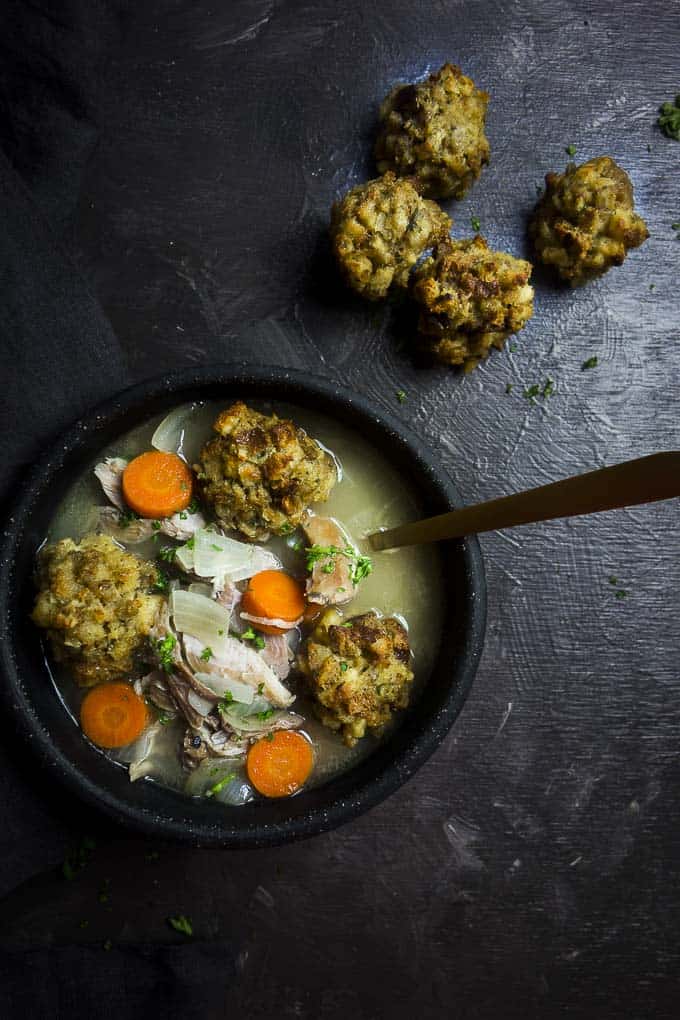 Thanksgiving Leftover Breakfast Ideas
Thanksgiving leftovers aren't just for sandwiches! Use your leftover turkey, veggies, and Hawaiian rolls to make this fabulous Thanksgiving Leftover Breakfast Casserole! (Thanks Whitney!)
Claire from Sprinkles and Sprouts shares this Fried Turkey Waffles with Bacon and Maple recipe - a fun way to use up Christmas or Thanksgiving leftovers. If fried chicken and waffles is one of your favorite breakfasts, then you are going to love these turkey waffles!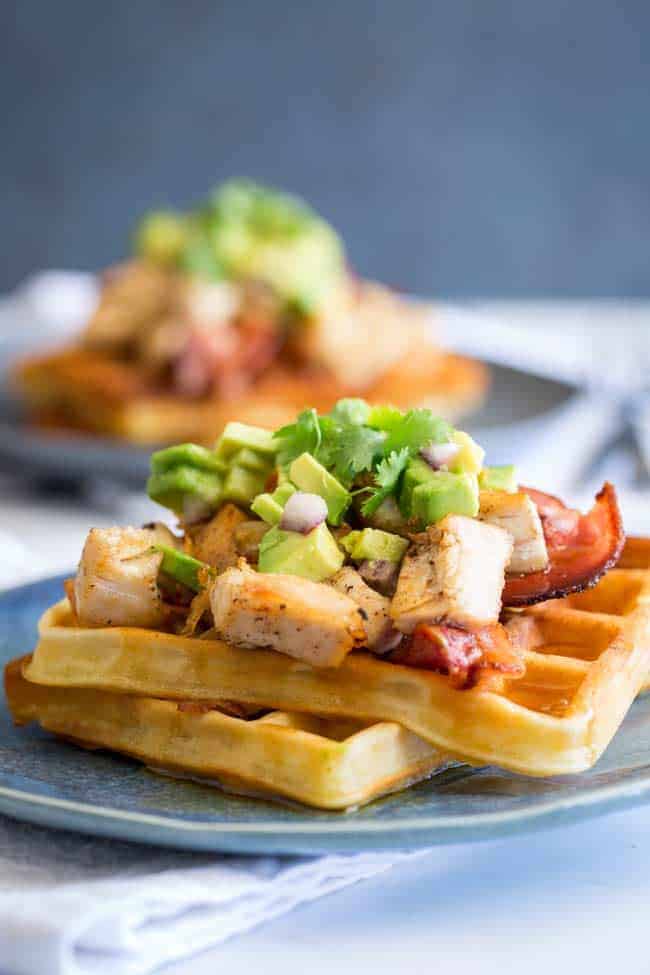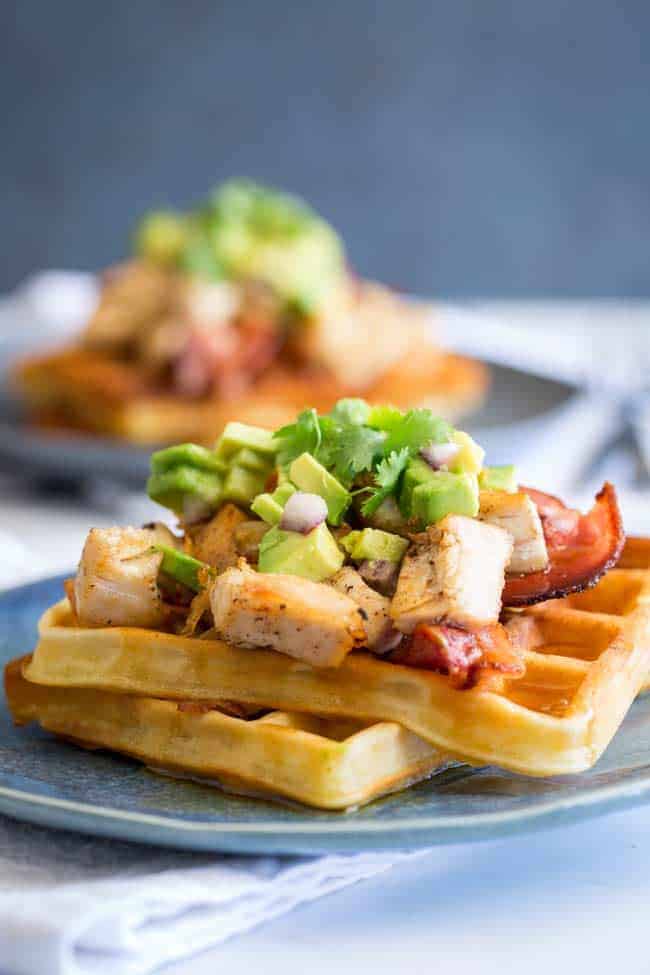 Leftover Turkey Sandwich Recipes
Whether you eat your sandwich for breakfast, brunch, lunch, or dinner, a leftover turkey sandwich is a quick way to enjoy a hearty meal on a bun, toasted bread, or waffles!
This Leftover Turkey Sandwich is the easiest way to transform your Thanksgiving leftovers into a hearty, scrumptious breakfast or brunch sandwich recipe the next day. (Thanks to Dini from The Flavor Bender!)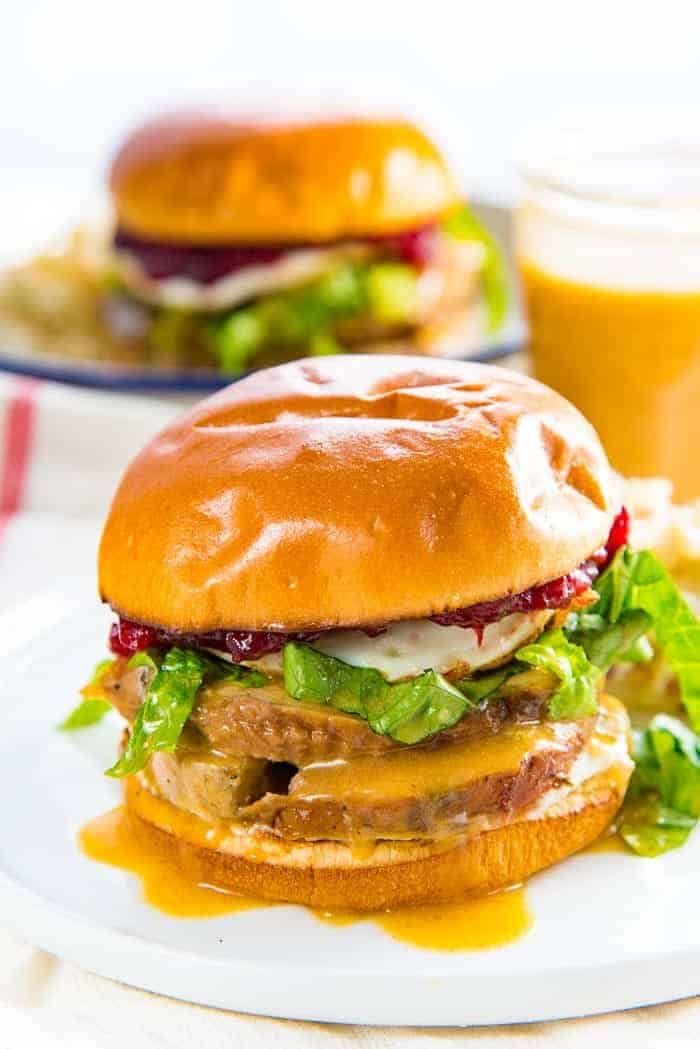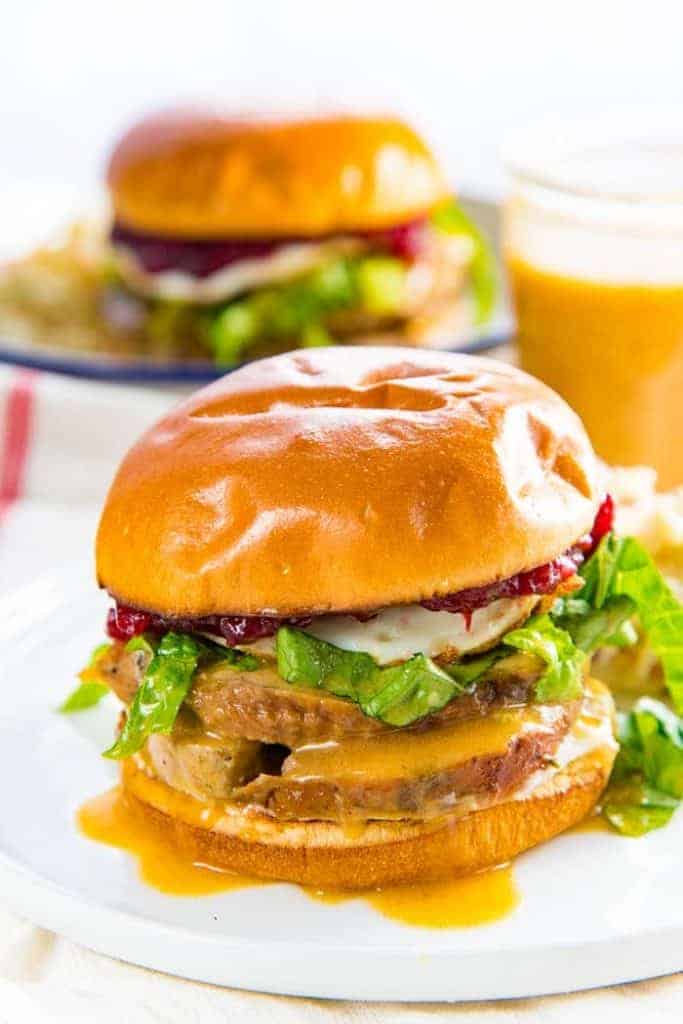 Turkey, Cranberry & Brie Grilled Cheese Sandwiches – this grilled cheese is the delicious answer of what to do with Thanksgiving leftovers! Full of Thanksgiving flavors and plenty of brie cheese - you may just end up loving your leftovers more than ever! (Thanks to Vanessa from Zest and Simmer!)
Treat yourself the morning after Thanksgiving with these lovely sweet and savory Waffled Cranberry Cream Cheese Turkey Sandwiches from Courtney at Neighbor Food Blog.
This Turkey, Brie, and Cranberry Mustard Panini is so yummy and takes less that 15 minutes to make once you have those leftovers to use. Now that's what I call perfect for those post-holiday munchies. (Thanks to Annemarie from Just a Little Bit of Bacon!)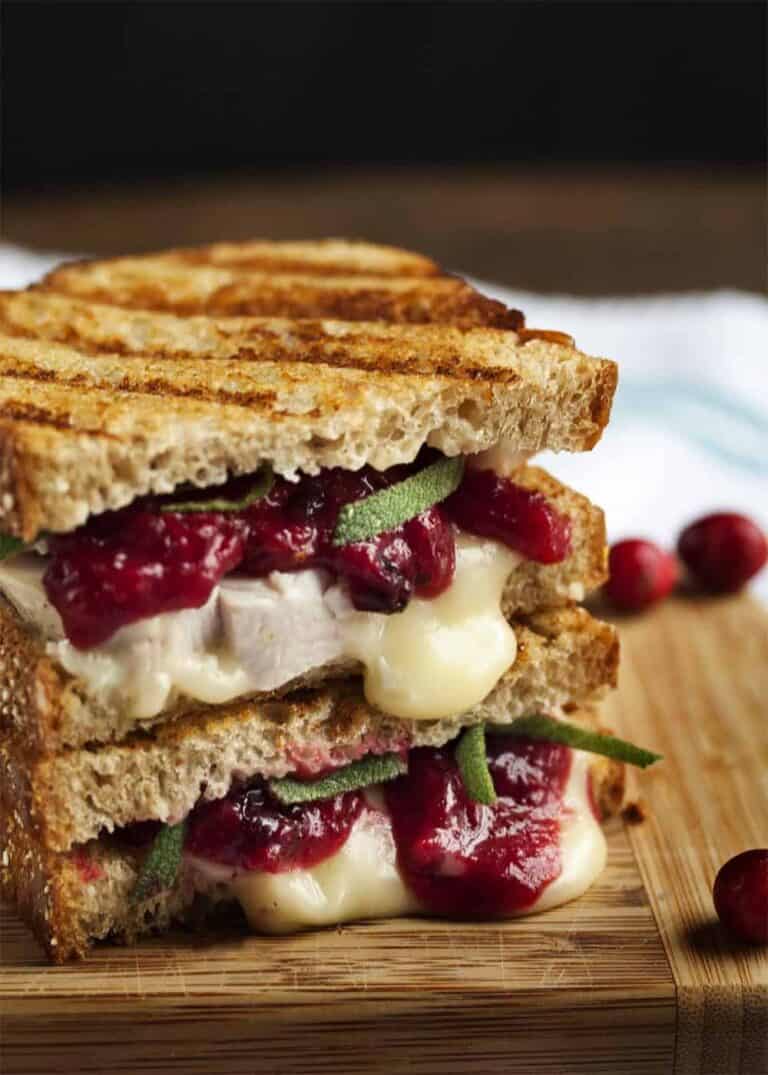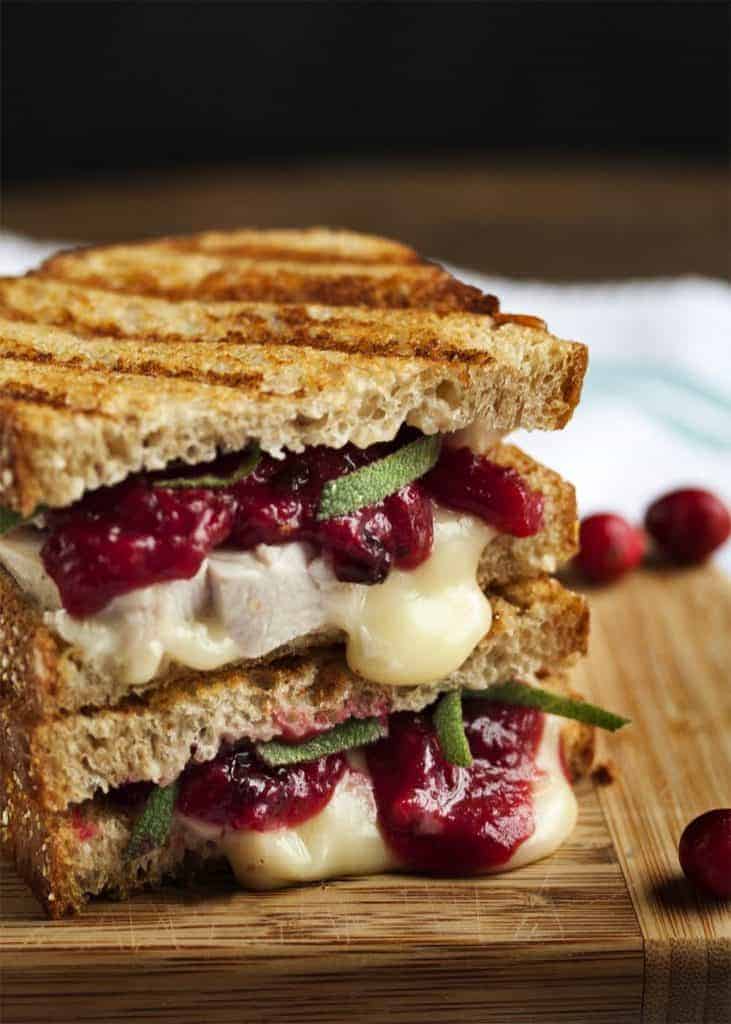 The Gooey Gobbler grilled cheese sandwich is piled high with roast turkey, smoked gouda, and cranberry sauce. It's a fall grilled cheese recipe that is perfect for using up those Thanksgiving leftovers! (Thanks to Kat & Melinda from Homemade Interest!)
This Turkey Cranberry Sandwich from Dawn at Girl Heart Food is a grilled cheese sandwich piled high with delicious turkey, cranberry and two types of cheese. So comforting and delicious!
Turkey Salad Recipes
This Turkey Salad Recipe is great for sandwiches or as a side dish after all that Thanksgiving mega feasting is over! Utilizes not only turkey but also cranberries and pecans (or the nuts of your choosing) to make a satisfying, savory turkey salad that your family will relish!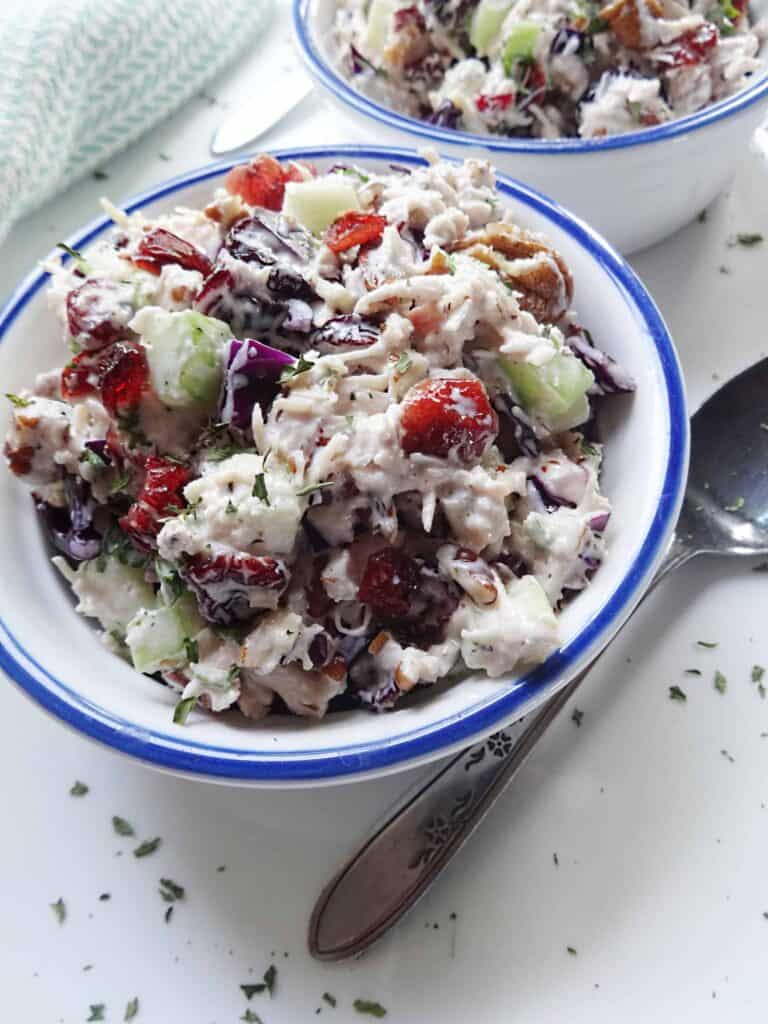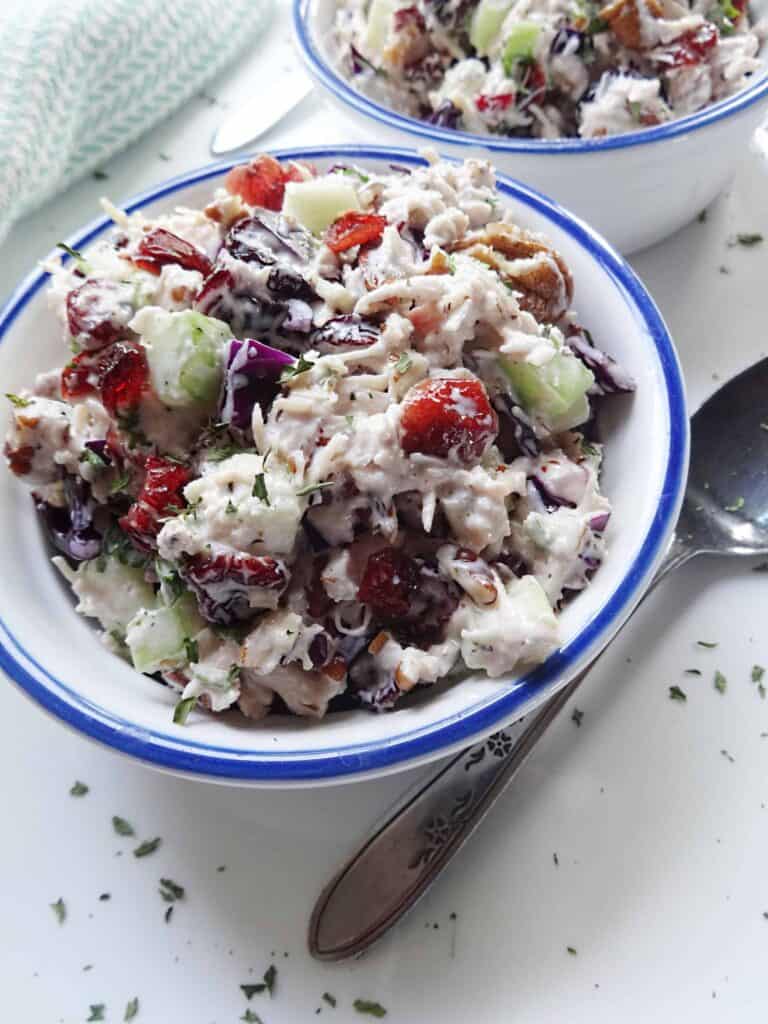 Maggie from Meals With Maggie shared this One Bowl Shaved Turkey Salad Recipe that utilizes lots of veggies and delicious combinations and can include either leftover turkey or deli turkey.
Not exactly a salad, but it fits the bill, in my opinion, due to all the yummy salad-like ingredients. This Chinese Turkey Lettuce Wraps Recipe can be served as an appetizer or light lunch or dinner. A delicious, healthy way to use up some of your turkey leftovers. (Thanks to Lauren from Zestful Kitchen!)
Leftover Turkey Curry Recipes
One of the best ways to use turkey leftovers is in the form of a curry. This particular version of Leftover Turkey Curry is based on a popular British Indian restaurant recipe. (Thanks to Michelle at the Greedy Gourmet!)
Another delicious curry recipe to use up leftover turkey, this Turkey Thai Curry is so simple and satisfying! (Thanks to Stacie from Simply Stacie!)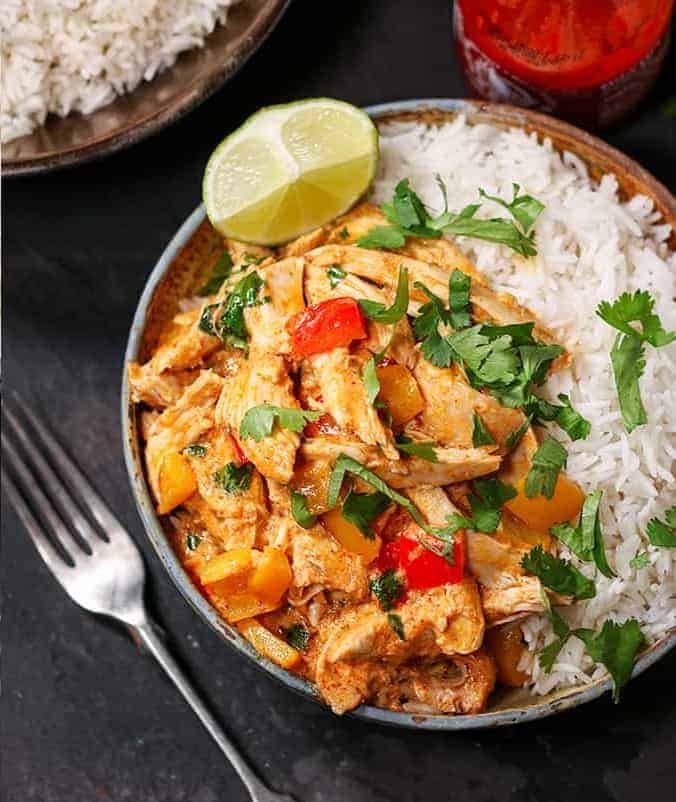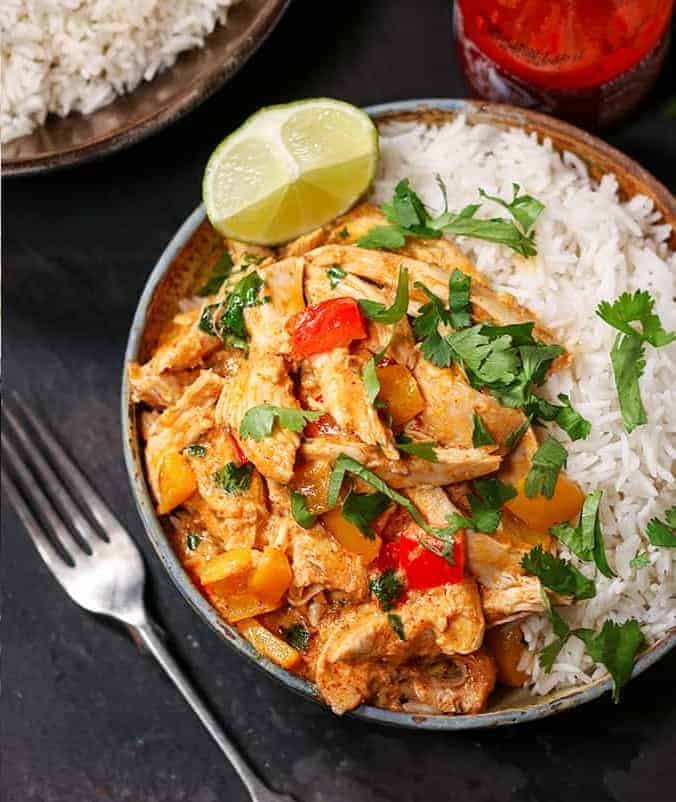 Turkey Stuffed Potatoes
Neil from Neil's Healthy Meals shared this Baked Potato with Coronation Turkey recipe, which makes for a delicious, quick, healthy meal. Based on the classic Coronation chicken with fresh and lightly spiced flavors, it's a great way to use up leftover turkey.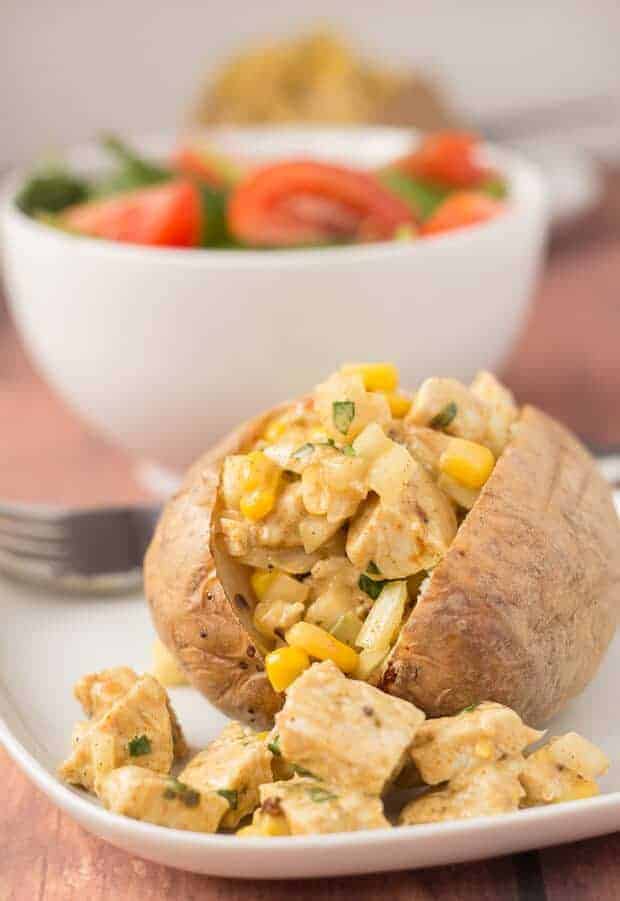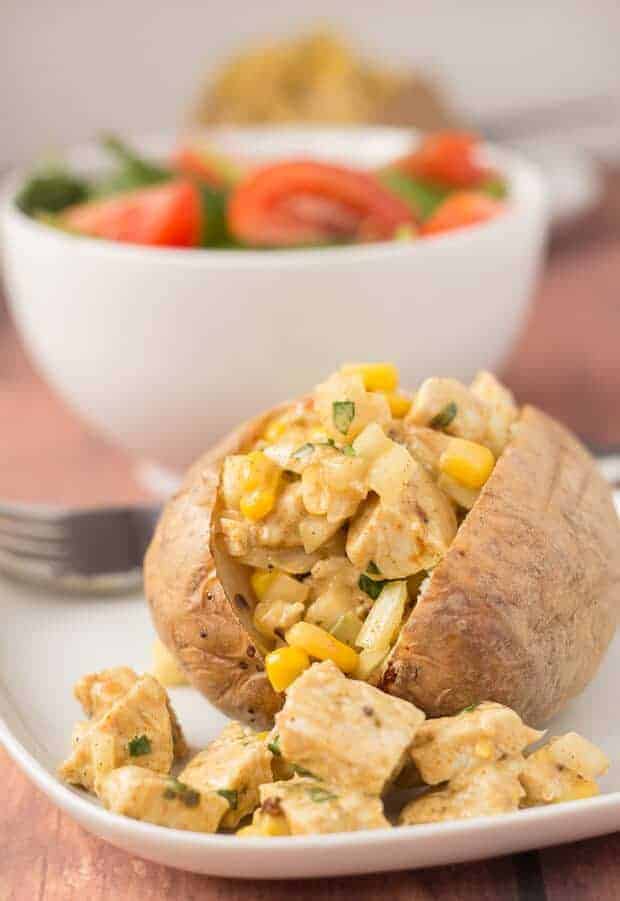 Turkey Fixings Stuffed Tater - Leftover turkey and fixings are piled on top of a baked potato. The perfect way to have Thanksgiving all over again. (Thanks to June from Practically Homemade!)
Turkey and Rice Recipes
Rich and creamy Leftover Turkey Mushroom Pancetta Risotto - A great way to use up that mountain of leftover Turkey! It's also gluten free! (Thanks to Nicky from Kitchen Sanctuary!)
Looking for something to do with your leftover Thanksgiving or Christmas turkey? Amy from The Cook Report shares this quick and healthy One Pot Leftover Turkey Pilaf with Pine Nuts.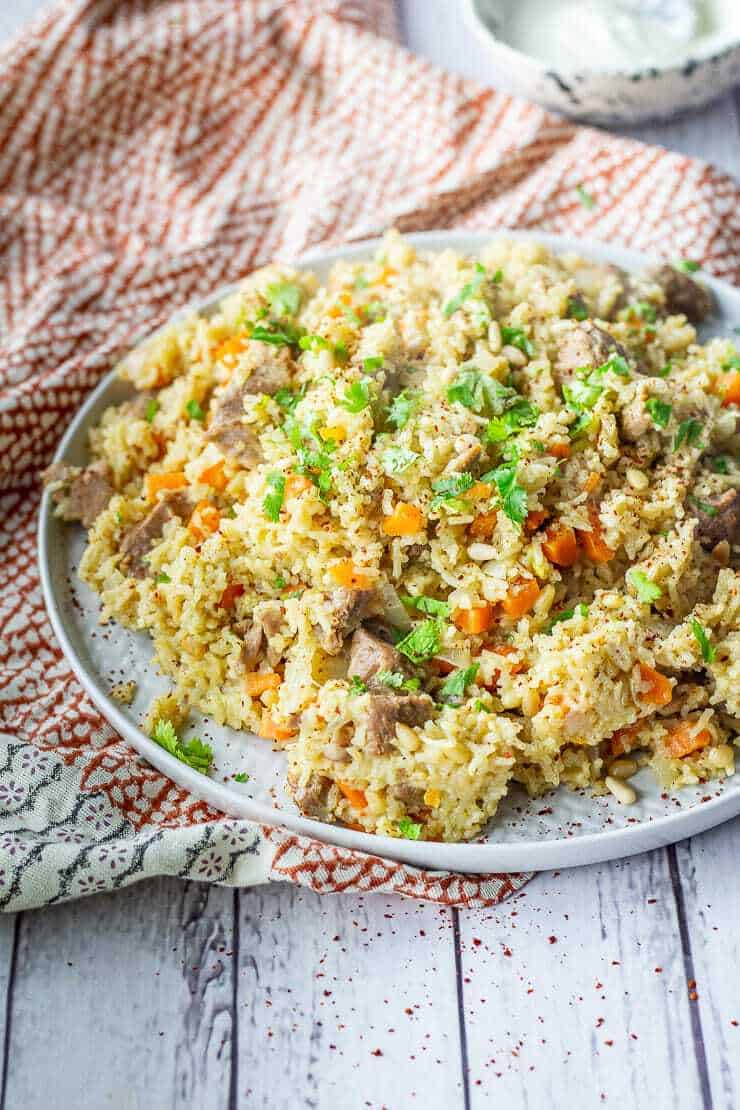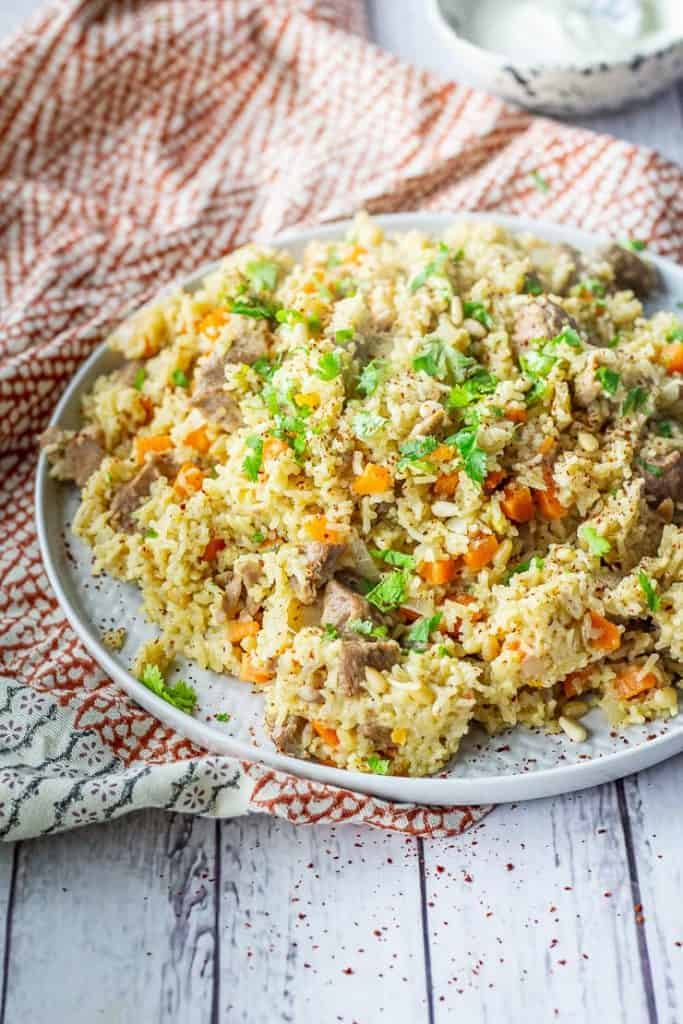 Leftover Turkey Pasta Recipes
Post-Thanksgiving and have a heap of leftovers? Try Heather's Leftover Turkey Bacon Alfredo Skillet Meal (from The Toasty Kitchen). Made in a single pan, penne pasta is coated in a creamy alfredo sauce with bacon, peas, and leftover turkey.
Orzo with Leftover Turkey and Sweet Potatoes - Sweet potatoes combined with savory turkey and cheese in a delicious orzo pasta dish. A wonderfully delicious way to use that leftover turkey! (Thanks to David from Cooking Chat Food!)
Sandy from Simply Happy Foodie shares her Instant Pot Leftover Turkey Pasta with mushrooms.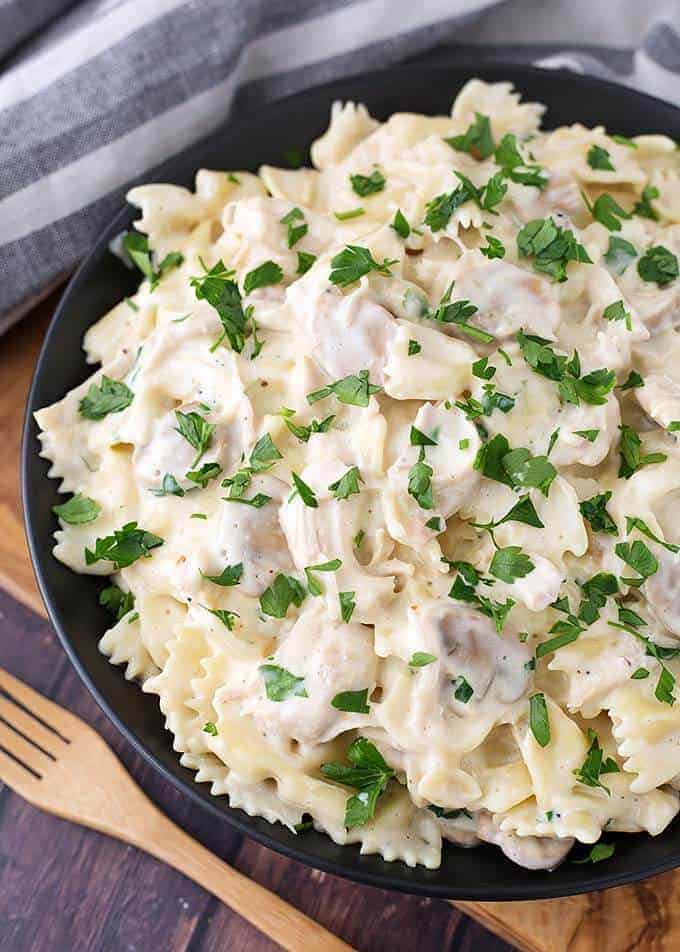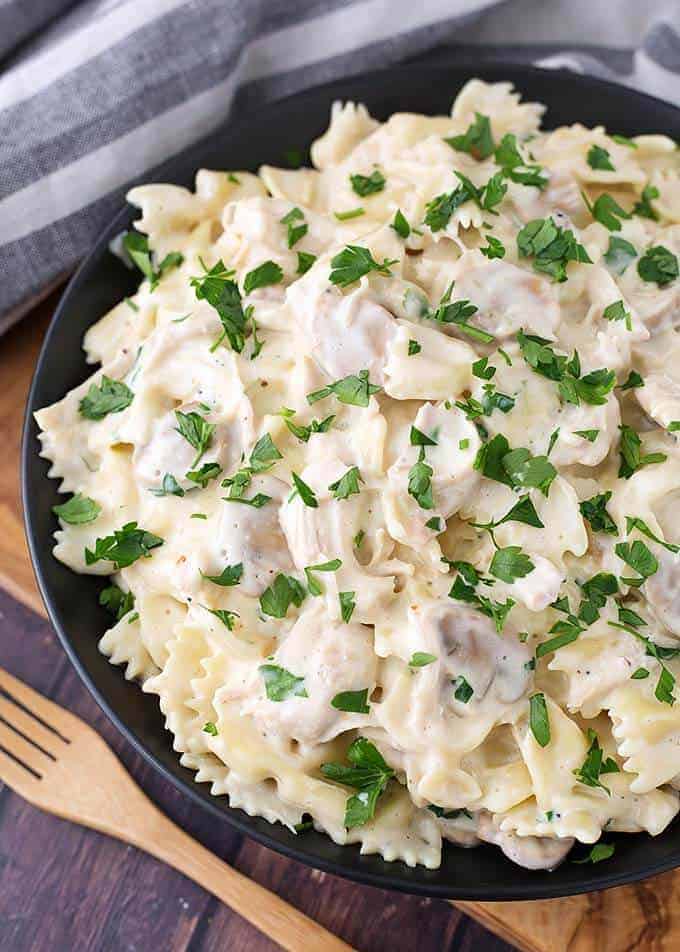 Kelly from The Hungry Bluebird shares this yummy Turkey Tetrazzini recipe - a creamy casserole perfect for using leftover turkey. Pasta baked in homemade cream sauce with mushrooms, peas, Parmesan cheese, and diced turkey or chicken.
Keep your leftovers simple, delicious, nutritious, and comforting with this Turkey, Bacon and Brussels Sprouts Macaroni & Cheese! (Thanks to Helen from Scrummy Lane!)
Leftover Turkey Pie Recipes
Even if you're not gluten free, this Gluten-Free Turkey Pot Pie - from Chrystal at Gluten Free Palate looks so delicious - you gotta try it!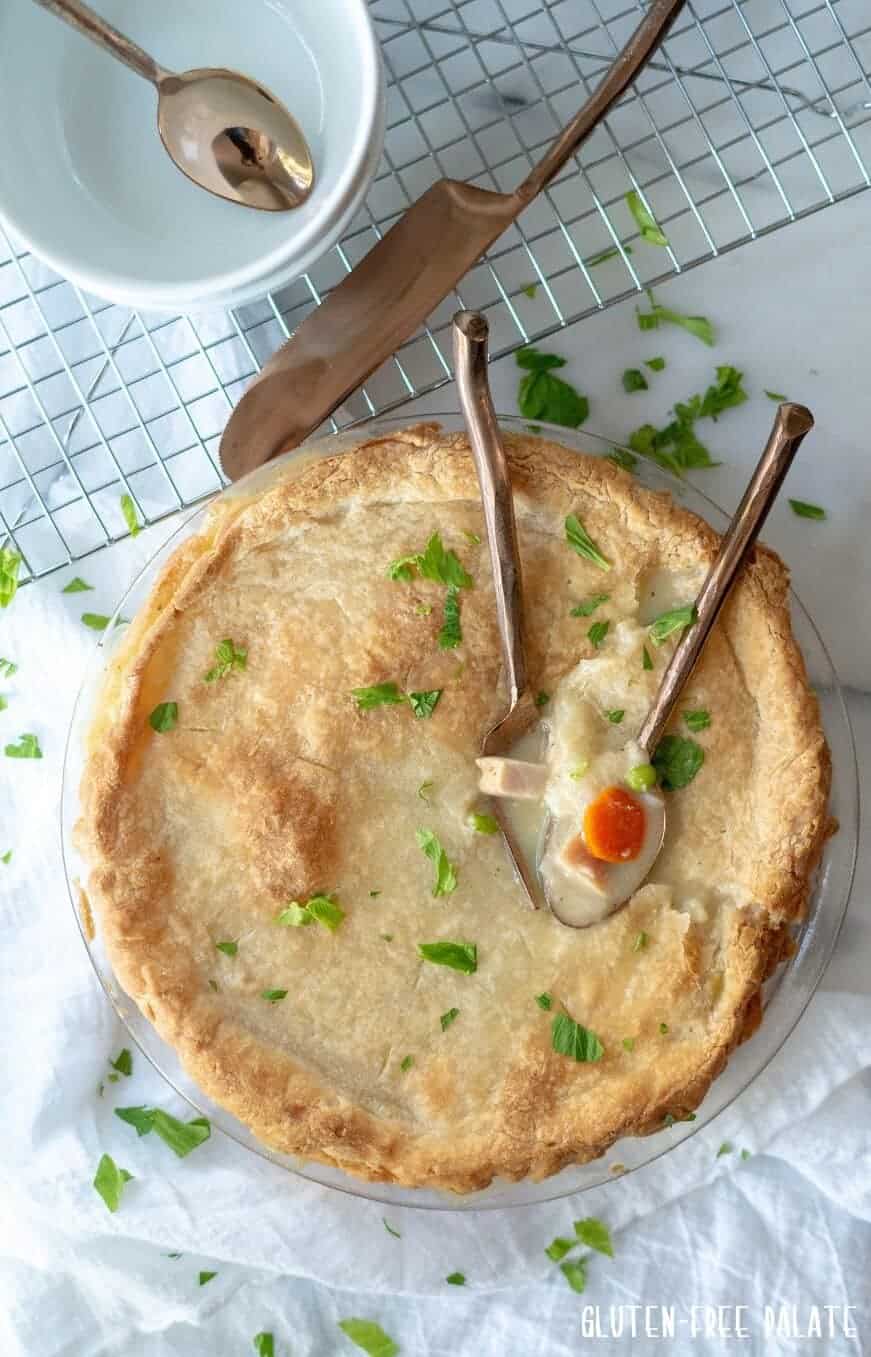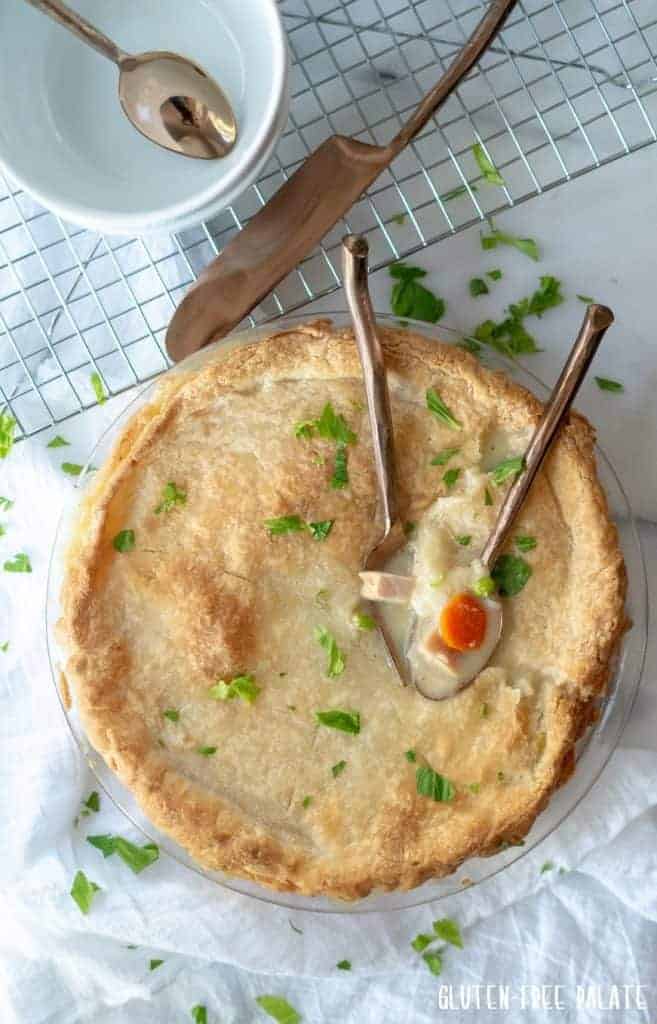 Take using leftover turkey up a notch with this crazy easy and scrumptious Leftover Turkey Pot Pie with a potato topping. Freezes well and is done in under 40 min! An ideal leftover turkey recipe! (Thanks to Samantha from My Kitchen Love!)
A revamped and healthier version of a classic comfort food – Simple Shepherds Pie With Turkey is a delicious and hearty recipe. Perfect for Thanksgiving leftovers, this shepherd's pie is Whole30 compliant, gluten-free, and dairy-free.
This Turkey Shepherd's Pie recipe is made with succulent chunks of turkey and mixed vegetables in a brown gravy sauce. It's topped with cheesy mashed potatoes and baked till golden brown.
Turkey Shepherd's Pie is an easy casserole made with mashed potatoes, veggies, and leftover turkey!
Leftover Turkey Tacos
This Leftover Turkey Tacos Recipe from Emily at This Healthy Table is spicy and delicious! They have a great depth of flavor, and the recipe can easily be scaled up or down depending on the amount of leftover turkey you have.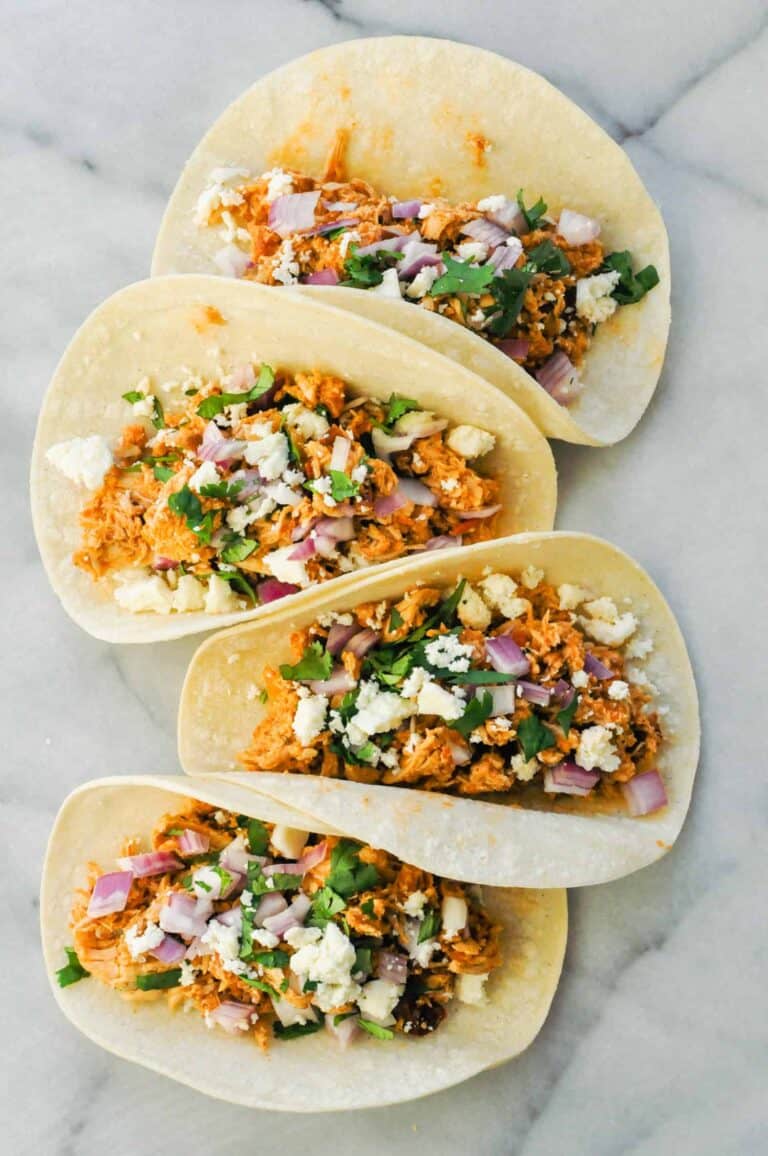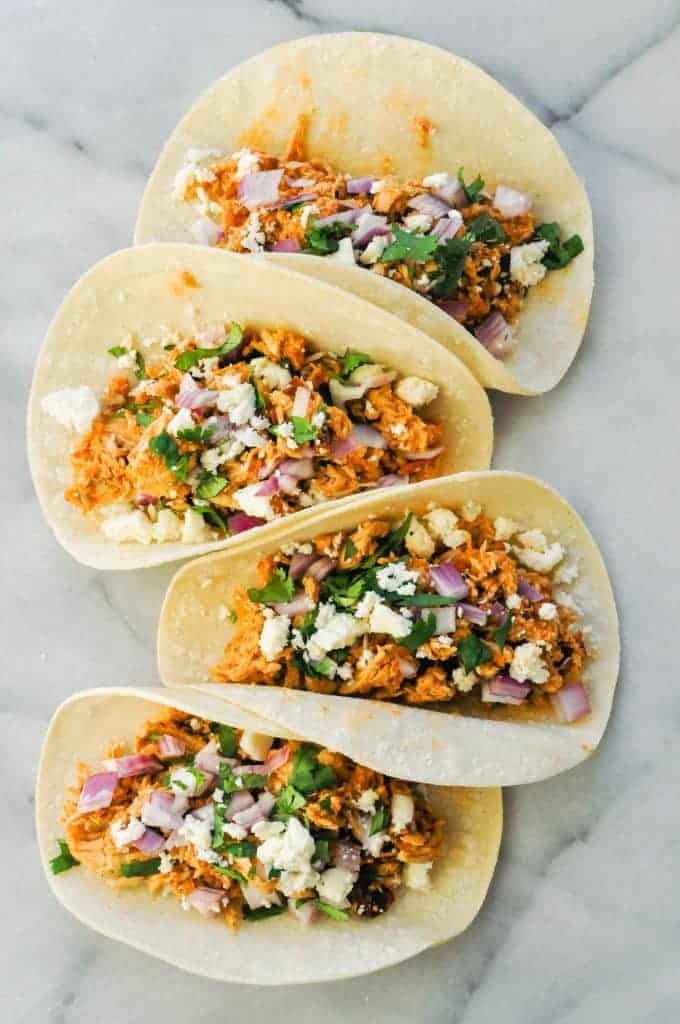 And here's another great Leftover Turkey Tacos recipe from Lisa at A Table Full of Joy utilizing cranberry sauce and cream cheese - yum!
Leftover Stuffing Recipes
Not only are leftover turkey recipes needed on these days following Thanksgiving, but stuffing recipes are as well.
Thus, I felt the need to have a separate section for leftover stuffing recipes with turkey at the end of this post. I think you will agree the following recipes will add lots of value to your Thanksgiving leftover menu plans.
Leftover Turkey Stuffing Croquettes - One of the best things about Thanksgiving is Thanksgiving leftovers! So, grab some stuffing and some turkey and a dollop of cranberry sauce and transform those leftovers into turkey stuffing croquettes. (Thanks to Annemarie from Just a Little Bit of Bacon!)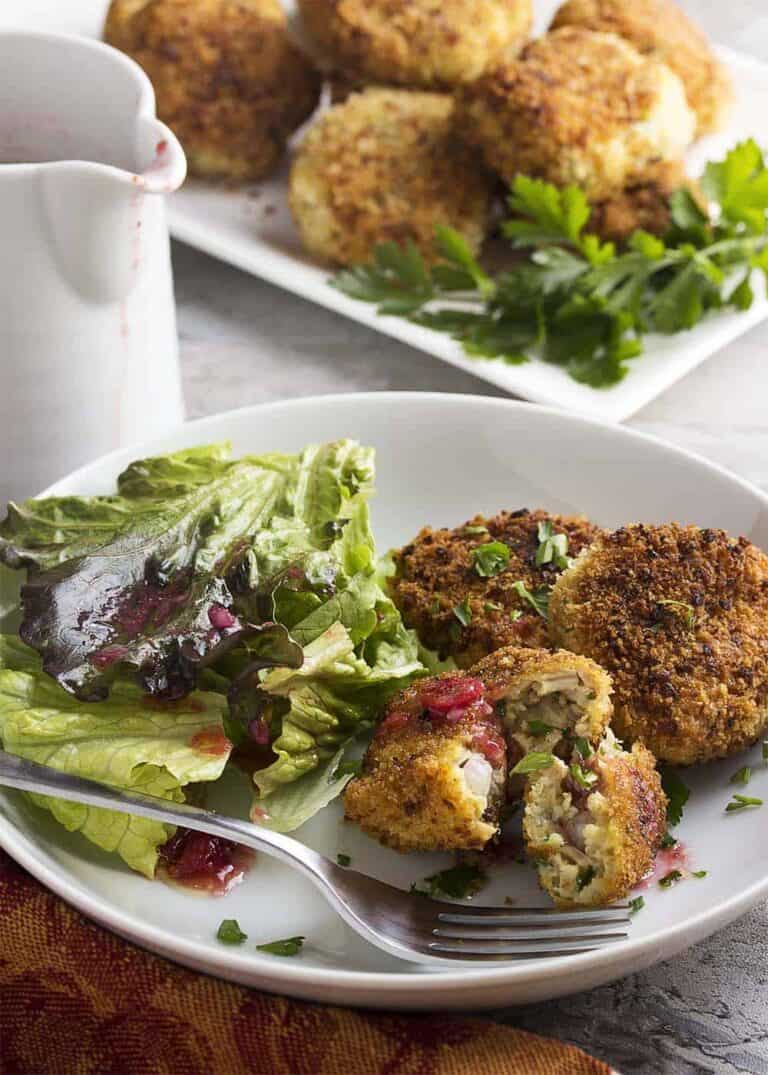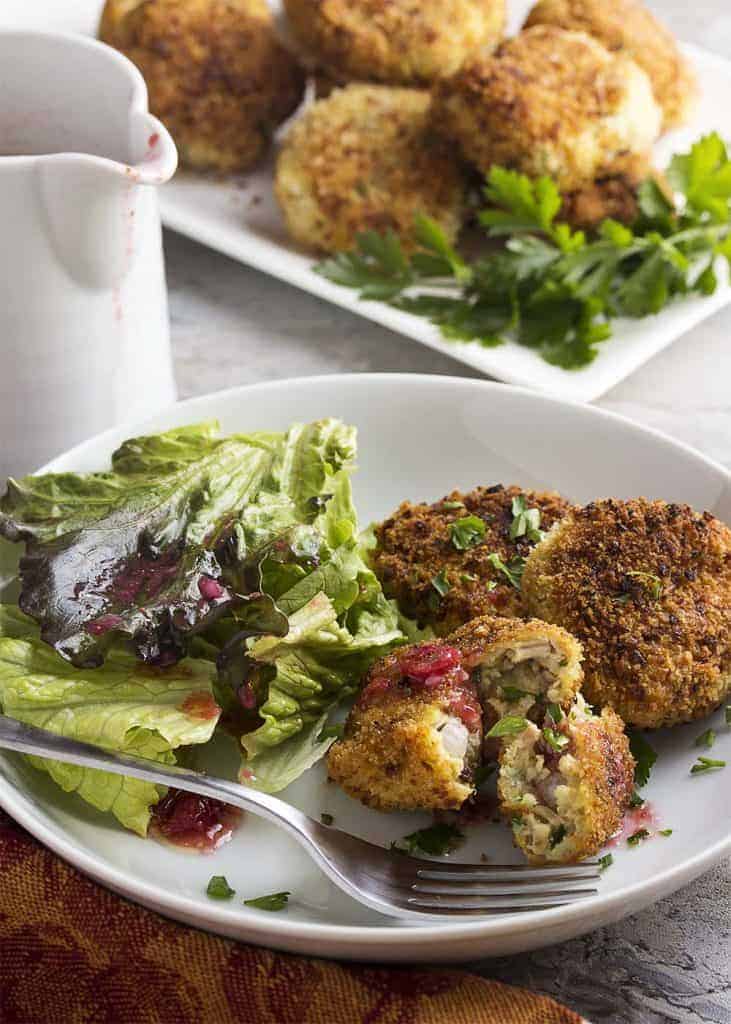 This Genius Potato Turkey and Stuffing is a layered casserole utilizing leftover turkey, stuffing, and mashed potatoes for a yummy casserole dish! (Thanks to Christina from Christina's Cucina for this recipe!)
These Turkey Stuffing and Cranberry Sausage Rolls are shared by Janette from Culinary Ginger. Great as a snack or appetizer and so delish!
I hope you love this roundup of leftover turkey recipes as much as I do! Please comment and share freely! Sharing is caring!