This broccoli bacon quiche recipe is quick to prepare and perfect for breakfast, brunch, or special occasions.
Also perfect for making ahead. Easy to throw together, yet special enough for guests.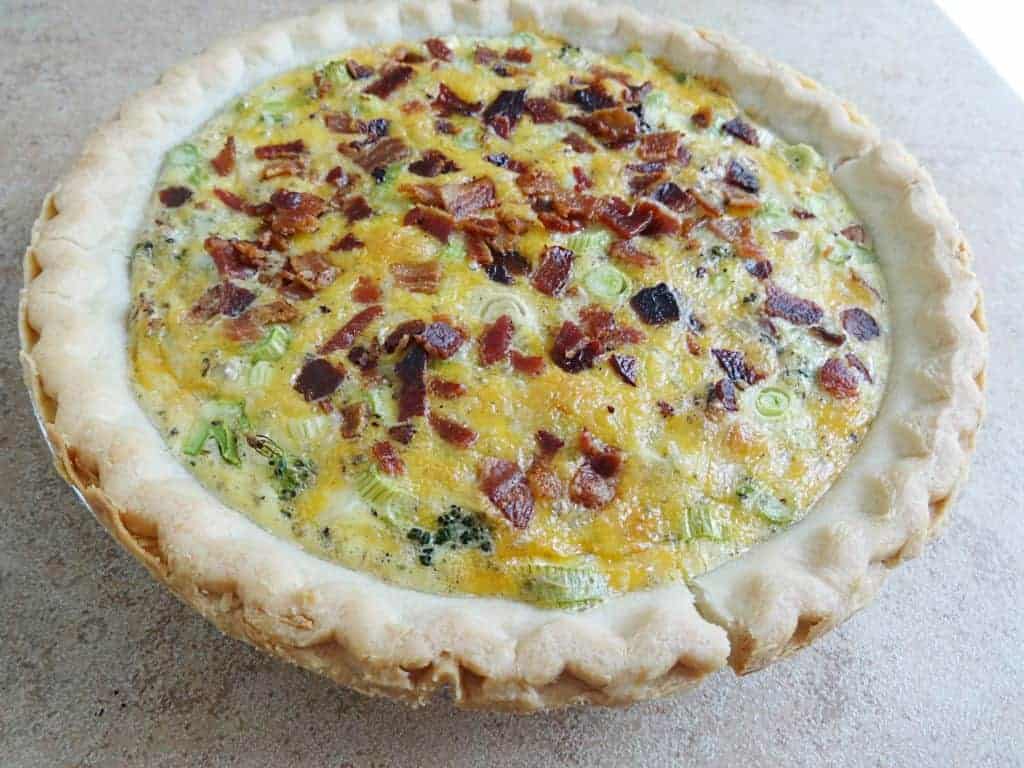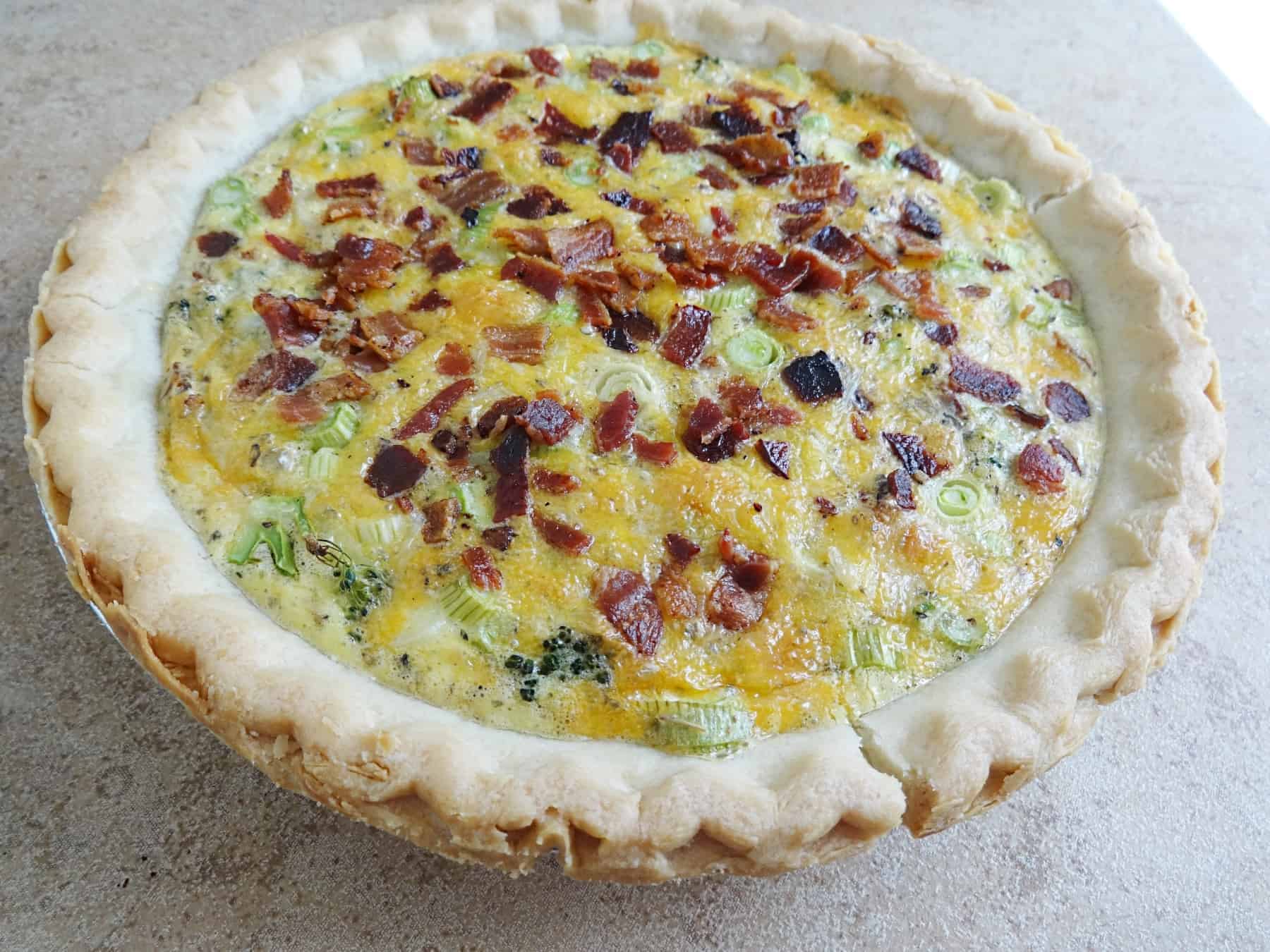 Fluffy egg, smoky bacon, melty cheese, tasty broccoli, and onion bits makes for a very flavorful, easy breakfast quiche.
Broccoli Bacon Quiche Tips
I don't like to make crusts, so it's easier to just purchase a frozen crust from the store for this one.
But if you like to make crusts, it's definitely a better option to make your own so you know what's in it (and it's potentially healthier).
Great for breakfast, brunch, or special occasions like Mother's Day, Christmas morning, or someone's birthday. Hearty, delicious, and filling. What more could you want for an easy breakfast recipe?
I like to layer the broccoli on the bottom and pour the egg mixture over top, placing the bacon crumbles at the end. This way all the ingredients tend to combine naturally during the baking process.
The last step before putting the quiche in the oven is to cover the crust edges. This is done to prevent over browning.
I use aluminum foil. But if you have a pie crust shield, that's the perfect option (much easier than using foil).
The cheese rises to the top with the bacon, and all the flavors mingle together nicely.
See? Makes my mouth water just to look at the picture and remember how delicious it tastes!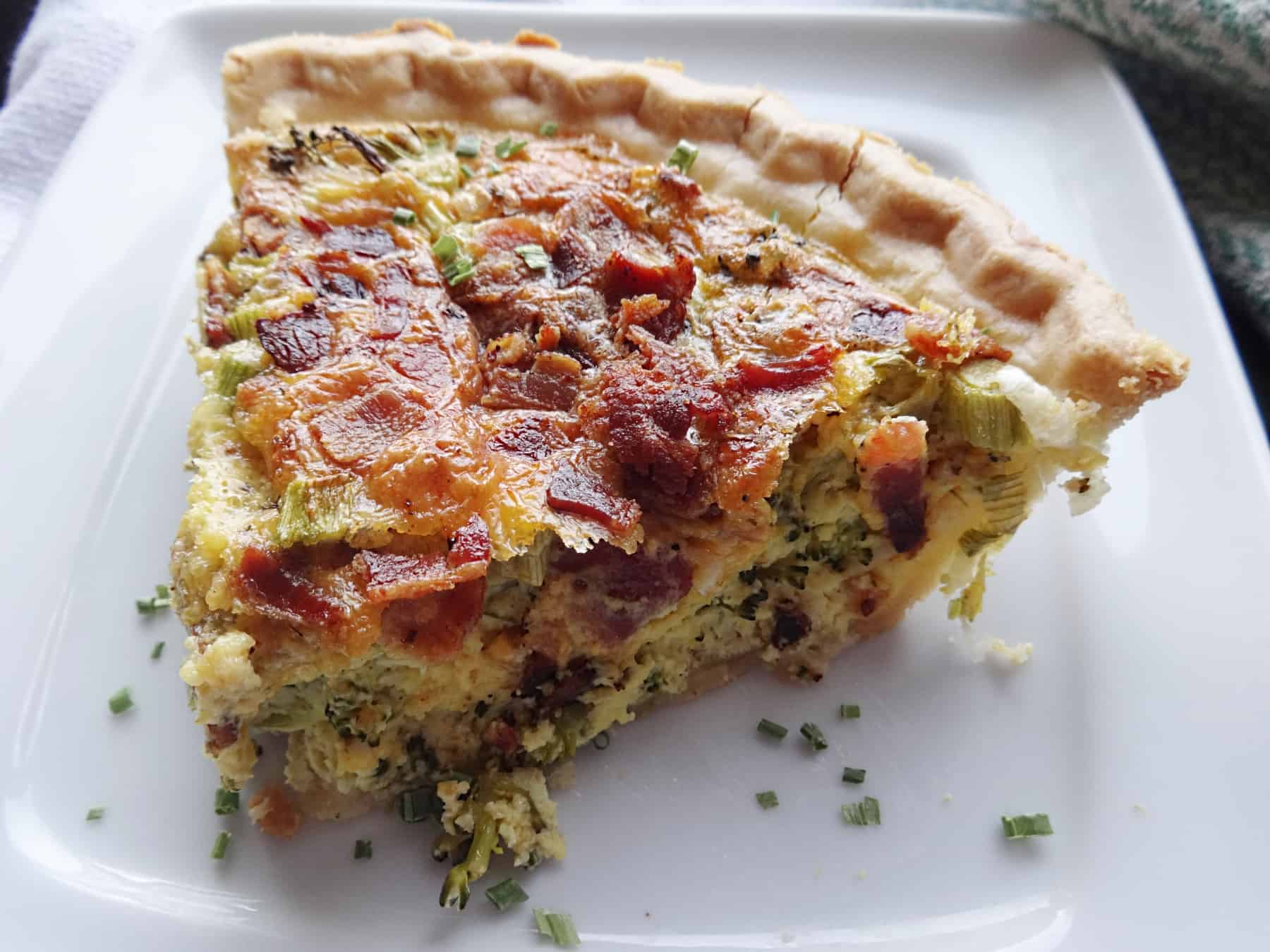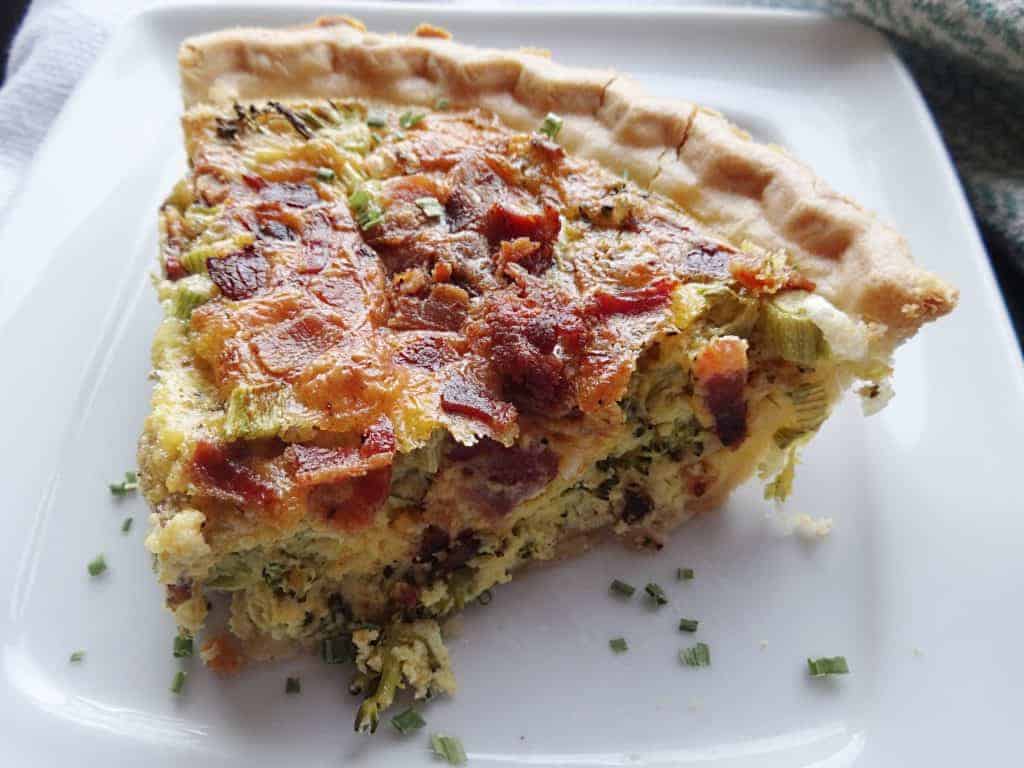 How to Make Broccoli Bacon Quiche
Quiche is pretty simple to make, but it can be so elegant, delicious, and satisfying. It's a perfect breakfast all by itself for special occasions.
Or really anytime you want to have something special and nourishing for your family and/or guests.
If you have company, you can prepare this broccoli bacon quiche ahead of time and keep in the fridge until ready to pop in the oven.
That way, you can enjoy your guests without having to think too much about throwing together some yummy food when they're there.
To make this bacon and broccoli quiche, first you will preheat your oven to 350 F. Next, beat the eggs with a fork or whisk in a medium-sized bowl.
Then you will add cheddar and parmesan cheeses, sour cream, cream, salt, black pepper, marjoram, and green onion.
You will blend the entire mixture with a fork or whisk until all ingredients are well combined.
For the crust, I really prefer a homemade crust, but this time I used store bought. Sometimes it's just simpler, right?
So, just remember, homemade tastes better and is better for you (usually), but sometimes you need to cut corners to get that yummy food on the table.
I used a deep-dish pie crust for this quiche, as I wanted to make sure it would hold a nice amount of egg pie without overflowing. I did not brown the crust before filling.
Before pouring in the quiche filling, I put the broccoli on the bottom of the pie crust.
Then I poured the filling over top of the broccoli and topped the filling with the crumbled bacon (YUM!)
The cheese will naturally rise to the top a bit when cooking, but if you feel the need to add more cheese near the end of baking, go right ahead.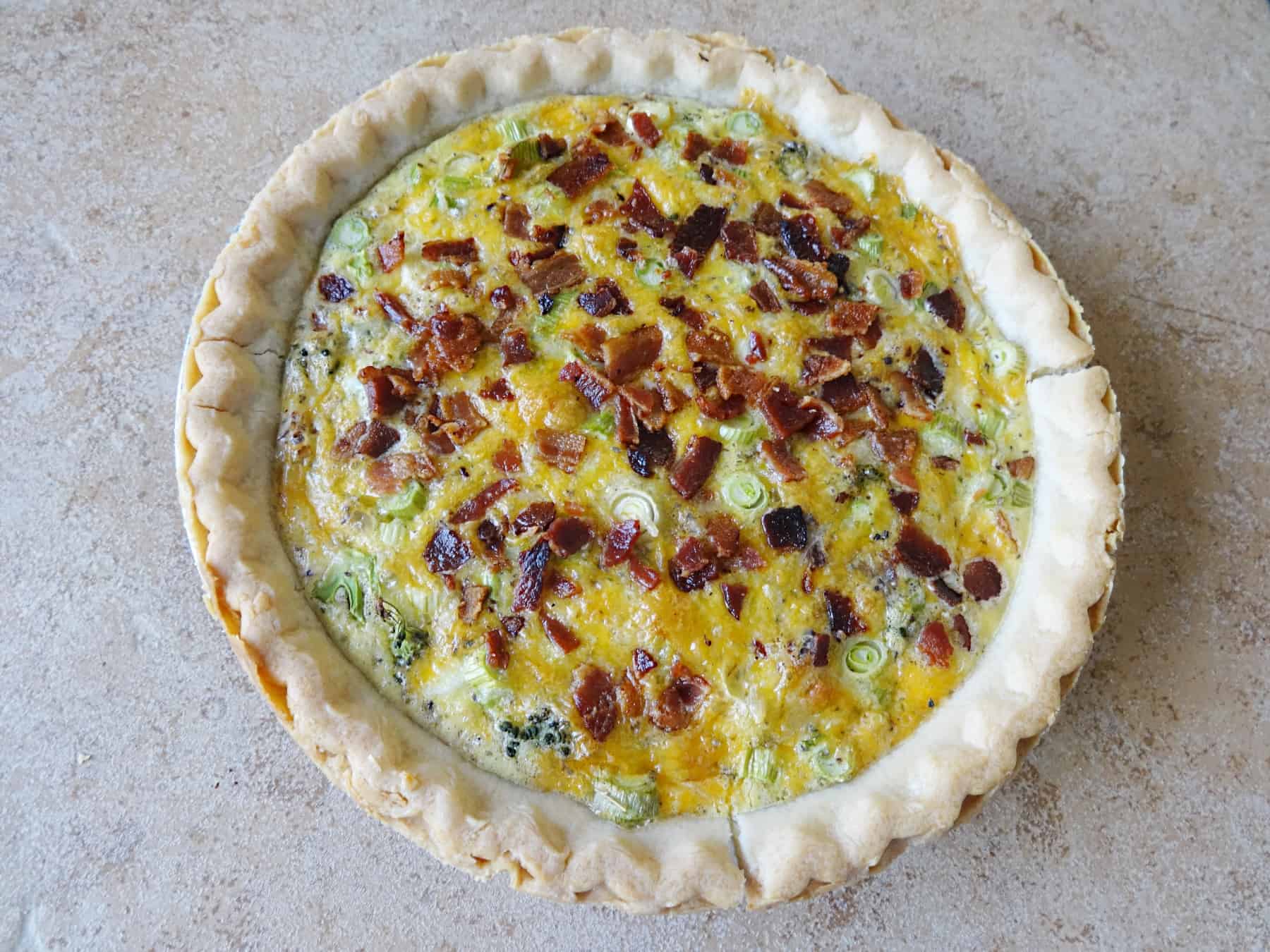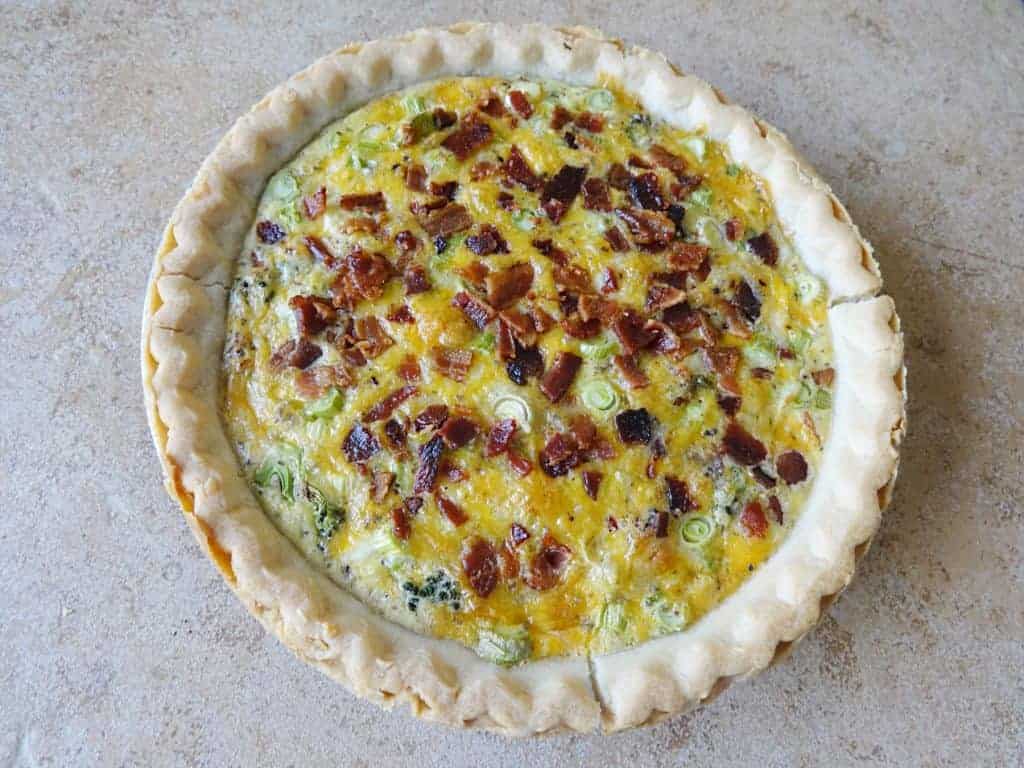 You will cook the broccoli cheddar bacon quiche at 350 F for 45-50 minutes or until browned.
Egg mixture should no longer be jiggly when moved gently. And knife inserted into the center should come out clean with no food adhering to it.
What to Serve With Broccoli Bacon Cheese Quiche
Since quiche is typically served as a main entree for breakfast or brunch, certain side dishes go nicely with it. I like to serve my quiche with fresh fruit, fresh-squeezed juice, and coffee or tea.
This makes a full, wholesome breakfast or brunch meal that everyone should be satisfied with.
Since you have egg, bacon, broccoli, and the crust, it's not necessary to add bread, in my opinion. But you certainly may if you wish and think it appropriate for your occasion.
Healthy Broccoli Quiche?
I think so! All the ingredients are whole foods and unprocessed. The only exception depends on the crust you choose.
In my opinion, most foods are good in moderation (unless you have an allergy or intolerance that affects you negatively).
The health of the bacon you eat depends on the additives and how processed it is. Bacon is better less processed and without nitrates.
The health of your eggs depends on how well the chicken ate and was handled.
Home-pasture-raised chickens lay beautiful dark-yolked eggs that are more healthy than store bought.
Store bought eggs typically are layed by chickens who get no outdoor time and who are fed a vegetarian, non-organic diet (sorry, but chickens are not naturally vegetarians ...)
The crust will be more healthy if you make it yourself, and that way you can determine the oils and flours you use to make sure it's as healthy for you as possible!
Enjoy!
Other breakfast recipes you may love include my Satisfying Southern Flaky Biscuits and my Blueberry Biscuits with lemon cinnamon glaze.
Other recipes that include bacon (which you may have noticed that I LOVE!) are my Chicken Bacon Pasta Bake, my simple Spaghetti Bolognaise sauce (Southern style with bacon), and my Green Beans Almondine (again, with bacon).
More dinner ideas include my Bacon Wrapped Southern Meatloaf and my Bacon Wrapped Stuffed Chicken Breasts.
Recipe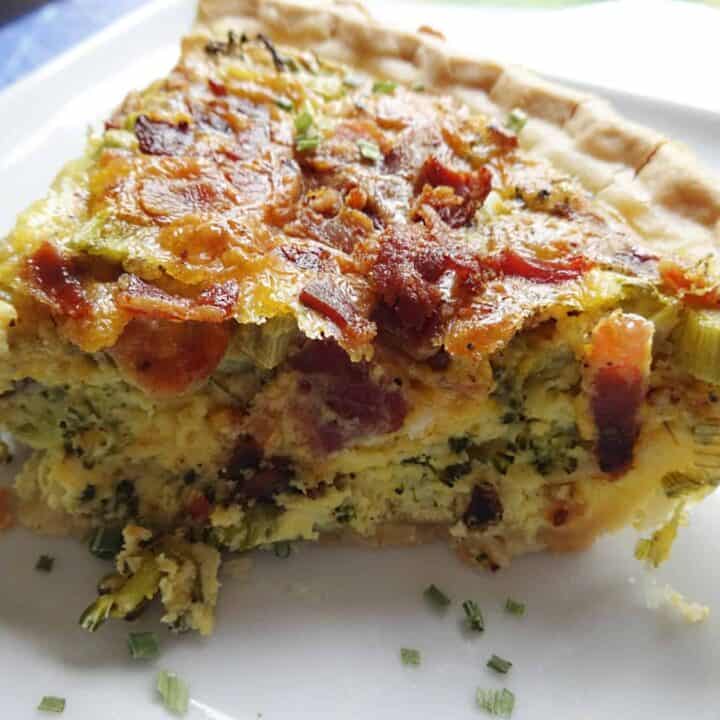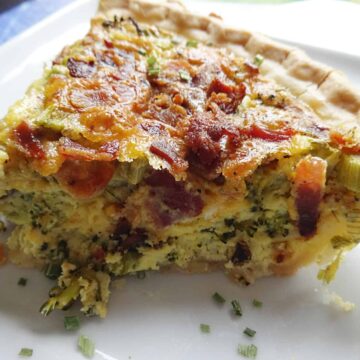 Broccoli Bacon Quiche with Cheese
This broccoli bacon quiche recipe is quick to prepare and perfect for breakfast, brunch, or special occasions. Also perfect for making ahead. Easy to throw together, yet special enough for guests.


Print
Pin
Rate
Ingredients
4

large

eggs

1

cup

cheddar cheese

, shredded

¼

cup

parmesan cheese

, grated

¼

cup

sour cream

½

cup

heavy whipping cream

¼

teaspoon

salt

, more to taste

¼

teaspoon

black pepper

1

teaspoon

marjoram

(dry, ground)

4

green onions

(shallots), chopped (¼-1/3 cup)

2

cups

broccoli

, finely chopped

1

pie crust

(prepared frozen, deep dish)

6

slices

bacon

, cooked and crumbled
Instructions
In a large bowl, add eggs and beat with a fork or whisk. Add cheddar and parmesan cheeses, sour cream, cream, salt, pepper, marjoram, and green onion and blend with a fork.

Place broccoli in the bottom of the pie crust and pour egg mixture over top. Top with bacon crumbles.

Bake 45-50 minutes or until browned and egg mixture is set (no longer jiggly and knife inserted into center comes out clean).
Nutrition
Calories:
468
kcal
|
Carbohydrates:
18
g
|
Protein:
17
g
|
Fat:
36
g
|
Saturated Fat:
17
g
|
Cholesterol:
210
mg
|
Sodium:
622
mg
|
Potassium:
288
mg
|
Fiber:
2
g
|
Sugar:
1
g
|
Vitamin A:
1045
IU
|
Vitamin C:
29
mg
|
Calcium:
255
mg
|
Iron:
2
mg
FAQs for Broccoli Bacon Quiche
Is quiche a main dish or side dish?
Quiche is generally thought to be a main dish served for breakfast or brunch. However, when I serve quiche as a leftover it's usually as a side dish along with other things such as salad or baked potato.
As a main dish (as above stated in What To Serve With Quiche), I like to serve it with fresh fruit, freshly-squeezed juice, and coffee or tea.
Can we use all parts of broccoli?
All parts of broccoli are usable, except for the very end of the thickest main stem. I like to cut that part off first about an inch from the end before breaking apart the broccoli.
I don't tend to use the larger parts, but you certainly can if you want to conserve and utilize as much as possible. In this recipe, I used only the stems at about ½ inch or less along with the tops.
The fatter stem sections can be chopped and used as well, but make sure to chop fairly fine in order to not deal with tougher pieces in your quiche.
You can also save the portions not used in the quiche for later use in stir fries, soups, or even blended in smoothies.
Another great option for using up the thicker broccoli stem portions is to chop them fine and eat them in slaw or salads. The options are pretty much endless!
What's better, frozen or fresh broccoli?
Personally, I always prefer fresh broccoli over frozen. Frozen broccoli holds a lot of water and doesn't hold up as well or have as much flavor when used in cooking, in my opinion.
If you're going to use frozen broccoli, it may work fine for a quiche recipe or when used in soups.
If you're using frozen broccoli in quiche, I would thaw it first so you don't end up with extra water in the quiche (which could make it watery with a soggy crust).
Can quiche be frozen?
You can freeze this bacon broccoli quiche if you wish. It should be great uncooked or cooked and then covered securely with either foil or placed in a large freezer bag to protect it.
I wouldn't keep the quiche in the freezer for longer than 6 months in order to maintain freshness and avoid freezer burn.
How long can quiche be kept in the refrigerator before and after cooking?
You can keep the uncooked quiche in the refrigerator for up to 2 days before cooking. Same with cooked quiche - it can be kept for up to 2 days safely before discarding.