I love a good pasta sauce, and this simple spaghetti bolognaise is so saucy and flavorful that you will want to make it often.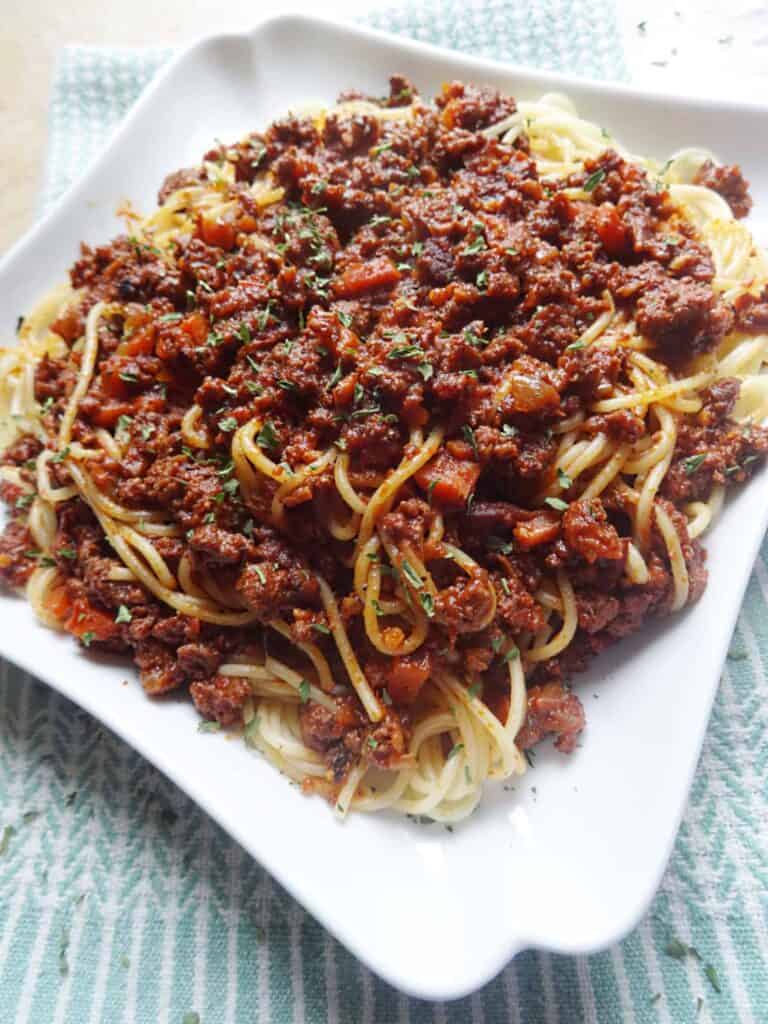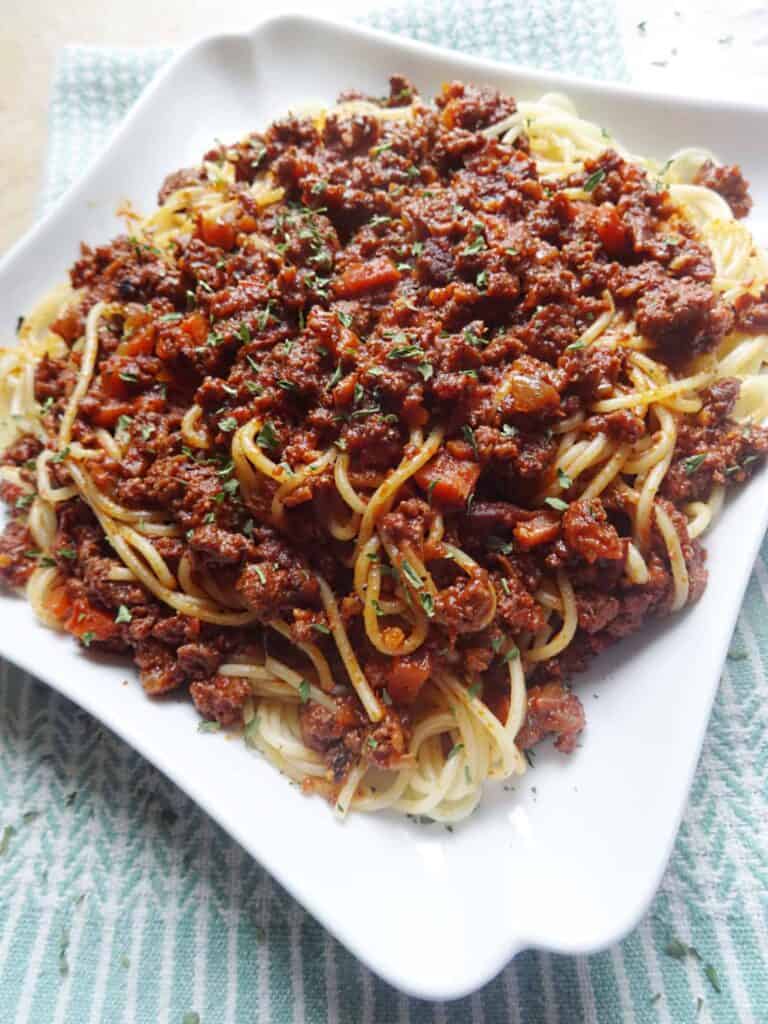 Although not super quick, this pasta bolognese sauce is simple to put together. The one-hour cooking time melds the flavors and is so worth waiting for!
What You'll Need
4 ounces bacon , about 4 slices
1 pound lean ground beef
1 teaspoon oregano , dry
1 teaspoon thyme , dry
1 teaspoon basil , dry
1 teaspoon paprika
½ cup mushrooms , finely chopped (about 2 medium sized)
1 medium onion , finely chopped (about 1 cup)
2 tablespoon garlic , minced
1 medium carrot , peeled and finely chopped (about ½ cup)
1 stalk celery , finely chopped (about ½ cup)
¾ cup red wine
1 lemon , zest and juice (about 1 teaspoon zest and 1 squeeze juice)
dash nutmeg
½ teaspoon salt , more to taste
½ teaspoon black pepper , more to taste
28 ounces crushed tomatoes , canned
½ cup beef stock (or broth)
¼ cup heavy cream
What is Bolognaise?
Bolognaise, or bolognese, originated in Italy (Bologna in particular) and is a traditional meat sauce served over pasta.
In addition to the ground or minced beef, bolognaise includes a combination of vegetables that is called soffritto.
Soffritto includes onion, celery, and carrots, although other veggies are also often used.
Fatty pork, white wine, milk, and a tomato sauce or paste are also included. The dish is then simmered over a period of time so the flavors meld and intensify, making for a delicious, highly flavorful sauce for pasta.
Many of the spaghetti bolognaise recipes I ran across on line had quite the variety of vegetables added, and most used some type of ham or pancetta for their "fatty pork."
However, I chose bacon. No real surprise there if you've followed me for any length of time! I love bacon, and what better "fatty pork" than bacon?
Plus, the bacon really does add loads of flavor to the bolognaise sauce - believe me!
Also, traditionally, the wine used was a white wine, as I saw among most of my fellow food bloggers. I chose to use red wine instead, as I thought that would be a nice change from the traditional.
I also added mushrooms, as I love them and thought they would really add to the sauce. Boy, was I right!
Mushrooms are a great addition to just about any sauce, especially one that will simmer for a longer length of time.
This makes for a thick, hearty, satisfying sauce for your favorite pasta - preferably spaghetti or angel hair.
However, Italians serve their bolognese over a thicker pasta such as tagliatelle or tortellini, so they may have a hissy fit if they read that ;-)).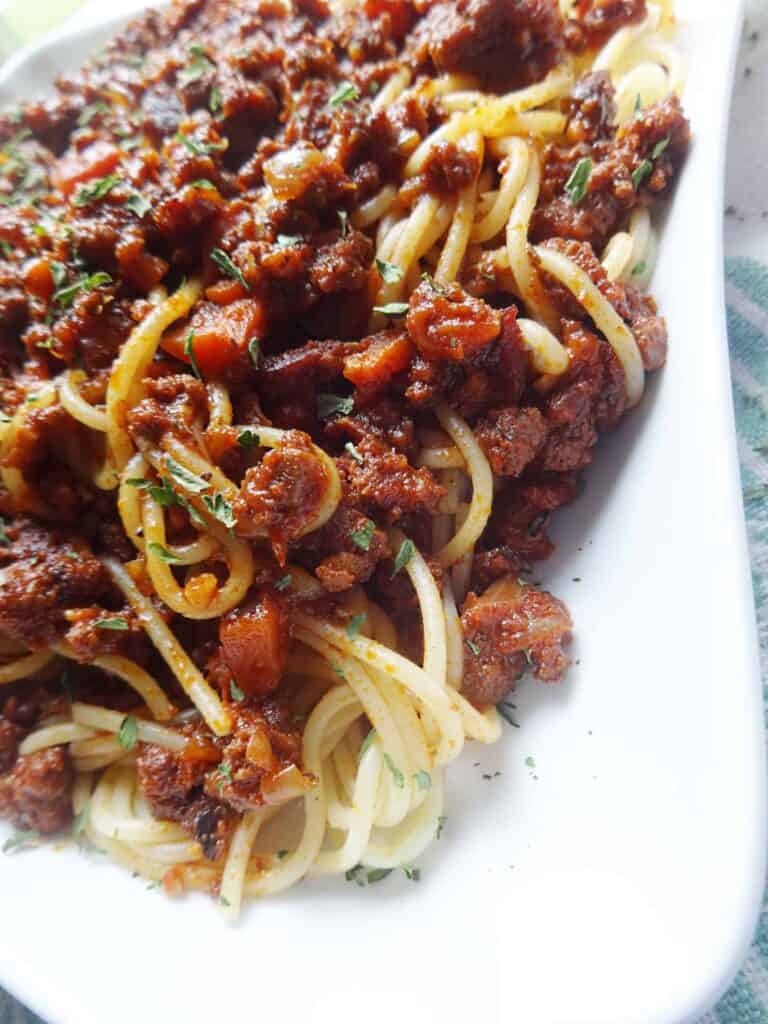 Is this spaghetti bolognaise sauce authentic?
As I alluded to above, this spaghetti bolognaise recipe is a combination of all the great recipes I ran across on line when searching for the best pasta sauce I could find.
I get ideas, then I adapt fully to make my own unique creations. The simple spaghetti bolognese you see here is the end result of my experimentation in the kitchen (one of my favorite things to do in life 😉 ).
While I can't say that it's perfectly authentic, I can say that it follows along with the traditional recipes. Furthermore, it's really, really DELICIOUS!
Can I make this sauce ahead of time?
It's a great recipe to made ahead, as the flavors just get better and better over time.
Also stores well if you have extra left over and can be added to a myriad of dishes such as casseroles, tacos, baked potatoes - you name it.
What about freezing?
This is a perfect sauce recipe for freezing, so you can make a double or triple batch to freeze, or you can freeze any leftovers you have.
Simply thaw and enjoy over pasta or any of the above options. Use your imagination, as this recipe is very adaptable.
How to Make Spaghetti Bolognaise
The reason this spaghetti bolognaise recipe is so delicious is due to the plethora of tasty, savory ingredients along with low and slow cooking in a heavy iron Dutch oven on the stove top.
I start by cooking the bacon. Once done, the bacon is removed to cool and drain, and all but about 1 tablespoon of the bacon fat is removed from the pan.
I then add ground beef to the bacon fat and brown, breaking up the beef into small pieces as it cooks.
As the beef is becoming brown, I add the mushrooms, garlic, onion, carrots, and celery and cook about 5-10 minutes or until the veggies begin to soften and onion is translucent.
I add the wine to the pot next and reduce it on medium heat uncovered for 5 minutes.
Next, you will add the cream, lemon zest and juice, nutmeg, and beef broth to the Dutch oven.
You will then stir everything together, cover, and simmer on low heat for one hour, checking frequently to make sure sauce doesn't dry out. You can add more beef broth if it gets too thick.
Serve over long noodles such as spaghetti, angel hair, or linguini.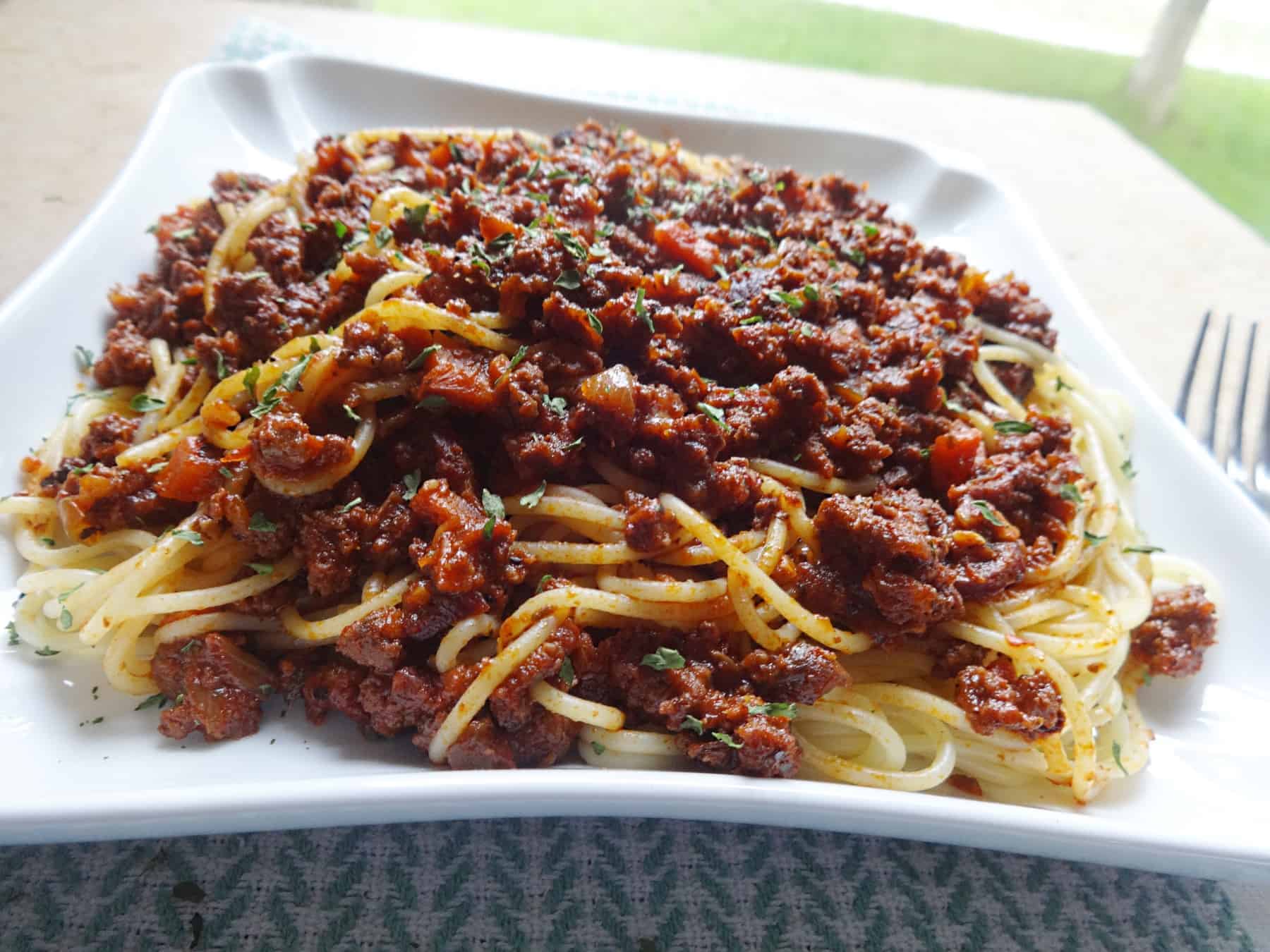 How can I make my spaghetti bolognaise taste fabulous?
I consider that my addition of bacon naturally lends this recipe toward Southern style ... because everything here at Savory With Soul has a touch of Southern comfort food ya'll 😀
Another way to make your bolognaise fabulous is to slow cook in a large Dutch oven over the stove top. At least 1 hour simmer time is my recommendation.
And ... don't skimp on the flavors in the recipe. There is a purpose for each and every spice and veggie added. Every single spice, herb, and vegetable will slow simmer to make this dish FABULOUS!
I hope you enjoy this easy bolognese sauce recipe as much as my family and I do - so easy, satisfying, and delicious!
Let me know in the comments below how you and your family like my simple spaghetti bolognaise sauce!
I also love to have jarred minced garlic on hand when I need to prep a recipe quickly. Sure, fresh minced is always better, but isn't it great to have shortcuts from time to time for us busy moms? You can purchase minced garlic on Amazon here.
You may also like my Five Cheese Marinara sauce recipe.
My London Broil Crock Pot recipe is also a hit with my family and is quick to prepare and comes with its own built-in gravy.
It pairs well with my Green Beans Almondine (with added bacon, taking the flavor up another notch). It's quick to prepare at the last minute as your London Broil is finishing up in your slow cooker.
Recipe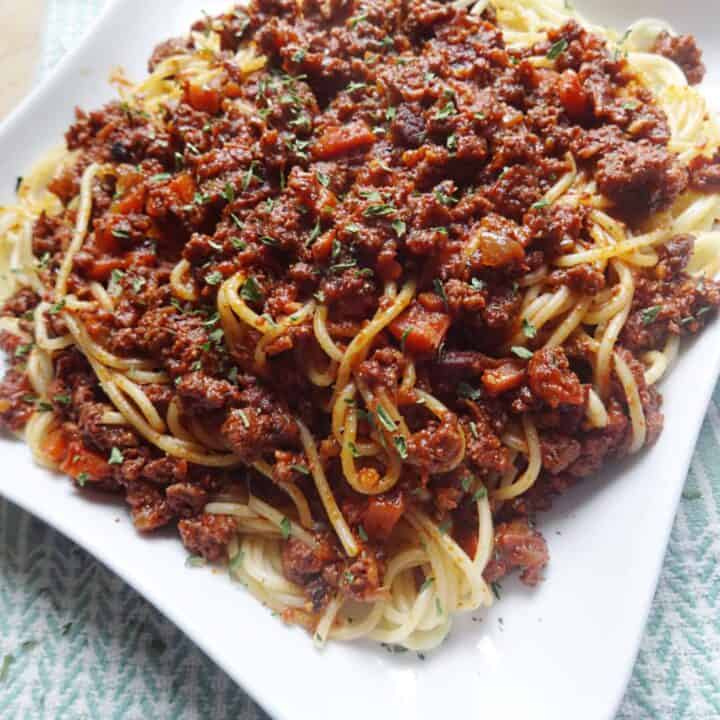 Spaghetti Bolognaise Sauce
I love a good pasta sauce, and this simple spaghetti bolognaise is so saucy and flavorful that you will want to make it often.
Print
Pin
Rate
Ingredients
4

ounces

bacon

, about 4 slices

1

pound

lean ground beef

1

teaspoon

oregano

, dry

1

teaspoon

thyme

, dry

1

teaspoon

basil

, dry

1

teaspoon

paprika

½

cup

mushrooms

, finely chopped (about 2 medium sized)

1

medium

onion

, finely chopped (about 1 cup)

2

tablespoon

garlic

, minced

1

medium

carrot

, peeled and finely chopped (about ½ cup)

1

stalk

celery

, finely chopped (about ½ cup)

¾

cup

red wine

1

lemon

, zest and juice (about 1 teaspoon zest and 1 squeeze juice)

dash

nutmeg

½

teaspoon

salt

, more to taste

½

teaspoon

black pepper

, more to taste

28

ounces

crushed tomatoes

, canned

½

cup

beef stock

(or broth)

¼

cup

heavy cream
Instructions
In a heavy pan or iron skillet, cook bacon on low-medium until crispy, turning midway through.

Remove bacon from the pan and reserve for later. Spoon out all but about 1 tablespoon of bacon fat.

Cook ground beef in bacon fat, chopping into small bits with a spoon or spatula.

When ground beef is browned, add oregano, thyme, basil, paprika, mushrooms, onion, garlic, carrot, and celery. Cook 10 minutes covered on medium heat (checking and stirring halfway through) until veggies are becoming tender and onion is translucent.

Add wine and cook on medium for 5 minutes uncovered (wine will reduce a bit and alcohol will evaporate off).

Crumble and add the reserved bacon. Add lemon zest and juice, nutmeg, salt, black pepper, crushed tomatoes, and beef stock/broth.

Stir, cover, and simmer on low-medium (2-3) for 50 minutes, checking frequently to make sure sauce doesn't dry out. Add more beef broth if getting too thick.

Add cream and reduce heat to low (1-2). Cover and cook 10 more minutes.

Serve over long noodles such as spaghetti, angel hair, or linguini. Enjoy!
Nutrition
Calories:
313
kcal
|
Carbohydrates:
18
g
|
Protein:
22
g
|
Fat:
16
g
|
Saturated Fat:
7
g
|
Cholesterol:
73
mg
|
Sodium:
603
mg
|
Potassium:
916
mg
|
Fiber:
4
g
|
Sugar:
8
g
|
Vitamin A:
2363
IU
|
Vitamin C:
25
mg
|
Calcium:
86
mg
|
Iron:
4
mg
FAQs
What to serve with spaghetti bolognaise?
I like to serve any good pasta and sauce recipe with a large salad full of yummy raw vegetables along with a large loaf of crusty bread! Buon Appetito!
What is the proper way to serve spaghetti bolognaise?
It has been asked whether bolognaise should be served over pasta or with the pasta mixed into the sauce.
I would have to say that this is a matter of choice mostly. However, all the photos I have seen showcase the sauce on top of the bed of pasta. To me, it just looks more attractive.
So, here's my suggestion: If you're serving it to impress - your spouse or significant other or for a special dinner for guests - I would say to serve it over the pasta.
If, however, you have leftovers that you want to save, I would say it would be simpler to combine the pasta and the sauce for storage and then reheat them mixed together. It is simply fabulous this way! That's what I did with our leftovers.
Are there any specific extras for this spaghetti bolognaise that aren't considered standard?
If you're looking at the average blog out there, my recipe does have "extras" that they don't have. These extras include bacon, red wine, and mushrooms.
Typically, others use pancetta or other form of ham in their bolognaise. I used bacon, as the traditional recipe calls for "fatty pork." What better fatty pork than bacon? (I rest my case!)
White wine is also considered standard (even in the most traditional of the recipes).
Not sure why, as red wine is typically served with red meat dishes. That's why I used red wine instead (and also because I frequently like to buck the ordinary ;-))
The mushrooms I just thought would be tasty with the variety of other vegetables and flavors. And I was right!
Another non-traditional change is serving it over spaghetti or angel hair pasta. Traditionally, Italians serve bolognese over a thicker pasta such as gnocchi, tagliatelle, or tortellini.
I happen to really love angel hair myself, as I believe the flavors of the sauce can really shine through with the finer pasta strands. But
I'm sure all the Italians out there would cringe at my taste in pasta. No matter - I love good food, and I'm open for change (as long as it's delicious!)
Try it soon and let me know what you think about my non-standard changes!
Bolognaise or Bolognese? What's the Difference?
Italian meat sauce is generically called "ragu," and bolognese is thought to have derived from ragu.
Apparently, bolognese is more proper than "bolognaise," though many people use both terms. The dish originated in Bologna and is called "ragu alla bolognese" today.
Furthermore, Italians apparently don't serve their ragu alla bolognese over spaghetti, except for their American guests. It is typically served over tagliatelle, tortellini, gnocchi, or some other thick pasta.
Apparently, also, bacon was used in the earliest original versions of bolognese (much to my surprise and delight - I added it because I love bacon and was trying to make the recipe unique!)
Is spaghetti bolognaise healthy?
Since bolognaise is full of real whole foods and not processed, I would say "yes, definitely - it is healthy!"
In this recipe, you choose the quality of meats and vegetables to use. You also choose what type of pasta you use (gluten free or otherwise).
You can also choose to not serve it over pasta at all. There are many other uses for bolognaise sauce than just using it over pasta. Although I absolutely love it over pasta!
If you're gluten free or on a diet where you're avoiding regular pasta (or pasta altogether), there are other choices for you.
Other recipes you may love include:
Chicken Korma (tender chicken in a spicy sauce - quick & tasty!)
Beef Tips and Rice (tender beef & creamy sauce)
Chicken and Bacon Pasta (includes bacon & cheese!)
Turkey Ala King (using leftover turkey - saucy & fit for a king!)
Lemon Pepper Chicken (super easy, yet so full of flavor!)
Crock Pot Potato Soup (so easy - just dump & forget - then enjoy!)
Bacon Mac and Cheese (my most luscious mac & cheese yet!)