This oven baked mahi mahi recipe is so simple and delicious you won't believe it! Also very quick - taking only 30 minutes start to finish!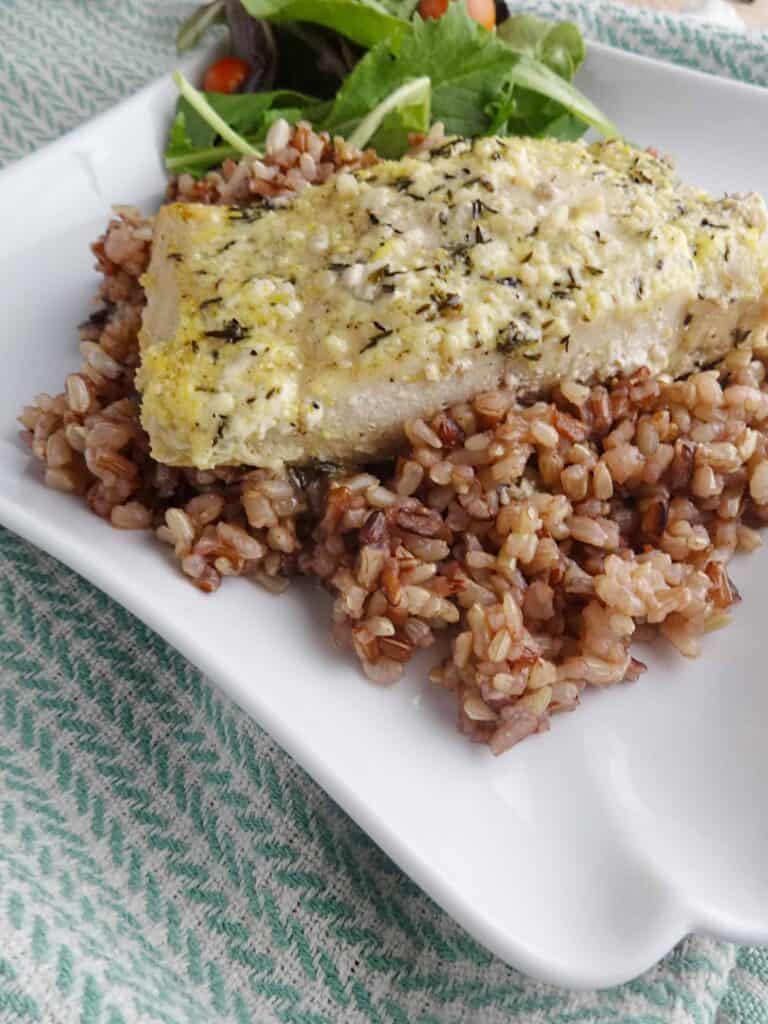 With the sumptuous creamy lemon butter sauce added before baking, you will have a flavorful fish dinner ready in less than an hour.
Great served over rice, pasta, or all by itself with a side salad or vegetables of choice.
What You'll Need
1 pound fresh mahi mahi, skin removed (four 4-ounce portions)
2 medium lemons, zest and juice
heavy cream
butter
olive or avocado oil (or oil of choice)
salt & ground black pepper
dry thyme
minced garlic
Tips for the Best Mahi Mahi
Mahi mahi is a very delicious white fish that's similar in texture (in my opinion) to salmon. Nice large flakes and a mild flavor.
It's a larger fish, so it's not as easy to overcook as some smaller fish like flounder.
However, beware of overcooking, as this will leave your fish dry and less flavorful. The lemon and cream sauce will help with this, but getting both right will result in spectacular results.
The fresher your fish, the better your baked mahi dish! I actually made this recipe the first time with fresh-and-never-frozen mahi mahi.
But the second time, I used frozen, and the results were the same. Just make sure that your mahi is mostly defrosted when beginning the cooking process.
If it's partially frozen and still has the skin on, take this time to remove the skin with a sharp knife. It will be easier than removing from fully thawed fish.
You can also opt to leave the skin on and position the fish skin-side down when cooking.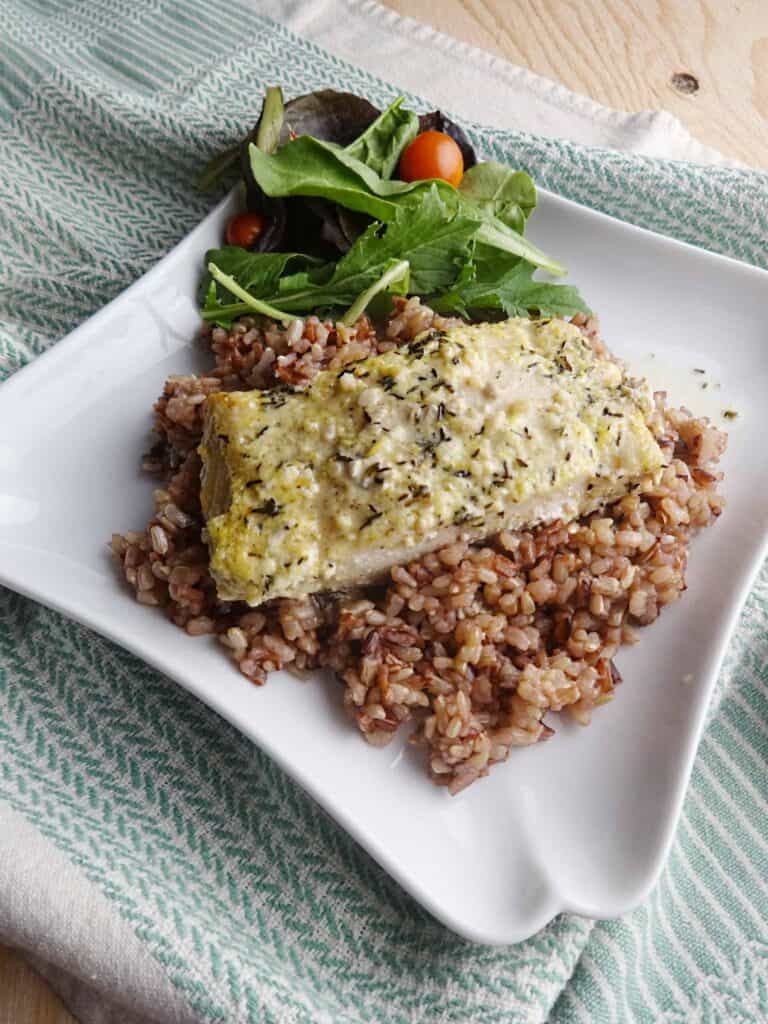 Making the Creamy Lemon Butter Sauce
The lemon butter sauce is the secret ingredient to making this baked mahi mahi supreme! It's simple to make but full of flavorful ingredients that will take your fish to the next level.
Melting the butter first is pretty important, so that you can then mix the rest of the ingredients thoroughly, making a nice pourable sauce mixture.
Get the sauce mixture a bit bubbly, but don't boil. What I mean is - get it just starting to bubble and then remove it from the heat.
You don't want the cream to boil (as it will curdle and not be as smooth), but it's okay to get hot enough to bubble. If it happens to curdle a bit, this won't affect the taste - just the look of it.
FAQs
Can I bake mahi mahi with the skin on?
Yes, you can! Make sure to cook with the skin side down, as this will make sure your fish is nicely browned on the top. You can easily avoid the skin when eating by plucking each bite from the top.
Do I need to remove the skin before serving?
No, the fish will be just fine to serve with the skin on. Just make sure the skin is on the bottom and not the top. Like above, it's pretty easy to avoid eating the skin when taking bites from the top of the fish.
How can I tell if my mahi mahi is fresh?
I mostly judge my fish by smell. If it smells extra "fishy," you know it's not the freshest. It should still be okay as long as you're going by the sell-by or use-by date.

However, if your fish smells like ammonia, you should probably discard it. Fresh fish will not smell extra fishy, but it will smell like the sea - like saltwater and the ocean.
Can I use other types of fish for this recipe?
Mahi mahi is not a fatty fish like salmon, so it won't taste like a fatty fish. It's best compared to a mild white fish like cod, halibut, swordfish, red snapper, or grouper.

Keep in mind that thinner cuts of fish will need less cook time, so plan accordingly. My mahi is typically about ½ to ¾ inch thick. If your fish is thinner, it will need less cook time to avoid overcooking.
How do I know if my fish is overcooked?
If your fish is overcooked, it will be tough. Properly cooked fish is tender and soft but not overly soft. It's better to err on the side of softer, as you can always cook it a bit more.

If it's overcooked, however, it will be a bit chewy. It's still okay to eat, but may not be as enjoyable or flavorful.
What to Serve with Baked Mahi Mahi
Serve this baked mahi mahi recipe with rice or pasta and a side salad or green vegetable. I served mine over Lundberg Jubilee Rice along with a simple spring mix side salad.
I also recommend my quick Green Beans Almondine or my Cast Iron Brussel Sprouts.
You may also want to consider my Cream Style Corn or Cream of Peas.
More Dinner Recipe Ideas:
Recipe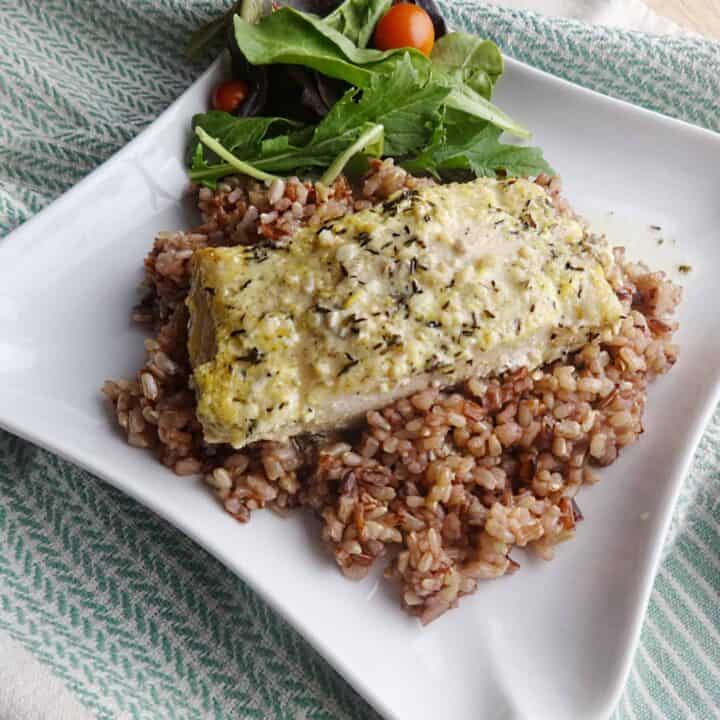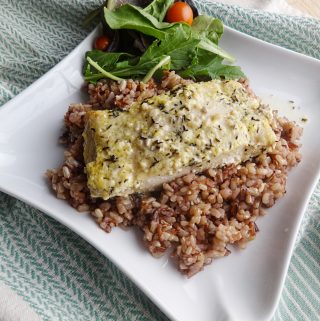 Baked Mahi Mahi Recipe with Creamy Lemon Butter Sauce
This baked mahi mahi recipe is so simple and delicious you won't believe it! Also very quick - taking only 30 minutes start to finish!
Print
Pin
Rate
Instructions
In a small sauce pan, melt butter on low heat. Add garlic, thyme, lemon juice and zest, and cream and cook until a bit bubbly but not boiling (about 5 minutes). Remove from heat.

Add oil to iron skillet or 6 x 9 oven-safe dish and arrange fish on top of oil. Pour butter mixture over top of fish. Cover and cook 15 minutes.

Uncover and cook another 5 minutes to brown a bit.

Remove from the oven and let sit 5-10 minutes before serving.

Serve over rice or pasta, spooning sauce generously over top of fish.

Leftovers can be safely kept in the refrigerator up to 3 days.
Nutrition
Calories:
233
kcal
|
Carbohydrates:
6
g
|
Protein:
1
g
|
Fat:
24
g
|
Saturated Fat:
11
g
|
Cholesterol:
56
mg
|
Sodium:
354
mg
|
Potassium:
97
mg
|
Fiber:
2
g
|
Sugar:
1
g
|
Vitamin A:
615
IU
|
Vitamin C:
29
mg
|
Calcium:
33
mg
|
Iron:
1
mg