This post may contain affiliate links. Please read my disclosure policy.
This sauteed broccoli is an easy and quick stir fried broccoli that includes red bell pepper for added flavor, crunch, and beautiful color!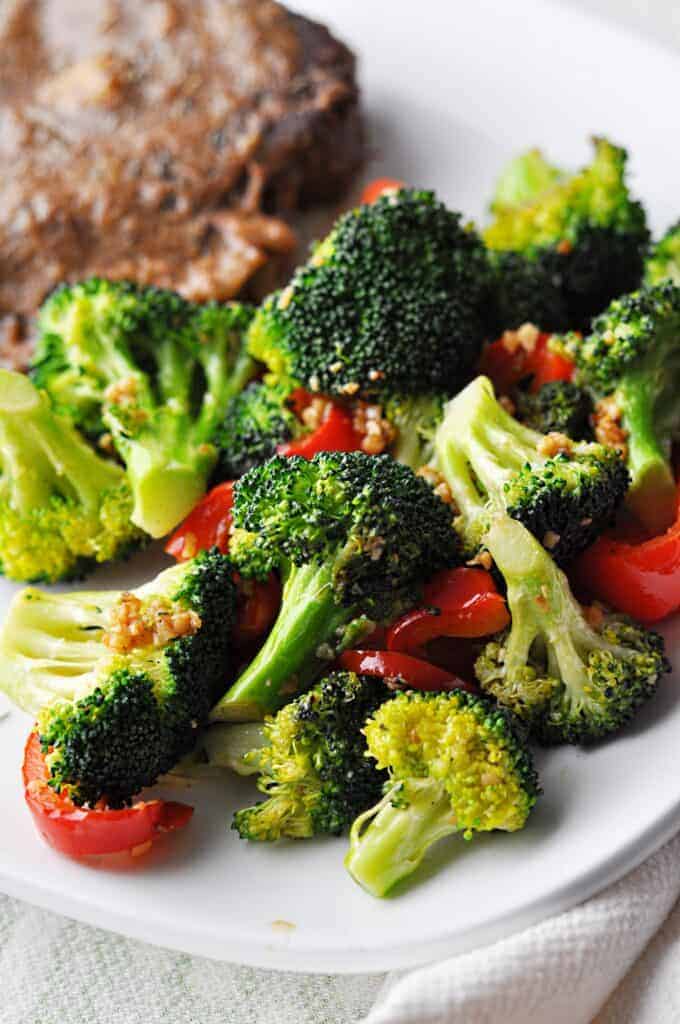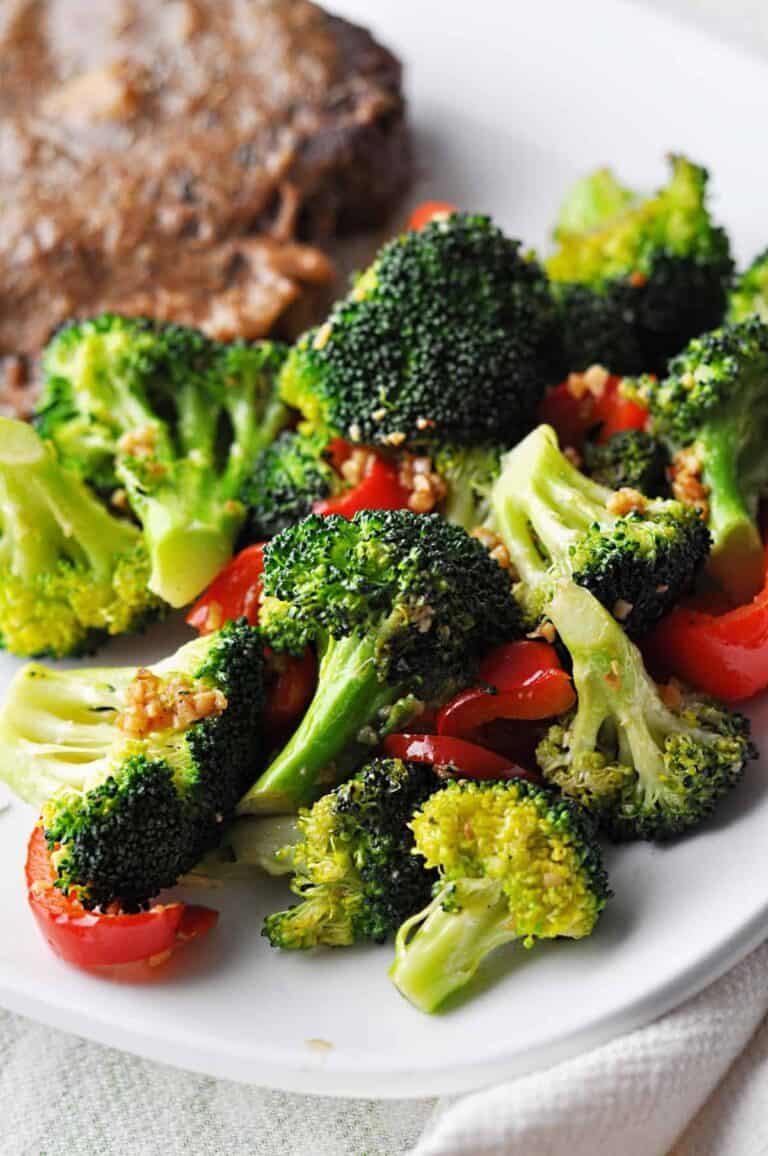 The main trick for awesome broccoli is not overcooking it, which results in a mushy, less flavorful outcome. Thus, preheating your pan and cooking quickly just minutes before you're ready to serve it is the best practice when wanting perfect broccoli.
So quick - 20 minutes from start to finish - 10 minutes to prep and 10 minutes to cook!
How to Saute Broccoli for Best Flavor
As mentioned above, the best cooked broccoli is tender, yet not mushy. For best flavor, you want to quick cook it where it just starts to soften, but overcooking is (regrettably) so easy to do.
First, you want to get your broccoli and all other ingredients ready to cook about 10 minutes before the rest of your dinner is ready to serve. Have your broccoli and red peppers already chopped and the other ingredients ready to add.
Then wait ... until about 10 minutes before the rest of your dinner will be ready.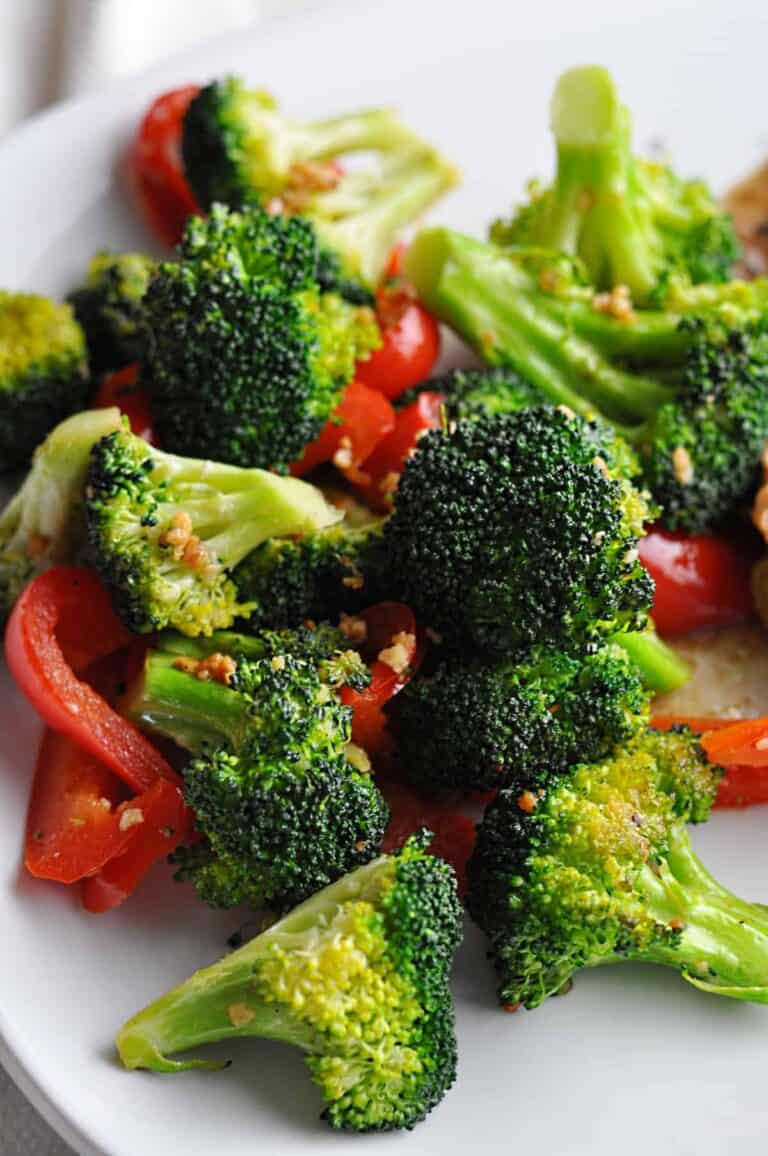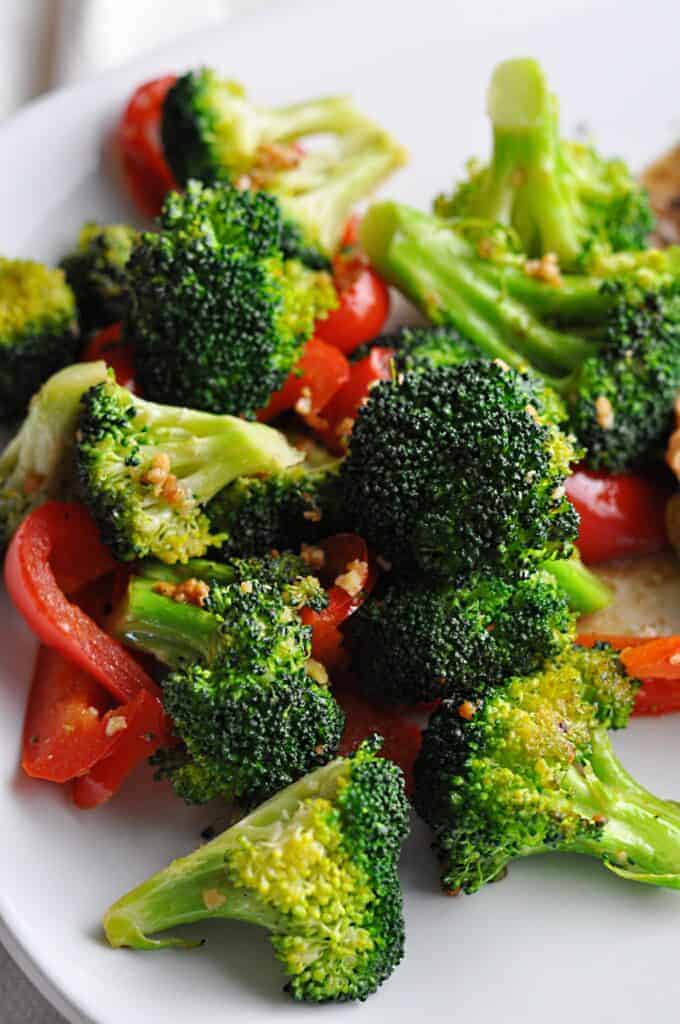 Once ready to cook, you will preheat your pan to medium heat. About 2 minutes into heating the pan, add your oil along with the garlic, red bell pepper strips, broccoli florets, salt, and black pepper and stir together.
Cover and cook for only 3 minutes. Uncover and stir. Cook 2 minutes more (or until desired tenderness) and serve right away while hot.
That's it! So simple, and just as good as your favorite Chinese takeout! I LOVE broccoli when it's cooked this way. So flavorful and tender. If you overcook it, it will lose most of its flavor and be mushy. Who wants a mushy vegetable??? Not me!
I hope you enjoy this sauteed broccoli recipe and that you will comment below how yours turns out. And don't forget to sign up with your email so you don't miss a recipe.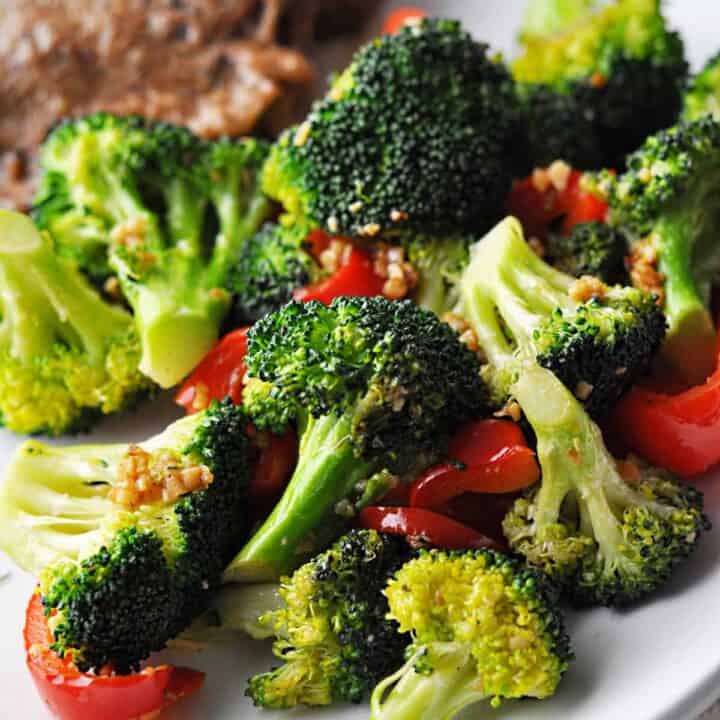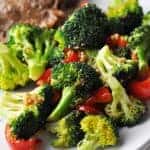 Print Recipe
Sauteed Broccoli with Red Pepper
This sauteed broccoli is an easy and quick stir fried broccoli that includes red bell pepper for added flavor, crunch, and beautiful color!
Instructions
Preheat large skillet on medium (I love using cast iron, but not necessary here).

Add oil, garlic, bell pepper, broccoli, salt, and black pepper and stir.

Cover and cook on medium for 3 minutes.

Uncover, stir, and cook about 2 minutes more or until broccoli is just softening. Don't overcook. Broccoli is best when still a bit crunchy but starting to soften. Cook longer according to your preference.
Nutrition
Calories:
171
kcal
|
Carbohydrates:
9
g
|
Protein:
3
g
|
Fat:
14
g
|
Saturated Fat:
2
g
|
Sodium:
614
mg
|
Potassium:
366
mg
|
Fiber:
3
g
|
Sugar:
3
g
|
Vitamin A:
1498
IU
|
Vitamin C:
120
mg
|
Calcium:
50
mg
|
Iron:
1
mg
FAQs for Sauteed Broccoli
Can I use frozen broccoli in this fried broccoli recipe?
No ... I wouldn't advise that at all. The reason is that frozen broccoli has been parboiled - meaning it's been pre-cooked a bit before freezing. Due to this as well as it being frozen, it is holding in water, which will make it very difficult for your broccoli to turn out lightly crispy and not mushy.
I highly recommend that you purchase broccoli crowns and thoroughly wash them and cut them into florets for this sauteed broccoli recipe. Not much work involved, and the rewards will amaze you!
What other vegetables could be sauteed with the sauteed broccoli?
You can include sliced carrots, onion, cabbage, cauliflower, and just about any similar vegetable to this recipe - and it will be fabulous! Try to keep the vegetables somewhat even in their quantities so you have a beautiful, flavorful dish.
If using carrots, keep in mind that they tend to take a bit longer to cook than broccoli, as they're harder. If you use carrots, then cook them about 2 minutes before adding the rest of the ingredients to ensure that they are crisp-tender but not overly crunchy when the rest of the veggies are done.
What should I serve with sauteed broccoli?
I recommend my London Broil Crock Pot recipe or my Bacon-Wrapped Southern Meatloaf. Also consider my Baked Mahi Mahi recipe or my Lemon Pepper Chicken.
You can also serve with a roasted chicken or pork chops. Stir fried broccoli goes with most anything!
Don't Forget to Pin For Later!