This corn potato chowder recipe is so hearty and delicious!
It's easy to put together - the hardest part is peeling the potatoes - and is perfect for a chilly (or cold) day!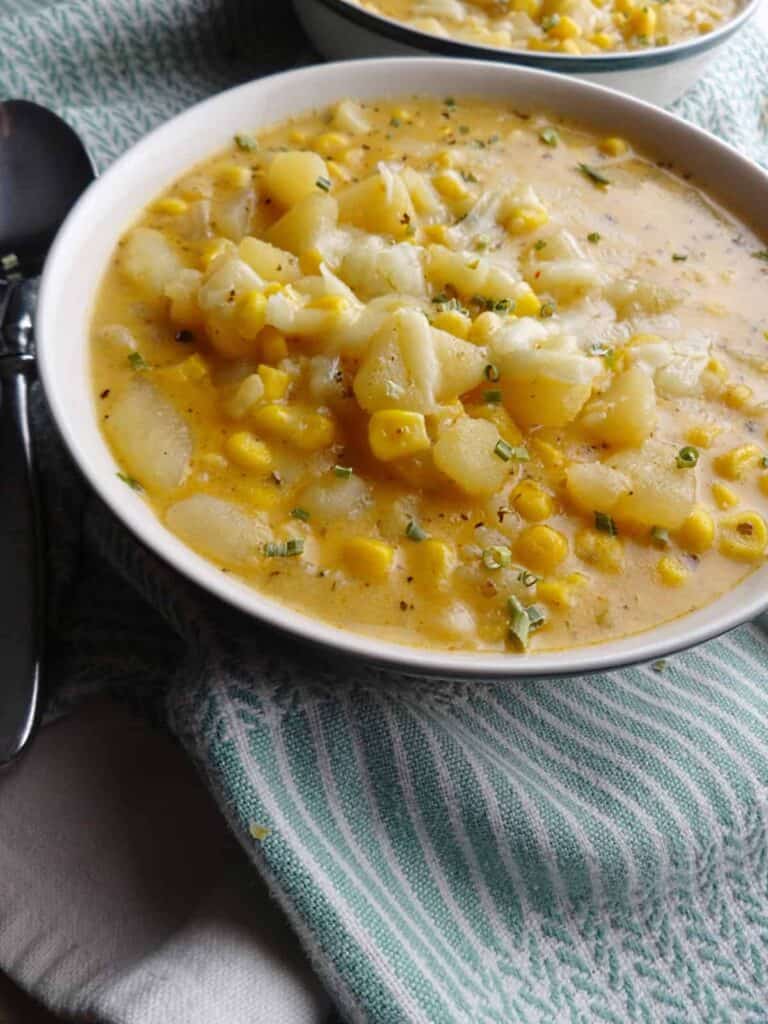 Paired with a side salad and crusty bread and you'll have a satisfying meal for the whole family (picky eaters included!)
I also call this Sweetcorn Chowder due to the amount of corn in it - lots of corn! It's about half corn and half potato and is perfect for sweetcorn lovers!
Adds a nice sweetness to the whole pot of soup - just a touch - not overboard.
How to Make Corn Potato Chowder
Like many of my recipes, I love using my cast iron Dutch oven pot. It's so heavy and cooks so evenly and is practically indestructible.
You may cringe at the description of "heavy," but truly this is one of the features that makes a huge difference in how well your food cooks.
Cast iron tolerates high heats, and many dishes do well with quick, high cooking.
Then, when you're ready to simmer and slow cook, you can simply turn the heat down, cover and appreciate the even heating as your dinner finishes up for you at a slow simmer.
For this corn potato chowder recipe, you will want to preheat your Dutch oven for a few minutes before adding the oil, onion, and garlic.
It will take about 5 minutes for the garlic and onion to cook and turn translucent. This step is intended to soften the onions so you don't end up with crunchy bits throughout.
Sauteing the onions and garlic first is also the best way to add the most flavor from the onions and garlic to your dish.
If you just added the garlic and onions to the pot without browning first, the flavor wouldn't be quite as rich. Trust me on this - don't skip the browning step.
You will next add the potatoes, corn, broth/stock, salt, black pepper, paprika, and marjoram and stir. Bringing it to a boil is an important next step before covering for the majority of the cooking process.
The boil will give the cooking process a kick start. But you will turn the heat down to low before covering the pot and give it a chance to settle down so it doesn't boil over.
The lid keeps the heat and moisture contained in the pot. Covering will cause it to cook faster and also keep it a little soupy and not too thick in consistency.
After your corn potato chowder cooks for 45 minutes to an hour, it should be ready. You will stir occasionally during this time to make sure everything is cooking evenly.
You will also want to press on the potatoes from time to time, lightly breaking them up.
This will create a creamier soup and also a less chunky soup, but you will still have some small chunks of potato remaining.
After the chowder is finished cooking, you'll want to let it sit for about 5 minutes to cool down slightly before adding the milk ingredients.
Note that cream doesn't do well with boiling (it tends to curdle and change consistency from creamy to lumpy).
Once you add the cream, sour cream, butter, and cheeses, it's time for the final stir to incorporate all the ingredients and let the cheese get all gooey and melty.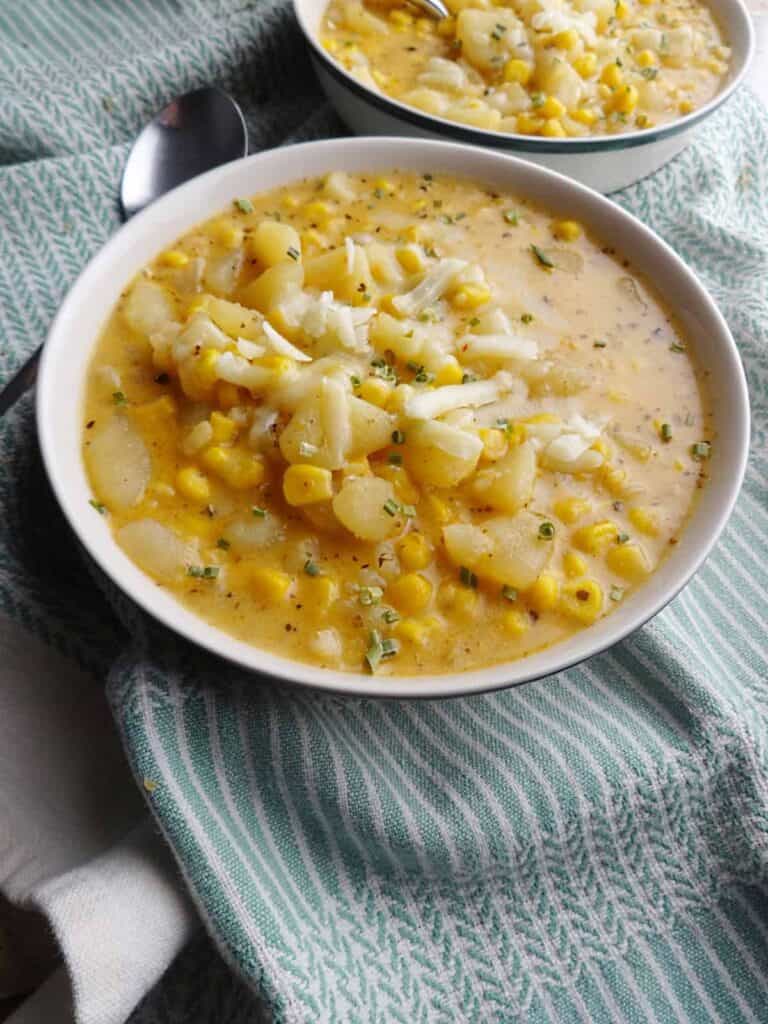 It's best to ladle it into bowls right away while it's nice and hot. I like to add extra cheese to each bowl.
You can also top with chives or parsley for color and a bit of extra flavor.
Serve in a large bowl with a side salad and crusty bread for a complete meal.
Or you can serve it in a cup as a side dish along with your favorite sandwich, roast, meat loaf, or stuffed chicken breast.
More Soups You May Love:
Crock Pot Potato Soup (cheesy & delicious!)
Chicken and Wild Rice Soup (with mushrooms)
Easy Beef Stew Slow Cooker Recipe
My Best Slow Cooker Chili Recipe
Southern Chicken and Dumplings (so hearty!)
Sausage and Lentil Soup (easy & delicious)
More Dinner Recipe Ideas:
Spaghetti Bolognaise (Southern Style, of course!)
Baked Mahi Mahi Recipe (Simple & So Flavorful!)
Authentic Jambalaya Recipe (Lots of Spicy Flavors!)
Turkey Ala King (Using Leftover Turkey or Chicken)
London Broil Crock Pot Recipe (with Built-In Gravy)
Recipe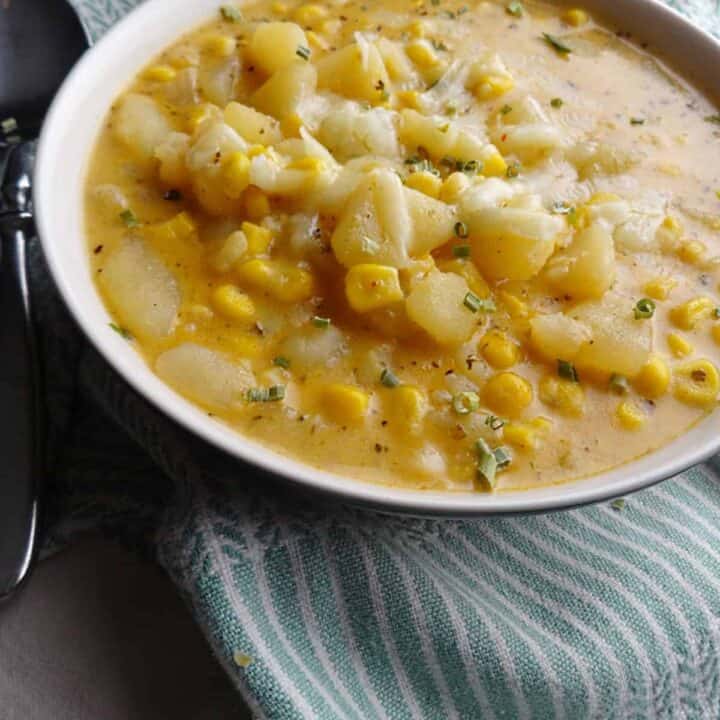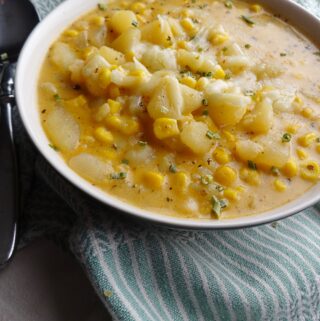 Corn Potato Chowder
This corn potato chowder recipe is so hearty and delicious! It's easy to put together - the hardest part is peeling the potatoes - and is perfect for a chilly (or cold) day!
Print
Pin
Rate
Ingredients
2

tablespoon

olive oil

(or oil of choice)

1

medium

onion

, diced

1

tablespoon

garlic

, minced (about 2-3 large cloves)

10

medium

potatoes

, peeled and chopped (5-6 cups)

4

cups

chicken stock

(or broth)

20

ounces

corn

, frozen or fresh

1

teaspoon

salt

, more to taste

½

teaspoon

black pepper

, more to taste

2

teaspoon

paprika

4

teaspoon

dry marjoram

1

cup

sour cream

(or plain yogurt)

½

cup

heavy cream

(or milk)

1

tablespoon

butter

½

cup

parmesan cheese

, grated

1

cup

pepper Jack cheese

, shredded (or other cheese)
Instructions
Heat Dutch oven to medium for 2-3 minutes. Add oil, onion, and garlic and cook for about 5 minutes or until onions are translucent.

Add potatoes, broth, corn, salt, black pepper, paprika, and marjoram. Stir and bring to a boil on high heat (uncovered).

Reduce heat to low-medium (about 2-3) and cover.

Cook 45 minutes to 1 hour, stirring occasionally, mashing potatoes gently with your spoon to create smaller pieces.

Uncover and turn heat to low. Let sit 5 minutes before adding sour cream, cream, butter, and cheeses.

Serve right away with extra cheese to top if desired.
Nutrition
Calories:
670
kcal
|
Carbohydrates:
74
g
|
Protein:
26
g
|
Fat:
33
g
|
Saturated Fat:
17
g
|
Cholesterol:
79
mg
|
Sodium:
944
mg
|
Potassium:
1976
mg
|
Fiber:
12
g
|
Sugar:
9
g
|
Vitamin A:
1426
IU
|
Vitamin C:
48
mg
|
Calcium:
417
mg
|
Iron:
13
mg